For more than two centuries, thousands of students have been shaped by — and have shaped — a great tradition of rigorous legal reasoning and analysis at Harvard Law School.
The incoming class of Harvard Law School Class students joined that long tradition as they gathered in Cambridge with their fellow classmates in August for Orientation.
On Aug. 21, Harvard Law School's Graduate Program officially welcomed the LL.M.s, international exchange students, and new S.J.D.s to campus. The LL.M. Class of 2019 comprises 188 students from 65 countries, ranging from Algeria to Venezuela. In addition to the LL.M. students, six students are beginning their studies for the S.J.D., joining 57 continuing S.J.D. candidates. Together, they represent 29 countries or jurisdictions. More than 30 transfer students also joined HLS in early August for orientation sessions.
Beginning on Aug. 27, the Harvard Law School community welcomed more than 550 incoming first-year students to campus as part of a week-long Orientation event. As part of their orientation activities, students toured campus, met with advisors and attended a series of workshops and a Q&A session with U.S. Supreme Court Justice Elena Kagan '86.
Incoming 1Ls in the Class of 2021 come from 173 undergraduate institutions. Eighty-two percent have at least one year of post-college work experience and 11% hold advanced degrees. Twenty-two countries are represented in the class — the highest international presence in an incoming class over the past 10 years. The class also includes:
– the Guinness World Record holder for most pull-ups per minute;
– a delegate to the United Nations;
– a holder of 13 U.S. patents; and
– a DC Comics storyline developer.
Dean John F. Manning '85 welcomed the incoming class of J.D., LL.M. and transfer students at Sanders Theatre on Aug. 29. During his address, he offered practical advice to new HLS students on how to navigate their law school years and how to be good and impactful lawyers.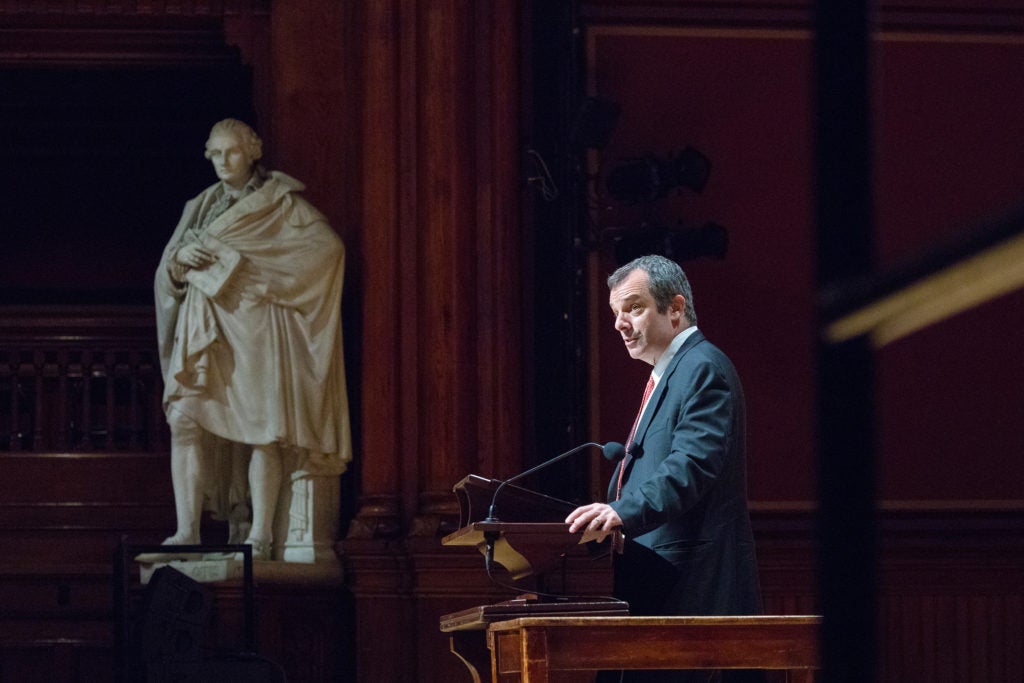 Drawing from his own experience as a Harvard Law student more than 35 years earlier, Manning advised students to ask questions, seek out mentors, connect with faculty and not worry too much. "You're not here for what you know already," he said. "You're here to learn what you don't know."
Manning also urged students to listen generously to their classmates and teachers, particularly those who hold different points of view. The most effective lawyers, he said, are those who listen carefully to the other side's argument, who engage those arguments seriously, and who don't shy away from another's point of view.
"Only by understanding the strengths in your opponents' arguments will you be able to see the weaknesses in your own positions, the vulnerabilities in your own positions, and the best way to address them," he said.
On Thursday, Aug. 30, students attended a lunchtime talk between Dean Manning and Justice Kagan, who has returned to HLS for the past several years to lead a fall reading group focused on the previous year's Supreme Court term.