On Tuesday, Harvard Law School's Graduate Program officially welcomed the LL.M. Class of 2019: 188 students from 65 countries who will spend the upcoming academic year pursuing a Master of Laws degree.
The Law School's one-year LL.M. program attracts students from a variety of legal systems, with many different backgrounds and career plans. Harvard's LL.M. students include lawyers from private practice, government officials, law teachers, judges, diplomats, human rights activists, NGO founders, doctoral students, business executives, physicians, journalists, and others.
As is typical, 98% of this year's class are international students, from countries ranging from Algeria to Venezuela. Three-quarters of them have pursued advanced studies or have two or more years of professional or teaching experience. In addition to law teachers, state attorneys, current and former judges, prosecutors, a magistrate, a police superintendent, and two active-duty U.S. Navy JAG officers, the class includes 20 Fulbright scholars and 18 Supreme Court or Constitutional Court clerks.
The LL.M. students' pursuits outside of the law are just as wide-ranging. The Class of 2019 includes novelists and a short story writer, poets, musicians, actors, dancers, and former nationally competitive athletes, as well as students with deep interests in everything from baking and bonsai to ukulele and yachting.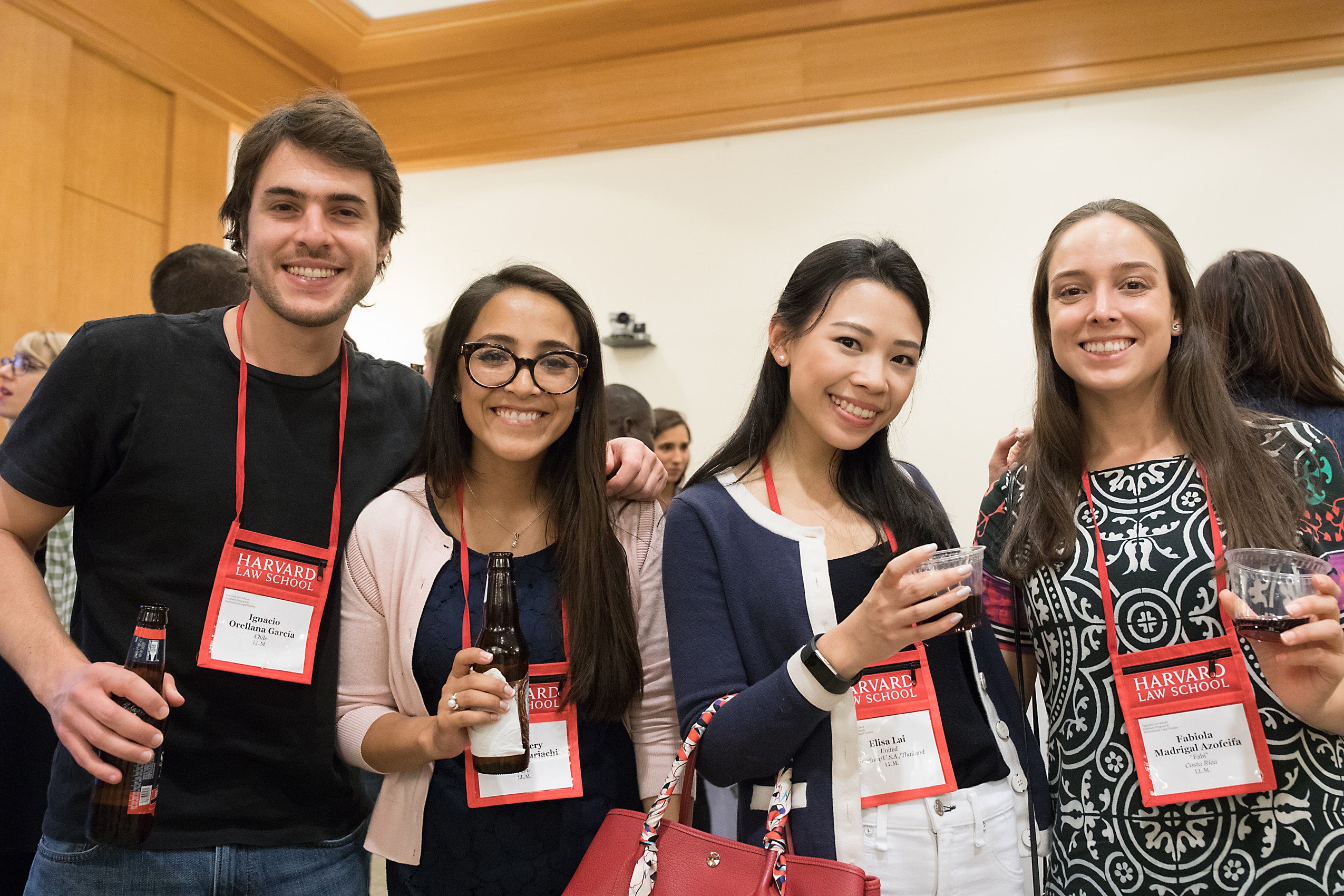 In addition to the LL.M. students, six students are beginning their studies for the Doctor of Juridical Science (S.J.D.) degree, the Law School's most advanced degree. These new candidates — another Fulbright scholar, a law teacher, an NGO co-founder and executive director, and lawyers who have worked in firms and an attorney general's office — join 57 continuing S.J.D. students; together, they represent 29 countries or jurisdictions.
In advance of J.D. orientation, which begins next week, the early arrivals also include nine international students from seven of the Law School's exchange partner schools. These students will spend the fall semester pursuing J.D.-level studies or doctoral-level research at HLS.
The students' first official day on campus began with breakfast and introductory remarks by Professor William Alford '77, Vice Dean for the Graduate Program and International Legal Studies; Jeanne Tai, Assistant Dean for the Graduate Program and International Legal Studies; and senior Graduate Program administrators. After the new arrivals experienced their first Harvard Law School lecture (Professor Michael Klarman on "Behind the Brown vs. Board of Education Decision"), the day ended with a gala welcome reception.
The LL.M. and exchange students will  pursue a special one-credit course on U.S. legal research, writing, and analysis offered only during their two-week orientation, which continues through August 31. With the help provided through course consultations with their advisors, and the plethora of information sessions and social events, the new arrivals are beginning to get settled in.