On a frigid, snow-packed morning in mid-February, the galleries in the Roxbury division of Boston Municipal Court were jammed with people waiting for their cases to be heard, and half a dozen Harvard Law School students, part of the Criminal Justice Institute's Criminal Defense Clinic, were waiting to defend their clients.
Cass Luskin '15 was representing a man accused of assault and battery. "It's been a month, and I have just as little in my file as I did at the arraignment," he told the judge. He asked the court's indulgence to speak with his supervisor, Dehlia Umunna, CJI deputy director. After a bit of whispered advice, he continued, asking for an out-of-court compliance date for his discovery request so that the prosecution would be required to give him a copy of the evidence they had against his client before the next court date. The judge agreed to his request. Outside another courtroom, Yorda Yenenh '15 and one of her clients huddled with Umunna after the judge unexpectedly denied a motion to dismiss his case and instead set a trial date. "You know we believe in you," Umunna told the client. "We are not giving up." Yenenh and the client then headed into a room to confer about the next steps.
The students take on anywhere from three to seven cases at a time, a mix of misdemeanors and small felonies, representing both adults and juveniles who cannot pay for their own defense lawyers—mostly in Roxbury and Dorchester courts. As the clinic has expanded in response to increased demand by students (this year, enrollment was up by 58 percent), so has the court system's familiarity with it; judges have been known to specifically request the HLS clinic.
"They'll ask: 'Is Harvard in the building? We need them to take this case.' That makes my day," says Umunna, who was recently appointed clinical professor of law, effective July 1. "They know that the case is going to be thoroughly investigated, thoroughly worked up and thoroughly prepared. They know the client is going to get top-notch service."
The students' appearances in court are part of a long training process, including a course on the legal, ethical and theoretical issues encountered by public defenders. (Students may participate in the clinic only during their 3L year and must have taken both Evidence and the Trial Advocacy Workshop beforehand.) They meet with their clinical instructors to prepare for their cases and come up with a strategy of defense. This involves writing out and practicing scripts ahead of time, including motions, opening statements, cross-examinations and arguments. "I mooted the appeals over and over again, playing out what could happen in court and going over all possible outcomes," recalls Amanda Savage '15, of the case she successfully argued in December. Students also go out on their own to examine a case's evidence—visiting the scene of the alleged crime, talking with the client and with witnesses, combing through the police report, and figuring out what evidence they need to request from the prosecution.
In court, the students are responsible for all aspects of the case, from the arraignment, through filing motions, to defending the client in trial, if it comes to that. "For the most part, we let them handle the good, the bad and the ugly," says Umunna. But as Luskin says of Umunna's role: "There's a fine line between letting students figure things out on their own and making sure no mistakes are made, because someone's liberty is at stake. She walks that line really well."
Umunna points out that she and the other instructors in the clinic—Kristin Muñiz, Robert Proctor, Jennifer McKinnon and Lia Monahon—work to help their students move from being skilled fact-finders to zealous advocates for their clients. "We have an experienced, dynamic and outstanding team," says Umunna. "Everyone takes ownership of the clinic and knows that we're doing good and useful work."
For students (and their instructors), that work requires enormous commitment, at any time of day. Clients might call them at 2 a.m. asking for advice because they've been picked up by the police, or the students might need to track down their client at a local shelter. (Asmara Carbado '15 recalls investigating a client's habits and hangouts so that she'd know where to find him since he had a record of missing his court dates.) "I can't articulate how much work it is and how rewarding at the same time," says Yenenh.
Even once the trial is over, the clinic's relationship with the clients continues. Under the direction of Chris Pierce, a clinical social worker on staff at CJI, the clinic can help clients obtain housing, drug treatment, mental health services, therapy and immigration referrals. "We don't just say goodbye," says Umunna. "We want them to avoid having to come back through the legal clinic. We want them to do well."
For Elayna Thompson '12, who is now a public defender for the state of New Jersey, the clinic provided essential training. She represented two clients in aggravated assault trials and won acquittals for both of them. "In what I do now, there are not enough resources to have someone watching over me at every second," Thompson says. "The clinic, with close supervision by extremely experienced trial attorneys, was the one thing that really prepared me for my work today."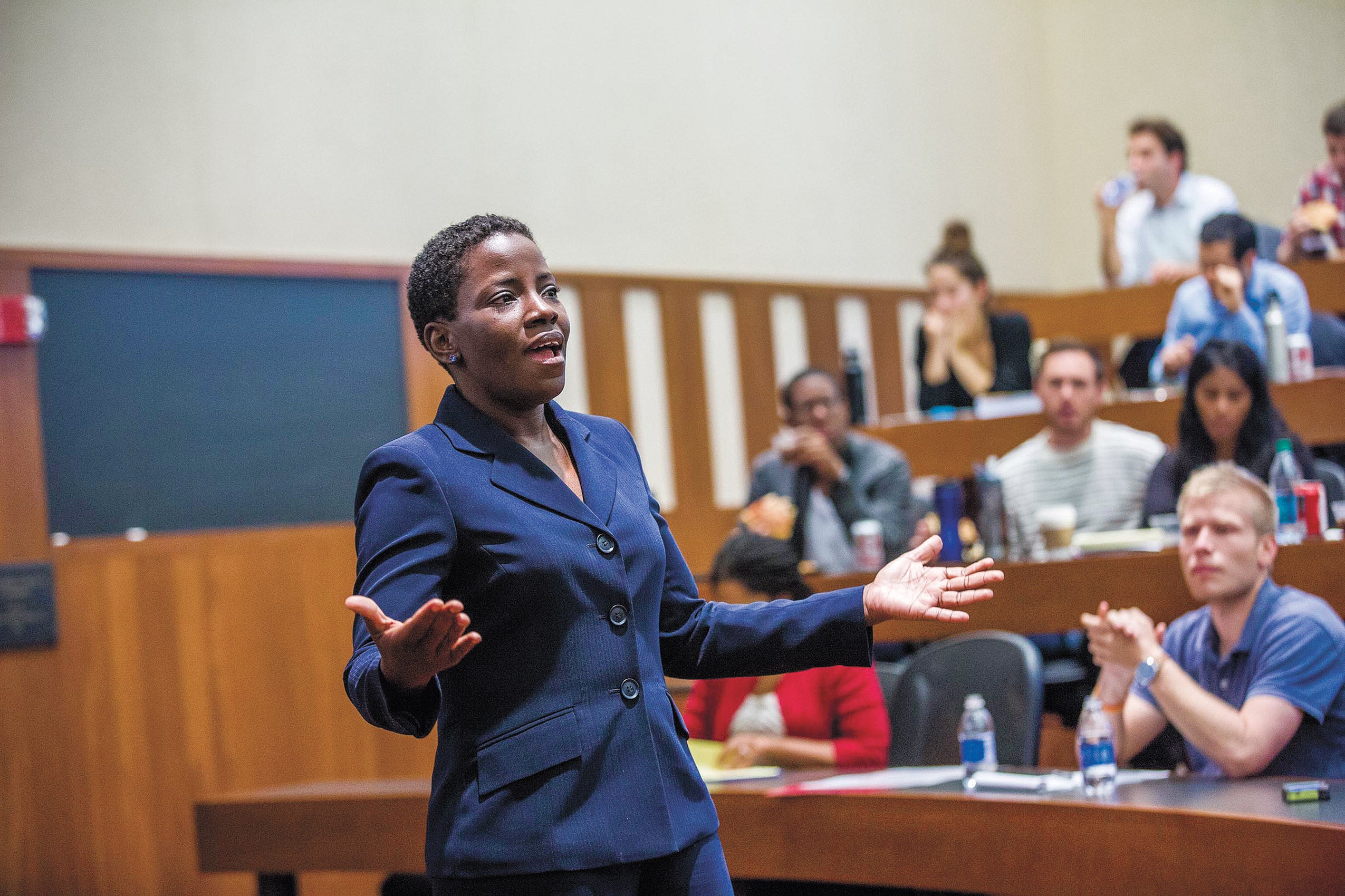 Umunna estimates that about half of the students in the clinic end up going into public defender work; for many of them, as for her, the work becomes a calling, where they feel they are helping people who often may not have access to skilled representation to navigate their way through the criminal justice system. "There's an emotional investment that goes into this work. It's not for everyone—it really isn't. For me, I don't just view it as a job; I view it as who I am," she says.
Umunna estimates that about half of the students in the clinic end up working as public defenders.
Umunna herself chose this profession because of her family's experience with the justice system in England, where she grew up—the daughter of parents from Nigeria and Sierra Leone—and where her brother got into trouble with the law. "Watching him go through the system, I thought, Nobody is really standing in the gap; there's no one to really represent him. It felt like he was just a number. So I think that fueled my desire to want to stand in the gap for other folks.
Before coming to HLS in 2007, Umunna worked as a trial attorney for seven years for Washington, D.C.'s Public Defender Service—a path that's well worn in both directions. Others on the HLS faculty who have worked at PDS include criminal law experts Charles Ogletree '78, Carol Steiker '86 and, most recently, Andrew Crespo '08, a former CJI student.
Ieshaah Murphy '12, who first had the chance to bring a case to trial through CJI, now works for PDS defending clients charged with general felonies. "Coming here having already had a jury trial is a rare experience. Not many other law schools give students this opportunity," she says.
For Amanda Savage, who plans to work as a public defender in New Jersey after graduation, one of the most valuable things about the clinic is the way it's helped take her from a theoretical view of law to seeing the real-life disparities at work in the criminal justice system. "You can read about the laws and the cases, but it's so different when you meet the clients, when you see how the system is stacked against them," she says. Asmara Carbado, who will work at the capital habeas unit in the Federal Public Defenders office in Los Angeles, takes this a step further.
"Never judge a book by its cover. In the context of the criminal justice system, the cover is the police report," says Carbado. "It's getting to know your client and seeing where they're coming from that fills up the pages," she adds. "When you see who they are beyond the legal text that tries to define them, you see someone like yourself. … Our job as defense attorney is to restore their humanity or dignity, to understand their story. How can that not be something I want to do?"