Japan is building up its legal profession
When Harvard President Derek Bok '54 wrote a scathing 1983 critique of American litigiousness, he pointed to Japan—with only one-twentieth as many lawyers per capita—as a better model.
"Engineers make the pie grow larger, lawyers only decide how to carve it up," Bok wrote, quoting a Japanese adage.
But two decades later, Japan is rethinking the wisdom of that adage and retooling its legal institutions in ways that look quite familiar to American lawyers.
The number of lawyers admitted to practice in Japan is creeping upward. Three-year, graduate-level law schools have opened for the first time. Japan's corporate law firms are looking to the example of their larger American counterparts, growing and merging. And Tokyo is undergoing what Harvard Law Professor J. Mark Ramseyer '82 described as nothing less than an "explosion of New York-style mega-firms."
Granted, even with these changes, Japan will still have far fewer lawyers per capita than the United States. But the changes represent a startling shift in the way Japan's legal system has operated since World War II. "That's a sea change in the legal profession in Japan," said John Steed '77, a partner with Paul Hastings in Tokyo and co-chairman of the firm's Asia-Pacific practice group.
Japan's law profession and its system of legal education changed little for decades, even as the population and economy boomed. The bar, together with the Ministry of Justice and the nation's supreme court, kept a tight lid on the number of lawyers by maintaining a withering failure rate of 97 or 98 percent for the entrance exam. Not until 1964 did the number of bar passers first exceed 500—fewer than Harvard Law School's graduating class each year—in a population 40 percent the size of that of the United States. (Over the next four decades, the number rose gradually, but of this year's 45,000 candidates, only 1,200 will be successful. The tough competition means the average newly minted Japanese lawyer is 27 years old and has taken the test five times after cramming for years at private prep schools.)
Having only 20,000 lawyers meant whole swaths of the country had few if any of them. Ninety percent of Japan's registered cities and towns in 1990 still had only one lawyer or none at all. Most were solo practitioners. Even Japan's largest law firms rarely had more than a couple dozen attorneys who maintained relatively autonomous individual practices and merely shared office space and administration, says Steed.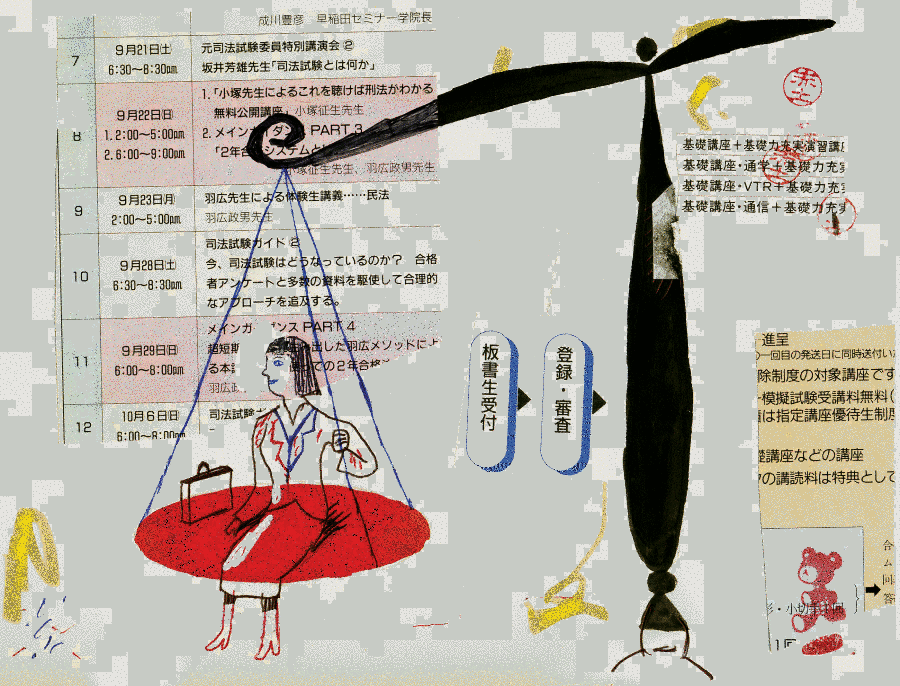 The system suited Japanese corporations. They relied heavily on "quasi lawyers" who worked for their law departments without ever having passed the bar.
With Japan's economy booming in the 1980s, foreign observers such as Bok began asking if perhaps the United States had something to learn from the more modest Japanese legal system.
But when Japan's economic bubble burst in the early 1990s, followed by a lengthy recession that battered corporate Japan, there was suddenly a huge demand for lawyers.
"Lots of companies went bankrupt, as a result of which more and more bankruptcy specialists and mergers and acquisitions lawyers were needed, as not only Japanese companies and funds but foreign investors wanted to buy out the bankrupt companies, including large financial institutions," said Masakazu Iwakura LL.M. '93 of Nishimura & Partners.
Japan's few large firms, which had largely focused on litigation, found themselves at a disadvantage in competing for transactional work with larger multinational firms. Competition only increased with the easing of restrictions that previously made it difficult for foreign lawyers to practice there, beyond a handful of Americans who began operating during the postwar occupation and wound up grandfathered into practice.
Beginning in 1985, Japan started lifting such restrictions and multinational firms began setting up shop in Tokyo, though they still couldn't hire Japanese associates or have partnerships with Japanese lawyers. But even those impediments would soon be lifted. Last year, foreign and Japanese lawyers could finally form partnerships. Multinational law firms such as Paul Hastings and Clifford Chance no longer needed separate telephone numbers and billing or accounting for their Japanese and foreign lawyers.
Japanese firms felt a threat from international firms creating Japanese law practices, said David Sneider '84, head of Simpson Thacher's Tokyo office: "There's competition among them for recruits and for clients, and they realize that to meet the needs of clients, they need large numbers of lawyers and expertise in a number of practice areas to handle complicated transactions."
As a result, Japan's four biggest law firms have all expanded to more than 200 lawyers each in less than a decade, via mergers and aggressive hiring. A recent merger announcement means one firm will soon have 370 attorneys.
"They're getting really big, really fast," said Ramseyer, who grew up in Japan as the son of missionaries. He now holds the Mitsubishi Professorship of Japanese Legal Studies at HLS and runs its Japanese Legal Studies program, which facilitates research by professors and students on Japan, coordinates teaching related to Japanese law and hosts visitors from the Japanese legal world.
Iwakura has witnessed the fast pace of change firsthand. His firm, Nishimura & Partners, had only 20 lawyers when he started there 19 years ago but today has more than 230, and it recently signed an agreement to merge with Asahi Koma Law Offices.
Harvard Law alums are well-represented at all of the "big four" firms that dominate corporate practice in Japan. Nagashima Ohno & Tsunematsu boasts 19 partners who graduated from HLS, including Yasuharu Nagashima LL.M. '62, who co-founded the firm in 1961. Its current chairman is Hisashi Hara LL.M. '80.
Nearly 10 percent of Nishimura & Partners' attorneys are graduates of HLS, as are 20 percent of Anderson Mori & Tomotsune's 53 partners and 10 lawyers at Mori Hamada & Matsumoto.
Japanese firms are increasingly organized according to departments and practice groups, like their foreign competitors, says Sneider, who often receives inquiries from large firms seeking to learn about management practices.
The recession is not the only explanation for Japan's changing legal system. Globalization had already caused many business executives to rethink the value of lawyers, says Daniel H. Foote '81, a University of Tokyo law professor. "Business leaders developed a greater appreciation for the valuable role played by lawyers in resolving disputes and through advanced planning, heading off potential future disputes," he said.
"It used to be Japan prided itself on not much litigation," said Anthony Zaloom '69, a former counsel at Mori Hamada & Matsumoto who now teaches at several Japanese universities. "Now, it's looked at as a good thing."
The government also increased lawyers' importance by deregulating the economy. Companies now turn increasingly to lawyers to help resolve disputes.
And in 2001, the government-appointed Justice System Reform Council released a report calling for dramatic changes in the Japanese legal system, including the use of lay jurors in trials, new three-year graduate law schools and a goal of expanding the population of lawyers to 50,000 by 2018.
"Greatly increasing the legal population is an urgent task," the report declared.
Some of the proposals—including the three-year law schools and jury trials—are already being adopted. Japan's first graduate-level law schools began opening in 2004. There are already 68 of them.
But the bar has continued to resist pressure to dramatically increase the number of lawyers. The bar pass rate is being bumped up only modestly, expected to increase from the present 1,200 annual new admissions to 3,000 by 2010.
Steed predicts the volume of lawsuits will increase as the number of lawyers rises. "That will probably lead to a more legalistic approach to business contracts, consumer protection, environmental issues," he said.
Ramseyer, however, cautions against overstating the impact of a rising lawyer class. Even after the increase, he points out, the number of lawyers in Japan will still be quite small relative to that in the United States. "It's a lot more open than it was, but still a lot more closed than it is here," he said.
Nevertheless, he says, there are many signs of the increasing stature of lawyers in Japanese society. For example, a growing proportion of graduates of the most elite colleges in Japan are opting for legal careers rather than entering the corporate sector or elite government bureaucracies such as the Ministry of Finance. "A smart law department graduate who might have before chosen a corporate or government job is now choosing to study for the bar," Ramseyer said. "Joining these big multinational firms is really a lucrative thing to do."
Despite all the changes, no one expects the Japanese and American legal systems ever to converge entirely. "Democratic legal systems depend on electoral systems," said Ramseyer, "and constitutional structures depend on historical exigencies. The two countries are similar in lots of ways, but they bring very different electoral systems and very different histories."