On Feb. 21, two professors squared off at Harvard Law School in a respectful clash of ideas about the increasingly contested role and impact of free speech on college campuses as part of a new speaker series, the Harvard Law School Rappaport Forum. In the audience was the alumnus who, more than 70 years earlier, first advocated for the school's role as a venue for engaged civil discourse on the most compelling topics of the day.
Jerome "Jerry" Rappaport arrived at Harvard Law School in September 1945. At age 18, he had already completed three years at Harvard College and was beginning his legal studies as part of an experimental combined-degree program. World War II had just ended, and there was a sense of urgency and idealism in the air. While he had not fought in the war, he and many of the veterans who made up Harvard Law School's incoming class felt a strong sense of shared responsibility to ensure that a global conflict of such magnitude would never happen again.
Like any first-year law student, Rappaport found himself instantly immersed in a daunting course load. But that didn't stop him from approaching Dean James Landis with an idea: What if Harvard Law School sponsored a speaker series on issues that would shape the post-war world? Rappaport had grown up listening to "America's Town Meeting of the Air," a popular radio program broadcast live from New York City featuring guest speakers on topics ranging from freedom of the press to public school performance. Hosting something similar at the law school could offer a way to grapple with the real-world implications of the law's intersection with government and public policy in an environment of mutual respect and inquiry, Rappaport suggested.
Landis agreed. He set Rappaport up with an office and a letter of introduction to Supreme Court Justice Felix Frankfurter LL.B. 1906 for both advice and speaker connections. On March 8, 1946, in the midst of the Nuremberg Trials, the Harvard Law School Forum hosted its inaugural meeting on a timely topic: "War Crimes: Revolution in Legal Theory or Law Enforcement?"
In a recent interview nearly 74 years later, Rappaport, 92, looked back on that time with disbelief and amusement. He used the word "audacity" to describe the actions of his 18-year-old self, also making it clear that he had plenty of assistance from classmates and faculty mentors when it came to the nitty-gritty work of selecting speakers and pulling off event logistics.
According to Rappaport, he and his classmates felt a need to bridge the gap between the classroom and the many ways they saw lawyers having an impact in the public sphere. "Unless the embryonic lawyer is prepared to assume that he is relieved of the responsibility of citizenship during a cloistered tenure of study, he cannot afford to ignore the importance of participating in or attending discussions of vital contemporary issues," Rappaport told the American Bar Association Journal in 1947 for an article holding the Harvard Law School experiment up as an example for other law schools.
During its first semester, the forum was already thriving. The Nuremberg program was followed by six others, on topics ranging from Anglo-American relations to international trade. Open to the public and filling Harvard's largest speaking venue, Sanders Theatre, the events were also broadcast on WHDH radio. "It was a period of time when, although certainly there were strong political ideologies, there was a sense of commonality and some belief in the process of rational dialogue creating some resolution of issues," Rappaport said.
Looking back, the roster of forum participants over the years is like an abbreviated "Who's Who" of the 20th century, including John F. Kennedy, Dr. Martin Luther King Jr., Eleanor Roosevelt, Thurgood Marshall, Fidel Castro, Cesar Chavez, Geraldine Ferraro, Billy Graham, Caspar Weinberger '41, Whoopi Goldberg and Jesse Jackson, just to name a few.
"Because it was Harvard Law School and they had such respect for the institution and for us as potential future leaders," said Rappaport, speakers "came and they engaged," dropping (for the most part) their standard talking points. Rappaport served as the forum's president for two years; after graduating in 1949, he entered the Boston political scene, working on John Hynes' successful campaign to defeat four-term Mayor James Michael Curley—who would later debate Rappaport during an HLS Forum event titled "The Political Machine: Use and Abuse" in 1953.
"He didn't talk about the topic at all," Rappaport recalled. "Just his pro-McCarthy views, which I was strongly against." A week after the event, Curley sent for Rappaport and told him he had done a good job. "Beyond the political opposition, you didn't have to be personal enemies," Rappaport said.
Decades later, he said, the media and political landscape are completely different: "We've lost any sense of national dialogue, of discussion and debate as a means for deepening our understanding and pursuit of the truth."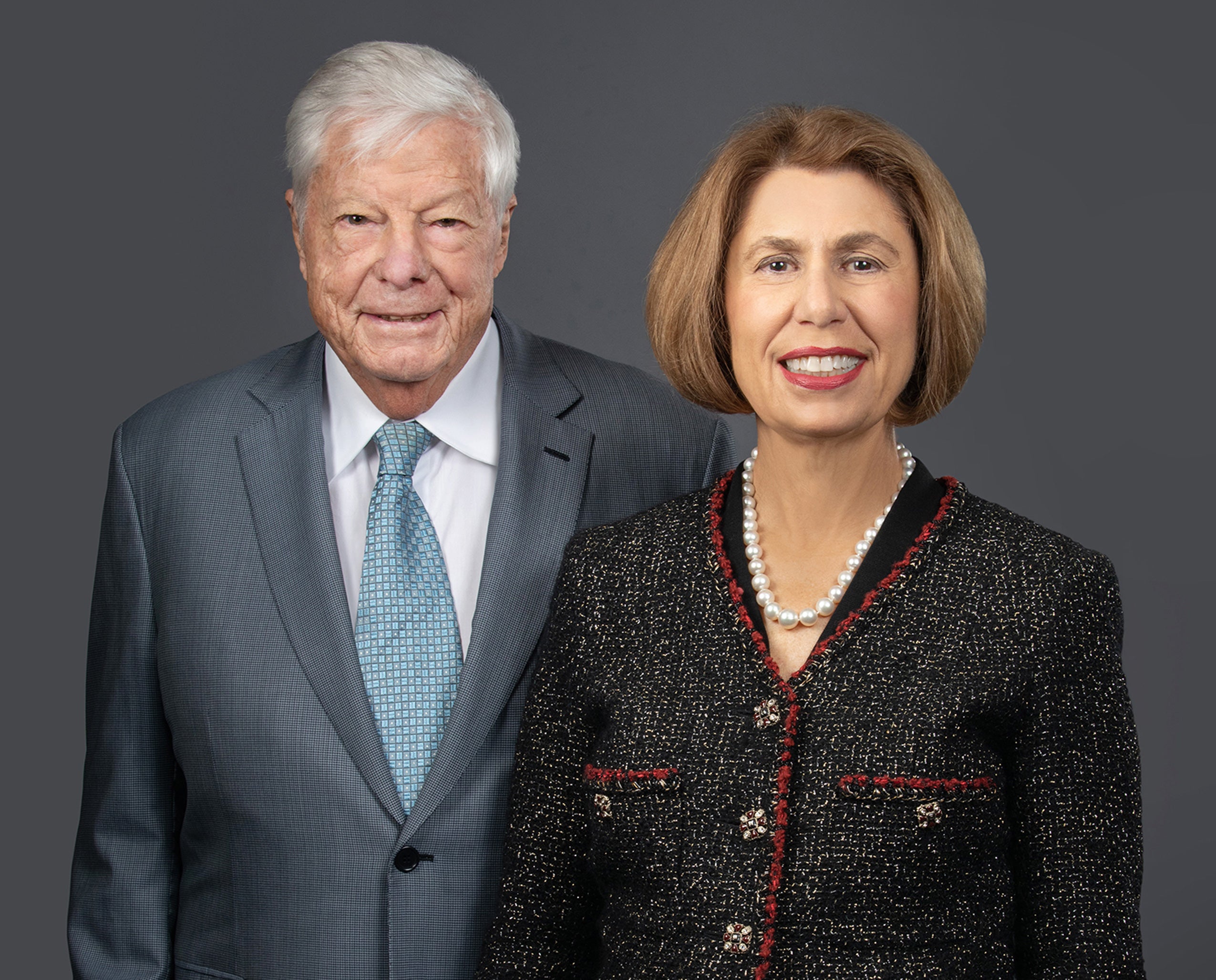 That reality has motivated the launch of the Harvard Law School Rappaport Forum. Funded by the Phyllis & Jerome Lyle Rappaport Foundation, it is designed to promote and model civil discourse on complex and challenging issues facing our community, our nation, and our world.
"To be effective, great lawyers and leaders must be able to hear, to listen generously to, those with whom they disagree," said John F. Manning '85, the Morgan and Helen Chu Dean of Harvard Law School. "By inviting thought leaders to engage in vigorous and respectful discussions and disagreements about consequential topics, the Harvard Law School Rappaport Forum will help train the next generation of lawyers to be skillful in not just preparing a strong argument, but in understanding all perspectives."
Through this new series, Manning notes, the law school will build on the spirit of the visionary HLS Forum that Jerry Rappaport founded as a student 74 years ago and which continues as a student-run organization to this day.
The kickoff event in February focused on the topic "When Is Speech Violence? And Other Questions About Campus Speech." HLS Professor Jeannie Suk Gersen '02 moderated a discussion between Jonathan Haidt, professor at New York University Stern School of Business and co-author of "The Coddling of the American Mind," and Lisa Feldman Barrett, professor of psychology at Northeastern University and author of "How Emotions Are Made: The Secret Life of the Brain."
"We want to build on the forum's original approach of supporting the discussion of public affairs and the importance of the Socratic method to the legal process and to achieving truth," said Rappaport. "It's an effort to model a process that is core to our democracy and to our nation."
He is not expecting the events to perform miracles. But he does hope for some movement toward a shared understanding that could ultimately lead to tangible change. In today's world, he believes, that would qualify as significant progress.
---