Christopher Cox '76 ('77) and Jane Harman '69 sit on different sides of the aisle, but the urgent threat of terrorism unites them
Most Augusts, members of Congress on Capitol Hill are as rare as palm trees in Cambridge.
But this year was different. When the bipartisan 9/11 Commission released its report in July calling for a radical overhaul of how the nation fights terrorism, members of Congress couldn't rush back to Washington fast enough.
So on a muggy Tuesday morning, three dozen members of the House Select Committee on Homeland Security returned from summer vacations or the campaign trail to hear testimony from the 9/11 Commission's two leaders.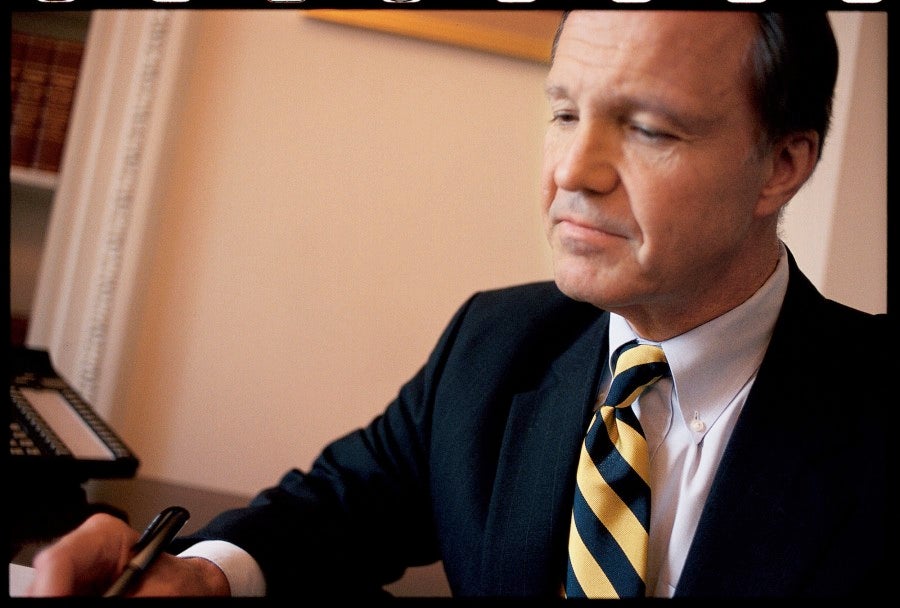 Presiding over the hearing was Homeland Security Committee Chairman Christopher Cox '76 ('77), a Republican, and a few seats over was Jane Harman '69, the top Democrat on the House Permanent Select Committee on Intelligence.
Being at the center of the debate over terrorism is nothing new for Cox and Harman, who, since 9/11, have become two of the leading–and most vocal–advocates for change.
Their prominence grew during a summer when every week seemed to bring fresh controversies, such as those surrounding new orange alerts or establishing the position of a national intelligence director.
But even with the weight of the 9/11 Commission behind them, neither is sure the reforms they champion will be enacted this year.
True, Cox and Harman sit squarely on opposite sides of the political aisle in the House: Cox is the fourth-highest-ranking Republican behind the speaker, as chairman of the House Policy Committee, and Harman was mentioned as a possible running mate for Democratic presidential nominee John Kerry.
But their resumes look surprisingly similar: Both served in the White House before being elected to Congress (she as President Carter's deputy secretary to the Cabinet, he as counsel to President Reagan). Both represent seaside California districts–a fact visible in their neighboring House offices, where beach scenes decorate the walls.
In fact, the two complement each other so well that barely a month goes by that they are not paired up to talk about the crisis of the week on Sunday morning news shows.
And while each has a long-standing interest in foreign policy, the 9/11 attacks have required them to focus almost exclusively on terrorism.
---
For the Record:
Harman delivers remarks at Harvard Law School
U.S. Rep. Jane Harman '69 spoke during HLS Reunions last spring on issues ranging from intelligence reform to appropriate limits on executive power during wartime. "There will be no peace treaty to mark the end of this war. Should our traditional laws about executive power apply? Do we really want the balance of power to tilt toward the president for the decades it might take to win the war on terrorism?" she asked.
She also addressed what she called the "widely misunderstood" USA Patriot Act:
"It's not just one or two controversial provisions–it's a huge and complicated bill with 158 provisions, taking up 100 pages of tiny print.
"It was passed with unprecedented speed in a very high-pressure environment just seven weeks after the attacks of 9/11. We didn't have the full set of public hearings and committee votes that normally accompany this type of legislation, so it did not benefit from the normal degree of public discussion and debate–which is now long overdue.
"I voted for it because, just as we need to modernize our intelligence community, we needed to modernize the legal tools used in law enforcement investigations. Technology has changed dramatically since many of these laws were first enacted. The terrorists know it and exploit it. …
"But some other provisions of the Patriot Act are problematic. Take the so-called 'Library' provision, section 215. It's actually far broader–allowing access to 'any tangible things … for an investigation to protect against international terrorism.' Many people worry that the FBI will use section 215 inappropriately. Weighing the potential chilling effect against the investigative value of knowing such things as what books you checked out of the local library–which I would say is marginal at best–leads me to believe this provision should be narrowed."
---
First elected to Congress in 1992, she represented a defense- and aerospace-heavy district in California where, she points out, most of the nation's spy satellites are built. She served on both the national security and intelligence committees but admits "terrorism was not on my radar." That changed when she was appointed by House Minority Leader Richard Gephardt to the National Commission on Terrorism, established after U.S. Embassies in Africa were bombed in 1999.
At the time, she was on what she calls a two-year "sabbatical" from Congress, having opted not to run for re-election in 1998 and to run instead for governor of California, a race she lost.
The experience of serving on the terror commission, chaired by a then little-known ambassador, L. Paul Bremer III, she says, was an eye-opener. "It was absolutely clear to us that the terrorists don't want a seat at the table, they want to blow up the table, and that a major attack on U.S. soil was coming," she told an audience at Harvard's John F. Kennedy School of Government earlier this year.
Harman's knowledge of foreign policy, her bipartisan outlook and her toughness impressed fellow commission members. "She doesn't back down," said Juliette Kayyem '95, a Kennedy School lecturer and fellow commission member.
The commission's 44-page report released in June 2000 warned that terrorists would "seek to inflict mass casualties" on American soil and called on government to prepare for catastrophic attacks that might kill tens of thousands.
Harman says their findings, like many such reports before and after, did little more than gather dust. In fact, on Sept. 10, 2001, Harman, who had won re-election to her old House seat a year earlier, had lunch with Bremer, lamenting the fact that no one heeded their warnings.
One day later, she was in her Capitol Hill office watching the second airliner hit the World Trade Center on television before Capitol police ordered the building evacuated. In the ensuing chaotic hours, Harman took refuge along with other members of the intelligence committee in Congressman Saxby Chambliss' basement apartment.
Within days, she had visited both the Pentagon and ground zero in New York City. Landing near the smoldering World Trade Center site by boat, she recalled the overwhelming smell of concrete dust, and the trailers labeled "Morgue." "It's bigger and more horrible than you can know," she told the Los Angeles Business Journal in October 2001.
In the three years since, her travels have taken her to the kinds of places, she said, that "never get written up in Travel & Leisure": North Korea; Syria; Afghanistan; Guantanamo Bay, Cuba; and Libya, where she was part of a congressional delegation that met with Col. Muammar el-Qaddafi.
"When I come home, I often have trouble sleeping, not because of the jet lag, but because I know the seriousness of the threats we face, and I know that, in many respects, we should be better-equipped to stop these threats," Harman told a Harvard Law School audience in April.
Back in Washington, like all members of Congress, she has been forced to think about the unthinkable: whether to postpone November elections and how to replace lawmakers killed en masse in the event of an attack. She has at times been a strong critic of the Bush administration's antiterror tactics and blasted both Congress and the courts for lax oversight of the war on terror.
But in the House Intelligence Committee she has focused mainly on how the government gathers, analyzes and shares intelligence. Her top priority this year has been the appointment of a single national intelligence director, who, she argues, can help unify the nation's 15 separate intelligence agencies.
"Our current intelligence community was created in 1947 to fight an enemy that no longer exists," she said. "Our 15 agencies now operate with different rules, cultures and databases. That must change."
It is an idea that gained traction this summer. President Bush embraced the concept after the 9/11 Commission endorsed it in its report. Ironically, Harman, who was always out front as one of the strongest advocates for radical overhaul, now finds herself being surpassed by Republicans like Sen. Pat Roberts of Kansas, who has called for breaking up the Central Intelligence Agency.
Harman's bold positions have made her one of the Democrats' most visible experts on national security and intelligence issues. And even after Madeleine Albright served as secretary of state and Condoleezza Rice became national security adviser, Harman remains the relatively rare woman in the upper echelons of the national security establishment, particularly in Congress.
Harman says she never forgets she is among what she calls "a hardy little band" of women at the top of the foreign policy establishment. That is one reason she has used her perch on the Intelligence Committee to advocate for a more diverse cadre of field officers and analysts.
"What's inspiring about Jane is that she has succeeded in a very macho world of bombs and war," Kayyem said.
Before she arrived in Congress, Harman received some advice about how to succeed there from Cox. They met for lunch shortly after she was first elected, at the suggestion of a mutual friend, Robert Sutcliffe '76, who was Cox's classmate and his first congressional chief of staff. His advice: Don't be surprised by how much partisanship divides the place.
These days, Harman and Cox are more likely to meet up on Sunday morning talk shows. CNN's Wolf Blitzer is particularly fond of pairing them. One week before August's Republican National Convention, Harman joined Blitzer in his Washington "Late Edition" studio while Cox appeared via satellite.
The caption projected on television said "Cox v. Harman," but once they finished sparring over Swift Boat Veterans for Truth and moved onto terrorism, their answers sounded quite similar.
Cox said later that 99 percent of homeland security is bipartisan. "After all, the terrorists are hardly going to discriminate based on political party when they attack us," he said. That doesn't mean leading the Homeland Security Committee has been easy, even for a Republican Party insider and foreign policy hand such as Cox.
Before his stint in the Reagan White House, he and his father published the first-ever exact English translation of the Soviet daily Pravda, so accurate that even the CIA subscribed. He points proudly to framed, yellowing copies of an original Russian issue and its English translation, hanging on his office wall.
He came to Congress in 1989, just in time for the fall of the Soviet Union, and was well-positioned to lead efforts to help former Communist countries make the transition to freedom.
In the late 1990s, Cox was tapped by congressional leaders to head an inquiry into the transfer of technology to China, winning plaudits for its bipartisan findings. He also produced a book-length report for the House speaker on relations with Russia.
Washingtonian magazine this year ranked Cox, who reads books on mathematics for fun, the third-most-brainy member of Congress. (In second place was his HLS classmate Barney Frank '77 of Massachusetts, who serves on the Homeland Security Committee alongside Cox and Harman.) A gushing National Review article in 2000, pushing him for vice president, praised his "encyclopedic" knowledge of public policy and even forgave his tendency to write (and sometimes speak) using parentheses.
Cox was rumored to be a Bush favorite for appointment to the Ninth U.S. Circuit Court of Appeals early in the administration. For his part, Cox said, "there's no profit in being mentioned for jobs you are not seeking" and added he isn't quite ready yet for the solitary life of an appellate judge.
Instead, his career took a very different turn after the 9/11 attacks. That morning, Cox joined a handful of other members of Congress for breakfast with Defense Secretary Donald Rumsfeld in the Pentagon. They were talking about Rumsfeld's efforts to transform the Pentagon when the conversation turned to the threat of terror attacks.
"[Rumsfeld] said, 'Let me tell ya, I've been around the block a few times. There will be another event,'" Cox recalled the next day. Minutes later, the meeting broke up amid reports that the first plane had hit the World Trade Center. He was in his car driving back toward the Capitol when a plane hit the Pentagon. That night, he would pass the Pentagon again on the way home as plumes of black smoke spread over Washington.
He realized quickly that it was akin to war–but different from any the nation had fought in the past. The war against terrorism "is an indefinite one," he said. "Accelerated spending on liberty ships or the Manhattan Project can't force it to end early. As a result, our response has to be sustainable. A corollary is we should not trade off our way of life and civil liberties under the delusion that it can be only for the short term."
In January 2003, Cox was given a chance to shape how that war is fought. Congressional Republican leaders asked him to take the helm of a new congressional committee overseeing the biggest reorganization in government since the Defense Department was established more than half a century ago. The new Department of Homeland Security merged 22 separate agencies employing 180,000 government workers.
Complicating his task was the fact that his committee was originally intended to be temporary and that among its 50 members are eight powerful heads of other committees interested in protecting their turf. Many would prefer to eliminate Cox's committee altogether. Harman is sympathetic. "Moderating among chieftains," she said, is "an extremely tough job."
A loyal Republican, Cox is less likely than Harman to criticize the Bush administration's handling of the war on terror and is more cautious about reforms of the intelligence establishment. He emphasizes the need to move carefully, while noting that the intelligence community employs enough people to populate a midsize U.S. city.
He does not hold back entirely from questioning the way the Bush administration fights the war on terror. In particular, he is highly critical of the terror alert warning system, which he rejects as too vague to do any good. "Make it work or get rid of it," he said.
Cox's cause as chairman was helped by the 9/11 Commission report, which recommended making the committee permanent. The commission also endorsed another of his priorities: changing the way Congress funds local terror preparedness. States such as Wyoming have received more money per capita than New York or California.
"Homeland security funding formulas look amazingly like the formula for paving roads," said Cox, who is pushing to distribute money based on risk. That is a cause also embraced by Harman, as well as other members of Congress from states deemed most at risk of terror attacks.
For both Cox and Harman, the toughest battle may still lie ahead: prodding Congress to change itself. As summer turned into fall, few congressional chieftains seemed willing to let Cox's and Harman's committees gain more power at their expense.
Cox's proposal to elevate his panel next year from a temporary select committee to a permanent committee, cut its membership and take jurisdiction over the Coast Guard's homeland security mission received a less-than-warm reception from some in Congress.
It is also unclear whether the national intelligence director will be as strong as Harman envisions or whether Congress will fund homeland security any differently from the way it does highways, as Cox would like.
Still, both manage to remain optimistic. "We can meet this threat and improve this country at the same time if we are wise about it," Cox said.