The Trump administration's recent "zero tolerance" policies on immigration resulted in the separation of several thousand children from their families at the U.S. border. Many children were traveling with family members who were seeking asylum after fleeing gang violence or other threats in Central America.
Facing criticism from both sides of the aisle, President Donald Trump ended the policy by executive order on June 20, leaving more than 2,000 children separated from their families, with no immediate plan for reunification.
Troubled by the policy and its implications, two Harvard Law School alumni, Brad Karp '84 and Gary Wingens '88, co-wrote an op-ed that appeared in The New York Times on June 25. In it, they called for the private law sector to join forces to help reunite children who had been forcibly separated from their families, and provided a list of 34 private law firms that had pledged to help in the work. Many of the firms, including Paul, Weiss, Rifkind, Wharton & Garrison (where Karp is chairman) and Lowenstein Sandler (where Wingens is chairman and managing partner), have robust pro bono practices that include immigration cases.
'When we're needed, we'll show up'
They don't all want to be immigration lawyers, but hundreds of Harvard Law School students have made immigrant rights their business

The issue evolved further on June 26 when Judge Dana Sabraw in San Diego, Calif., set two deadlines for the separated children to be reunited with their families: July 10 for children under age 5, and July 26 for all other minor children. As of early August, hundreds of children had been reunited with their families, but the issues are ongoing and complex.
"Helping children in immigration proceedings is something many private law firms have done," says Wingens. "We are advocating that every child should have the right to counsel, have their case presented in the best possible light, and have an informed immigration judge make a decision under the law." Wingens' comments echo the op-ed, which stated, "We are professionally obligated to safeguard the rule of law and to protect the poor and the vulnerable against targeted governmental abuses."
"Representing families in immigration proceedings is not a new issue," Wingens emphasized. "But the child separation policy is new, and even seen in its best light, it's reckless. It is designed to deprive children and families of their rights to seek asylum, and it shows a complete disregard for the rights and well-being of these children and their families." Wingens and his colleagues at Lowenstein Sandler have worked for months alongside the Vera Institute of Justice and the Young Center for Immigrant Children's Rights to secure access to counsel for the young, separated children being held in New York State.
"The need to give back to our society is greater than ever, and we have mobilized as a firm with a renewed sense of urgency on many fronts," says Karp. Over the past 18 months, more than 350 lawyers at Paul, Weiss–about a third of the firm's staff—have been involved in immigration-related pro bono efforts. So far, the firm has helped reunite nine families, including a father and his 3-year-old daughter who came to the U.S. from Honduras and were separated for 93 days. "We are handling a number of individual cases and supporting our nonprofit partners in their efforts to facilitate reunifications," says Karp. "It's a drop in the bucket, but we remain committed to helping as many people as possible."
A deep commitment to helping immigrants
The policies may have shifted, but the work at detention centers continues

Paul, Weiss and several other New York-based firms also responded to a crisis call from Catholic Charities of New York in late June. Several hundred migrant children, some of them quite young, had been unexpectedly transferred to the area. A team of 19 lawyers from seven firms worked through the weekend, combing databases and working with other agencies to help Catholic Charities find the parents of those children. The team has located more than 130 parents to date, helping Catholic Charities to reunify seven families.
While many of these lawyers specialize in estate law or other areas seemingly unrelated to immigration, their interest—personal and professional—in providing help to these families is strong.
"I've had an interest in immigration and asylum law since my days as a Harvard Law student," says Liza Velazquez '96, a partner in the litigation department at Paul, Weiss who has been supervising the firm's reunification efforts. Velazquez specializes in commercial matters and employment litigation, but has regularly worked on asylum matters. She has also been involved in legally challenging the Trump administration's travel ban aimed at Muslim-majority countries.
Closer to the U.S.-Mexico border, many other firms have put out internal calls for assistance on immigration cases, receiving hundreds of volunteer responses.
"It's been all hands on deck here," says Wesley Lewis '13, an associate at Haynes and Boone in Austin, Texas, who specializes in intellectual property law. "We've had an incredible response from across the firm." Along with his colleagues who have visited several Texas detention centers, Lewis has worked with recently arrived clients to help them navigate the process of seeking asylum and ensure that they receive a fair hearing.
In the news: Student works on the border on family reunification
Harvard Law students were among those working this summer to reunify parents and their children separated at the border. A CBS television station in San Antonio reported on one of them, Elizabeth Coffin-Karlin '20: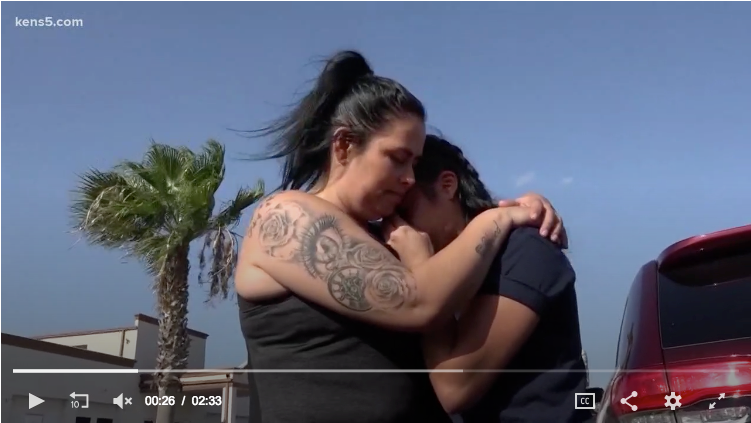 "The KENS 5 Border Team met Coffin-Karlin at the Port Isabel Detention Center, Immigration and Customs Enforcement's largest facility. It's located in Los Fresnos, Texas, where hundreds of immigrant adults are detained without their children while they fight for their asylum case.
"'It's very difficult to see, on a day-to-day basis, all of the small errors that can lead someone to not being released,' Coffin-Karlin said. 'Very small errors can have someone deported and potentially risk their life or their child's life, and that's very scary to see.'"
"I worked most closely with a client who fled life-threatening violence in Honduras with her 12-year-old daughter," Lewis says. "She was separated from her daughter for about a month, and then taken through expedited removal proceedings." The client had not knowingly waived her right to request an immigration judge to review her situation, so the firm brought an action for due process violation and a temporary restraining order. Lewis also helped explain the process to the client, clarifying the ins and outs of legal documents and answering questions.
"We've been helping our clients make sure they are receiving the process to which they are entitled," Lewis says. "We want to make sure they are given a fair shot at asylum or whatever they are seeking, and we're making sure they get an opportunity to tell their story." He has continued to work with other clients as the situation evolves, adding, "I've been grateful to have a concrete way to address this issue, which is really troubling."
Paloma Ahmadi '10, who joined Haynes and Boone in June 2018, agrees.
"I've been involved on behalf of two different clients who arrived in the country with children," says Ahmadi, an associate in the firm's San Antonio office. "I've been learning their story and making sure we present it as fully and transparently as we can. Being a lawyer is a privilege, and I'm always excited when I get to use my advocacy skills in a way that makes our system a little bit fairer and more transparent."
Ahmadi, who is fluent in Spanish, has also been able to speak to her Central American clients in their native language. "That's been a huge help," she says. "I think I've been able to learn and share their stories more directly."
As of July 31, The New York Times reported that more than 1,800 separated children have been reunited with their families. But immigrant advocates now face further challenges: working to prevent the swift deportation of reunited families, and addressing the long-term effects of the traumatic separations. Texas Monthly reported in early August that more than 500 children remain in government custody. Many more families are in a kind of immigration limbo, sometimes facing the impossible choice between being deported together or remaining separated.
"The situation remains chaotic," says Velazquez. "Many parents still have no idea where their children are and haven't spoken to them in months. As a result, we are working with individuals experiencing extreme trauma. It is exceedingly difficult to advise clients on what is likely to happen."
The administration's rapidly changing policies have helped to mobilize attorneys throughout the private law industry, says Karp. "Many of us across the industry are deeply concerned by threats to the rule of law, and view the use of our lawyering skills and firm resources to defend basic legal rights as a moral imperative."
"There are enough lawyers out there who are ready to take every case," adds Wingens. "With the volunteer offers we've received, it's clear that private law firms could staff every single one of these separated family cases. There are that many people who have come forward and are willing to help."