In the technology world, a hackathon is well known as a get-together of programmers to share ideas and create software. As part of the "HLS in the Community" bicentennial event, HLS brought the hackathon concept to the legal space. Instead of writing code, alumni and other professionals worked together on April 20 to hack out legal solutions to social and political issues.
Daniel Nagin (clinical professor of law and vice dean for experiential and clinical education) told the assembled group at the start of the day that this hackathon was more than an intellectual exercise; it was part of HLS's commitment to serve the common good. "Applied learning is essential to the prospect of helping HLS students become outstanding lawyers," he told the group, which included government agency representatives, military veterans, visiting lawyers and faculty, clergy and community and healthcare professionals along with HLS faculty and and alumni. "To join the legal profession is to enter a kind of trust—to assure that the power and privilege that we hold is applied in a way that benefits the world." After a brief talk from lecturer on law Erin Walczewski '10—who led exercises to encourage open exchange of ideas—the attendees branched into groups to "hack" on three specific topics. The first session, titled "Do Ask, Do Tell," was about pursuing justice for LGBTQ veterans; the second, "Speech, Technology and Online Discourse," explored how harmful internet speech could be moderated.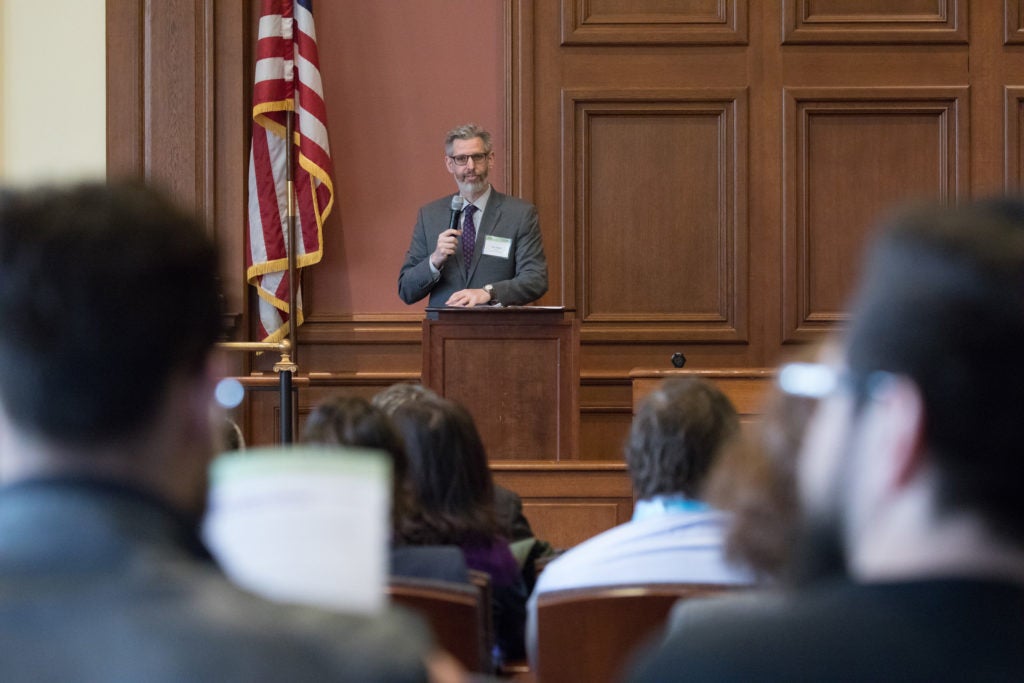 The third hackathon, "Strategies for Sanctuary Spaces in the Age of Deportations, Defunding and President Donald Trump," was created by Clinical Professors Philip L. Torrey and Sabrineh Ardalan '02, growing out of work they've done in Harvard's Immigration and Refugee Clinical Program. "This is an issue we work on every day, and it's become part of the national discourse," Torrey said in an interview on Friday. "There is confusion about what the word sanctuary even means. One of our goals today is start thinking outside the box, on how immigration policy intersects with community spaces." The hackathon, Torrey said, was just the start of a longer process: "This is a work in progress. Coming up with model policies for these spaces would be the ideal."
Addressing Torrey's first question, the hackathon began with the attendees texting their one-word definition of sanctuary to display in a word cloud. This generated a wide variety of responses, with "protection" and "safety" coming up most often. Roughly 75 hackers were then divided into separate discussion groups, which explored immigration solutions in different areas: Schools, places of worship, courthouses, medical spaces and first responders (police and fire). Each group was assigned a facilitator, who introduced the session with "lightning talks" addressing problems in their own communities.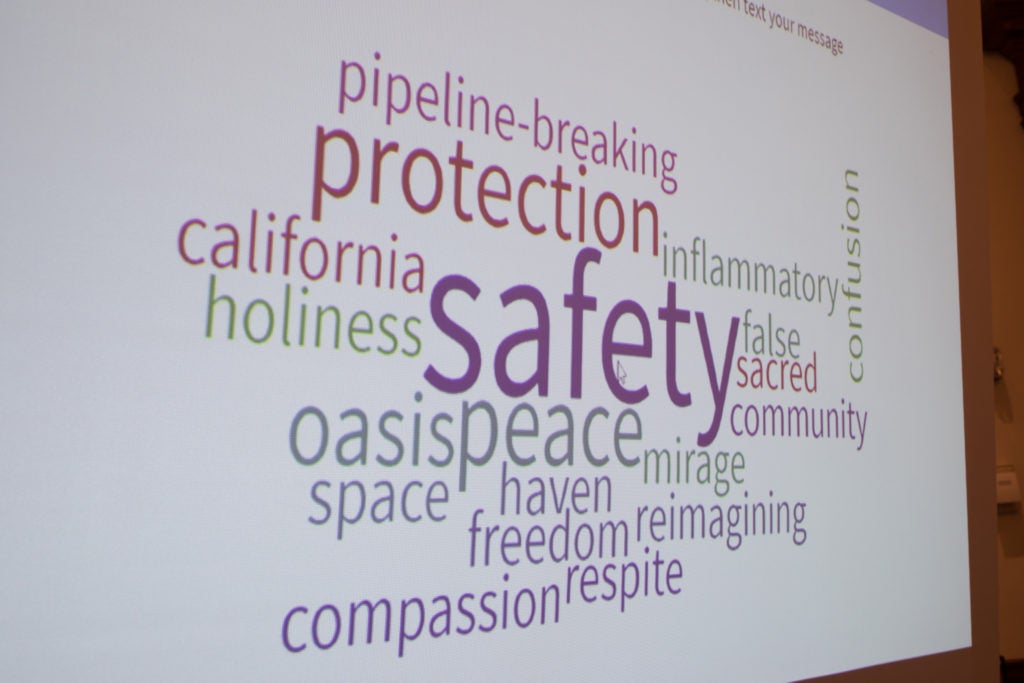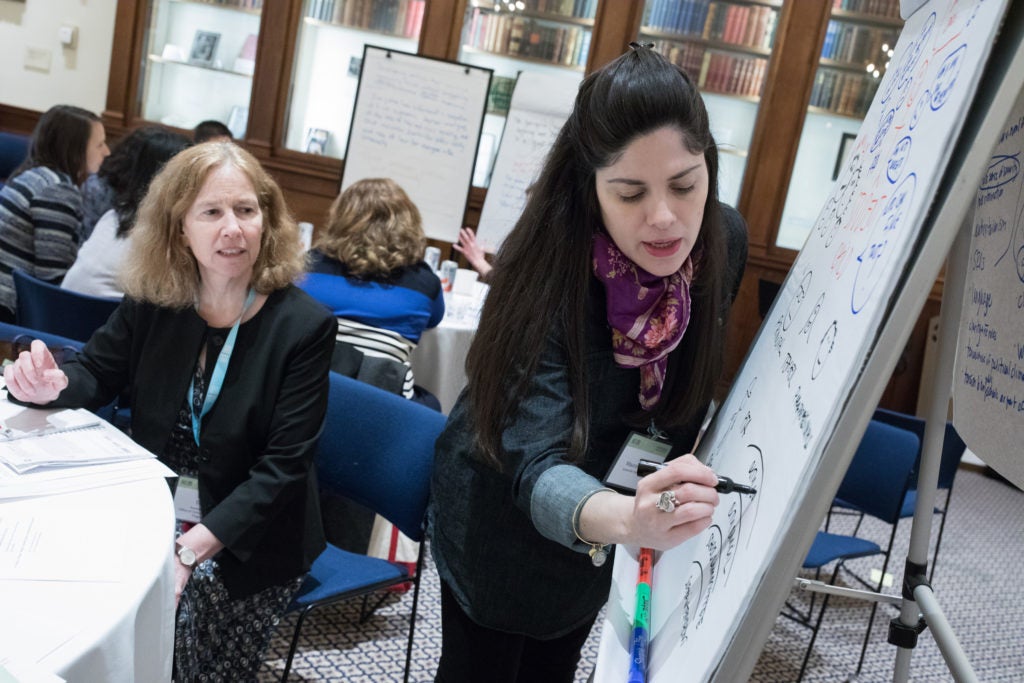 These talks brought some recent injustices to light: Fatma E. Marouf '02, now a professor at Texas A&M University School of Law, told of a client she had worked with, an El Salvadoran immigrant in that area who'd been brought to a hospital in shackles, even though she was suffering from a brain tumor. Sarah Rogerson of Albany Law School talked about a Canadian immigrant who was in the U.S. on a visa, but was deported because she had forged a check to escape from an abusive home; the charges against her had been dropped. According to Rogerson, the ICE agents who apprehended her said, "Trump is President, we can do anything we want now."
The hackers went to work brainstorming on solutions. The discussion sessions were also divided into sections—the first to explore problems, the second to identify "shareholders" who have a stake in the issue, and the last to generate preliminary solutions. In the religious spaces group, for example, the problem was defined as "creating a safe and sacred space in light of unjust laws," and the shareholders included congregations, community, immigrants, families and enforcers. Among the proposed solutions was a look at terminology: Rebecca Maxey, a visiting attorney from Anchorage, Alaska, noted that her city is now positioning itself as a "welcoming city," to promote the idea of being a good neighbor and to avoid the negative spins on the word sanctuary.
At the end of the hackathon, each group presented the solutions it had come up with. Some were based on concrete actions: The courthouse group proposed a work stoppage until Immigration and Customs Enforcement is no longer allowed in the court system, or a human chain to keep arrests from happening there. Similarly, the healthcare panel suggested making clinic entrances less accessible, or moving them to spots within the communities, so they could offer sanctuary from ICE. And the religious group proposed solutions starting with the letter D—discussion, dialogue, discernment—all geared toward educating the community and increasing awareness of the struggles that immigrants face.
Other groups recommended more sweeping philosophical changes. Speaking for the first responders' group, Rick Su '04 (now a professor of law at University of Buffalo) proposed empowering communities over the national government. "What if we abolished ICE and had that [enforcement power] in local police departments? That sounds like a radical idea but our federal police department has always been small." He also suggested that funds currently given to ICE could be used to strengthen community programs. At the same time he noted that the Trump era has unleashed attitudes that were seldom out in the open before. "You now have localities expressing opposition to sanctuary in ways that are sometimes toxic, racist. Part of our goal today is to bring up the topic of humanity that should animate the conversation."
Ideas from Friday's session will be posted as a wiki online, then developed and ultimately carried to cities and communities. As Sarah Rogerson said toward the end of the day, "We've covered a lot of ground in a very short period of time, and I was skeptical at first of our ability to do that. If the takeaways from today encourage one person to experiment in a way that they haven't before, then it will help move the ball forward."