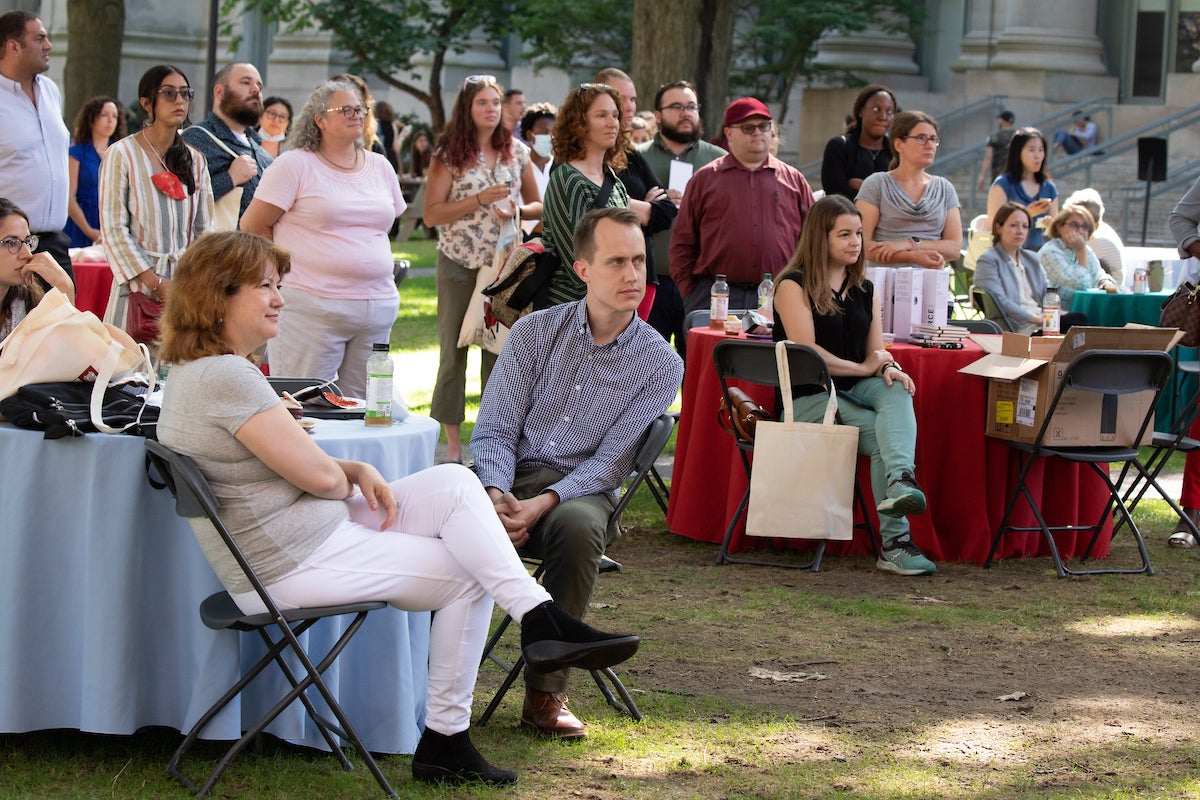 HLS hosts a variety of events for its employees to create a community of connection, collaboration, and creativity. On this page, you can see upcoming events for HLS Staff and a summary of events offered throughout the year. You can also learn about programming for staff on the Staff Dashboard
Upcoming Events for HLS Staff
June 8, 2023, 1:00 pm – June 9, 2023, 12:00 pm

​HLS Human Resources welcomes staff members to join an exciting pilot program, led by faculty member and international negotiation expert Sheila Heen, to build skills in navigating difficult conversations. 

June 27, 2023
3:00 pm – 5:30 pm

Join us for the HLS Staff-Faculty Family Picnic. Enjoy food, family, and fun & games on Holmes Field. 
Event Overview
Below we've provided some descriptions for events offered throughout the year! More details for the events will be emailed directly to the HLS community. If you'd like to learn more about events for staff at HLS, you can reach out to Gloria Alonzo.
Social Events
Tuesdays@Ten

Stop by Tuesdays@Ten for a chance to mingle with your colleagues across departments and chat with Dean Manning.  These informal, hour-long gatherings provide a chance to break up your morning, catch up outside of the office, and build your HLS community.

Festivities@Four

Typically held on a Thursday or Friday, these festivities are a chance for staff to come together and unwind over apps, drinks, and games.

HLS Holiday Party

Staff, faculty and their families are invited to gather together every December for our HLS holiday party.  Come celebrate the end of the year and the holiday season with your colleagues and their families.

HLS Staff-Faculty Picnic

Staff, faculty and their families are invited to gather together every summer during our HLS community picnic.  Hosted on campus, stop by to enjoy games and picnic food.

Meals with Manning

Meals with Manning gives Dean Manning a chance to hear from and get to know you over lunch. He invites you to join him at some point this year and to bring your stories, your feedback, and your thoughts on how we can together make the Law School even stronger.
Community Learning Events
Topics@Ten or Two

Join us as we gather to hear one of our faculty experts discuss their latest research at Topics@Ten.  These hour-long sessions provide an opportunity for our community to connect with the excellence and innovation in teaching, learning, and research central to the Law School's academic mission.

Library Fridays@Four

The Library Historical & Special Collections department teach us about their most recent endeavor during Library Fridays@Four.  Employees are invited to gather in the Caspersen room where the latest special collection will be on display and Library staff will provide a brief history about the collection and their experience curating the project.

Mock Class

Catch a glimpse of what it is like to be a Law School student.  Our hope is that the sessions will give employees a fun and lively view into what happens in our classrooms and also explore some of the topics that our students engage with.
Community Building Events
Dean's Award for Excellence

The Dean's Award for Excellence recognizes staff members who embody both the letter and spirit of excellence within the HLS community.  Each year staff nominate their colleagues, and honorees are chosen by the advisory committee in accordance with the award criteria.  Each year, all staff are invited to celebrate the recipients at an awards ceremony.

Thanksgiving Pie Giveaway

Join us for a day of gratitude and take home a pie during the Thanksgiving season.  All staff are welcome to come grab a pie to take home and write a thank you note for a fellow colleague.

Week of Service

At least once per year, we designate a week for service. For this week, we collaborate with a handful of local organizations to send a small group of our staff to volunteer together.  This provides an opportunity for staff to go off campus and spend part of their day giving back to the community with fellow colleagues.  We provide on campus participation opportunities as well.  This event helps unify staff behind good causes and provides an opportunity to engage the staff in community service.

HLS Staff Culture Fest

The HLS Staff Culture Fest's mission is to build a strong & inclusive community through celebration of both the distinct and universal expressions of our cultures, identities, and lived experiences. We want to celebrate culture in a multitude of ways.

Check out past Culture Fest Pages here.
Photos from HLS Events