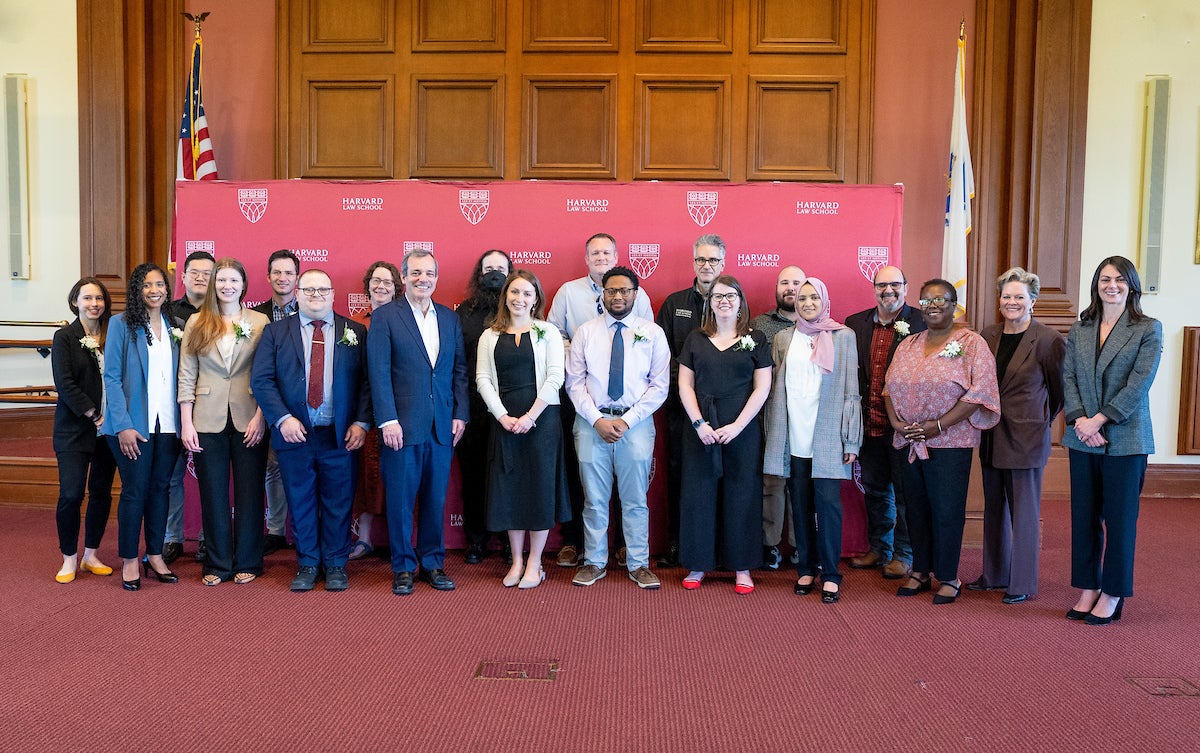 The Dean's Award for Excellence recognizes staff members who embody both the letter and spirit of excellence within the HLS community.
Congratulations to our 2023 Honorees!
Kristina R. Barrett
Director for Student Administration, Dean of Students
Charlie Choi
Audio Visual Systems Administrator, ITS
Lorin Granger
Multimedia Producer, Communications
Courtney McMann
Associate Director of Admissions, JD Admissions
Melissa Minaya
Program Administrator, Harvard Legal Aid Bureau
Vaughn Samuels
Learning Experience & Media Lab Associate, LXI
TEAM AWARD: HLS Website Project Team
Reem Al-Khalqi, Software Developer, ITS
Rebecca Bakken, Assistant Director for Digital Strategy, Communications
Daniel Coelho, Senior Business Systems Analyst, ITS
David Killeffer, Senior Software Engineer, ITS
John Klein, Principal Software Engineer, ITS
Nathaniel Logus, Principal Architect, Portfolio Lead, ITS
Enrique Lozano, QA Engineer, ITS
Courtney Majocha, Associate Director for Digital Strategy & Design, Communications
Erin Michaud, Senior Systems Administrator, ITS
Julie Vakoc, Senior Director for Digital Strategy & Marketing, Communications

Award Criteria
In order to be considered for either award, staff members must have a minimum of 1 year service at HLS and be nominated by a current HLS faculty or staff member. Department Heads and Deans are ineligible for the Dean's Award, but may be nominated for Harvard Heroes.
Honorees are selected in accordance with the following award criteria, based upon the degree of demonstrated excellence and the impact of the honoree's actions. Strong nominees may exhibit several of the characteristics listed below.
Excellence in…
Collaboration

An effective collaborator works effectively with others to produce positive results. This person may approach their work in the following ways:

Solicits diverse views in completing projects;
Establishes effective partnerships across multiple levels of the organization;
Builds consensus in decision-making;
Shares knowledge or information contributing to group success;
Increases success of team(s) through process of cooperative problem-solving.

Commitment

A deeply committed staff member demonstrates a dedication to their work, which in turn contributes to the vibrancy of the HLS community. This quality manifests itself when an employee:

Demonstrates an intense commitment to provide excellent service to co-workers, students and faculty;
Shares enthusiasm for the School with others;
Maintains perseverance in the face of adversity;
Is known in the community as a reliable go-to person, willing volunteer or good citizen (e.g. reaches out to new staff; motivates others around a cause) who enriches the School.

Innovation

An innovative staff member shows outstanding creativity when confronted with challenges, issues or a need or desire for improvement. One might approach their work in the following ways:

Actively seeks ways to advance beyond the status quo;
Proactively identifies novel, creative ways to improve upon processes or service delivery;
Implements change in a positive manner and strives to ensure its success;
Demonstrates ability to stir the pot for positive, fresh impact;
Approaches problem-solving with a solution orientation.

Leadership

A strong leader demonstrates a unique ability to guide and inspire others, which in turn contributes to the effective and efficient functioning of the School. Both managers and non-managers may possess, and make evident, strong leadership in the following ways:

Inspires and encourages personal and professional development in others;
Builds strong relationships that support a high level of trust and credibility;
Adapts readily to new situations;
Effectively persuades others using keen organizational awareness;
Mentors and cultivates employees, creating a culture of respect that fosters an atmosphere conducive to achievement;
Contributes to the success of an initiative that benefits those outside his/her own department and/or places emphasis on collaboration within and among departments.

Learning

One who ensures that learning is integrated with work, and uses the knowledge gained to improve business results may approach their work in the following ways:

Converts information, business data and processes into opportunity;
Views mistakes as stepping stones essential to further growth;
Promotes transfer of knowledge and influence from person to person;
Recognizes and responds to differing learning preferences and cultivates other's abilities and talents;
Models an open attitude toward self-evaluation;
Promotes self-direction and empowers colleagues to make decisions;
Celebrates the learning process for its own sake;
Works under the assumption that everything is subject to re-examination and acts on opportunities to implement positive change.
Recognition Advisory Committee
2022-2023 Advisory Committee Members
Sama ElBannan, Harvard Defenders
Daryl Muranaka, Faculty Support Services
Anna Pierce, Legal Services Center
Steven Ramos, Finance
Anastasia Tolu, Learning, Experience & Technology
*Gloria Alonzo and Roxanne Armbruster from Human Resources will assist the Recognition Advisory Committee
Highlights from the 2023 Dean's Award Ceremony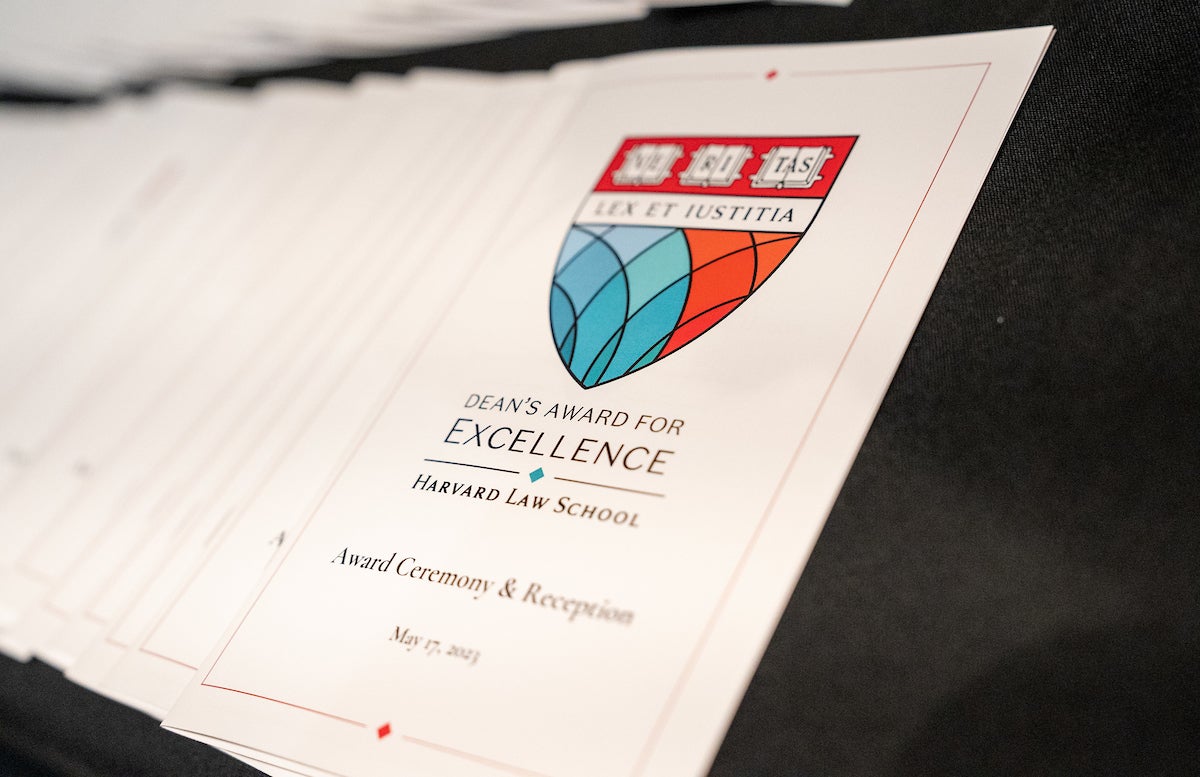 Previous Award Recipients
2020

Kendra Albert,  Cyberlaw Clinic

Carolyn Hubbard,Dean of Students Office

Mark Christopher Jefferson, Dean of Students Office

Laura Johnston, Center for Health Law and Policy Innovation

Mark Lombardi, Facilities

Tammie Lombardo, Information Technology Services

Jocelyn Kennedy, Harvard Law School Library

Gene O'Connor, Facilities

Mary O'Rourke, Learning Experience and Technology

Dianne Ribeirinha-Braga, Dean of Students Office

Liz A. Solar, Clinical and Pro Bono Programs

Phil Torrey,Harvard Immigration and Refugee Clinical Program

Maureen Worth, Faculty Support Services

Team Award

Mary Rapala, ITS

Ben Watson, ITS

2019

Lori Adgate, Finance

Carol Flores, Criminal Justice Institute

Daniel Fox, Library, Teaching, Learning, & Curriculum Services

Mindy Kent, Library, Reference & Research Services

Laurie Lower, Dean of Students Office

Susan Salvato, Office of the Registrar

Dana Walters, Human Rights Program

2018

Maggie Bay, Office of Clinical and Pro Bono Programs

Kira Hessekiel, Berkman Klein Center for Internet and Society

Catherine Peshkin, Graduate Program

Sheena Prosper, Dean of Students Office

Thomas Robinson, Admissions

Patricio Rossi, Harvard Legal Aid Bureau

Lesley Schoenfeld, Library

Team Award

Jacob Kantzer, ITS

Nathaniel Logus, ITS

Lynne Prevost, ITS

2016

Juliet Bowler, East Asian Legal Studies & HLS Project on Disability

Hakim Lakhdar, Center on the Legal Profession/Executive Education

David O'Brien, Berkman Klein Center for Internet and Society

Naomi Schaffer, Graduate Program and International Legal Studies

Yvonne Smith, Dean of Students Office

Kirsten Solberg, Office of Career Services

Amy Elizabeth Soto, Criminal Justice Institute

Anastasia Tolu, Faculty Support

Heather Williams, Office of Clinical and Pro Bono Programs

Team Award

Natasha Onken, Student Financial Services

Rory Placa, Student Financial Services

2015

Lisa Brem, Library

Stephany Doulames, Alumni Affairs and Development

Alexander Horn, Education Law Clinic & Transactional Law Clinics

Mark Kleinschnittger, Office of Career Services

Susan Norton, Faculty Support Services

Nnena Odim, WilmerHale Legal Services Center

Nancy Pinn, Graduate Program

John Slasberg, Harvard Defenders

Ina Spaho, Office of Clinical and Pro Bono Programs

Team Award

Jacob Kantzer, ITS

Dan Kaplan, ITS

Lin Lee, ITS

Branden Loizides, ITS

Courtney Majocha, Communications

Keith McCluskey, Communications

Janell Sims, Communications

Samantha Timpano, ITS

Julie Vakoc, Communications

2014

Carrie Ayers, ITS

Amanda Cegielski, Faculty Support Services

Nancy Kelly, Immigration and Refugee Clinical Program

Darrick Northington, Faculty Support Services

Catherine Pattanayak, Bernard Koteen Office of Public Interest Advising

Rebecca Tabasky, Berkman Center for Internet and Society

Dehlia Umunna, Criminal Justice Institute

John Willshire-Carrera, Immigration and Refugee Clinical Program

Sara Zucker, International Legal Studies

2013

Lee Branson, Office of Clinical and Pro Bono Programs

Gina Cinelli, Finance

Catherine Claypoole, Dean's Office

Edgar Filho, Facilities

Karen Gray, Human Resources

Dan Kaplan, ITS

Matthew Matturro, ITS

Julie McCormack, LSC

Kathleen McGillicuddy, Faculty Support Services

Denise Ryan, Student Financial Services

Geoff Swift, Finance