Where Law and Public Policy Meet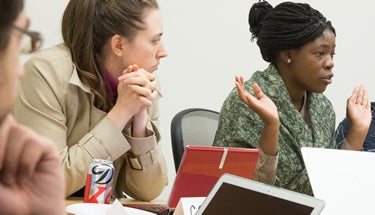 Ruthzee Louijeune is now in her third year in the Harvard joint-degree program in law and government. She says she "wanted both the structure of law school—the experience of learning how to read the law and interpret it and be a critical thinker—but also the scope that the Kennedy School offers, the management and policy analysis."
Students in the program pursue a J.D. at Harvard Law and either an M.P.P. (master in public policy) or an M.P.A.-I.D. (master in public administration in international development) at the Kennedy School, finishing both degrees in four academic years after completing a final project involving law and policy.
Although students at Harvard have been pursuing degrees from the two schools simultaneously for decades, the joint-degree program established in 2006 streamlines the process. Changes to the program introduced recently are intended to further enrich the student experience, says HLS Professor David Barron.
Last year, Barron and HKS Professor Archon Fung introduced the public problems seminar for all third-year students. The program—which is directed by Barron, Fung and HKS's Sarah Wald—also now gives participants the opportunity from the beginning to meet with a range of alumni who talk candidly about their careers and how they've made use of their dual training. Visitors have included Bryan Stevenson J.D./M.P.P. '85, founder and executive director of the Equal Justice Initiative; Robert Zoellick J.D./M.P.P. '81, former president of the World Bank; economist Larry Bacow J.D./M.P.P. '76, former president of Tufts; and David Chiu J.D./M.P.P. '95, president of the San Francisco Board of Supervisors.
So far, Louijeune has been focused on issues related to education: "making sure we are doing the best we can to educate our citizens to be involved in the democratic process," she says. Appointed by Boston Mayor Thomas M. Menino, she participated in an advisory committee that issued recommendations this year on changing the way the city assigns students to public schools. And although it's too soon to know where she will land when she graduates from the HLS/HKS program, she says, "I think the two schools really balance each other out in terms of what they offer to someone who is interested in delving deeply into the pressing public problems of our nation and our time."