In a time of democratic crisis, how can we be contributors, not merely bystanders, to efforts to strengthen our society?
That was the core question posed by nationally renowned law professor, civil rights lawyer, and public intellectual Sherrilyn Ifill during the 2023 Francis Biddle Memorial Lecture, held at Harvard Law School on March 24.
In a talk titled "Leave No Power on the Table," Ifill focused on the issues that she is currently grappling with in her thinking and writing: what are the roles of institutions and individuals in a moment of "democratic unravelling?" The lecture drew on Ifill's upcoming book, "Is this America?," in which she examines the role of race and racism in bringing about what she sees as the current democratic crisis in the United States, and what needs to happen to ensure that our democracy emerges stronger, not broken.
Ifill's work draws from her decades of experience as a lawyer and scholar. As the seventh president and director-counsel of the NAACP Legal Defense and Educational Fund, or LDF, Ifill renewed the organization's intellectual mission, focusing its efforts on civil rights, criminal justice, and economic equality, said Guy-Uriel Charles, the Charles J. Ogletree Jr. Professor of Law, who introduced her.
"When the country needed it most, she and the LDF served as the moral conscience of this country," he said. Among many other honors, Ifill was named one of the 100 most influential people in the world in 2021 by Time magazine and was awarded the Radcliffe Medal in 2022.
"Few have been as impactful in the past decade in shaping the national conversation about race and civil rights as Sherrilyn Ifill," added Charles, who directs Harvard Law School's Charles Hamilton Institute for Race and Justice.
As a civil rights lawyer, Ifill said that she seeks to "discern the scaffolding of injustice in our society."
"That is to be able to understand how the pieces fit together, the joints, not just individual instances of injustice, but the overall framework that holds it together," she said.
To Ifill, the nation's democracy has almost always been unhealthy and unjust. She noted that only in the last 50 years, with the passage of the Voting Rights Act in 1965, has the U.S. been a true democracy in which all members of society could participate in the political process. But democracy is also fragile, she said, requiring constant, intentional work to make sure that it not only survives, but grows stronger.
"This moment that we are in is one in which we genuinely face the possibility of losing democracy," she said.
The examination of institutions is critical to this work, Ifill noted. In recent years, faith-based organizations, the media, and the business and legal communities have revealed alarming weaknesses that she said should serve as a call to action.
"The revelation of weaknesses are welcome opportunities for us," she said, likening the process to the work one might do on a home when something breaks. "Sometimes you can patch the existing infrastructure and sometimes you have to tear it out and create something new."
As a lawyer, Ifill pays special attention to the legal community's role in this process. She is troubled by the current Supreme Court's lack of deference to trial records and lower court findings, and said she is "deeply concerned about a profession in which we see the rules changing depending on the nature of the case."
"We have to talk about our own legitimacy and the legitimacy of the profession," Ifill said. She noted that there are regularly "feel good local news" stories of men, usually Black men, being released from prison after lengthy incarcerations for crimes that they did not commit. The legal community should consider how it derives status from a profession that participates in a system that consistently steals the lives of Black men, she said.
"Are we OK with that?" she asked. "Don't we have a crisis of legitimacy and not just the Court?"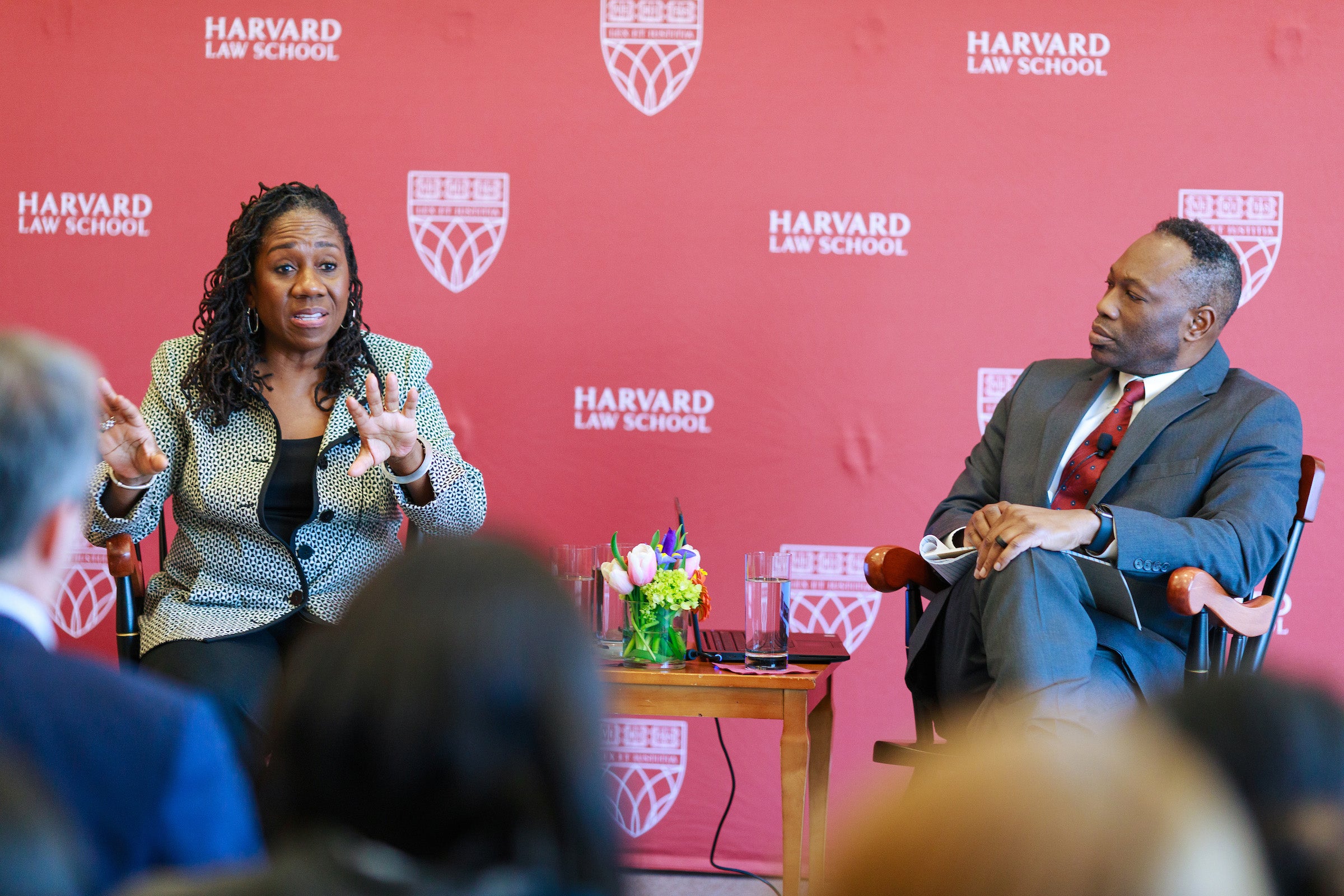 Ifill's book title is based on Fanny Lou Hamer's 1964 speech at the Democratic National Convention. Hamer, a Black sharecropper and human rights activist, arrived at the convention with the Mississippi Freedom Democratic Party to challenge the legitimacy of her state's all-white delegation. Recounting being shot at after she attempted to register to vote and savagely beaten because of the color of her skin, and noting that she had to take her phone off the hook at night to stop the relentless calls threatening her life, Hamer ultimately asked "Is this America?"
"The implication is clear," Ifill said. "What is it that she knows about America that these very fine people sitting in that room did not know, or purported not to know?"
The question of what voices we listen to are at the heart of her book, Ifill said.
"If you want to know what the weaknesses in your democracy are, how do you find out what they are?" Ifill asked. "You listen to the people who confront those weaknesses most readily, and those are the people who are most marginalized in our country, the clients I've been privileged to serve for 30 years."
The Biddle lecture is named for Francis Biddle, a 1911 HLS graduate, who served as chairman of the National Labor Relations Board, solicitor general, and U.S. attorney general during World War II. He was subsequently a judge at the International Military Tribunal at Nuremburg.
After Biddle's death in 1968, his widow Katherine Garrison Chapin Biddle endowed the lecture in his honor, with a request that the selection of lecturers reflect "that civil liberties and civil rights were of particular concern to my husband and thus particularly appropriate subject areas for the lectures."
---
Want to stay up to date with Harvard Law Today? Sign up for our weekly newsletter.