Two Harvard Law School faculty members were recognized in May at affinity celebrations honoring graduates from across the university. The events, hosted by students and staffed by the Harvard Office for Equity, Diversity, Inclusion, and Belonging, took place during Commencement week 2023.
Michael Ashley Stein '88, co-founder and executive director of the Harvard Law School Project on Disability, received the inaugural Excellence in Accessibility and Inclusion Faculty Award at an affinity celebration honoring Harvard graduates with disabilities on May 22. The award recognizes a Harvard faculty member who has gone above and beyond to create a safe, welcoming, and accessible campus and classroom environment for all, and who advocates for the rights of the disability community. Stein, who has been a visiting professor of law since 2005, is considered one of the world's leading experts on disability law and policy.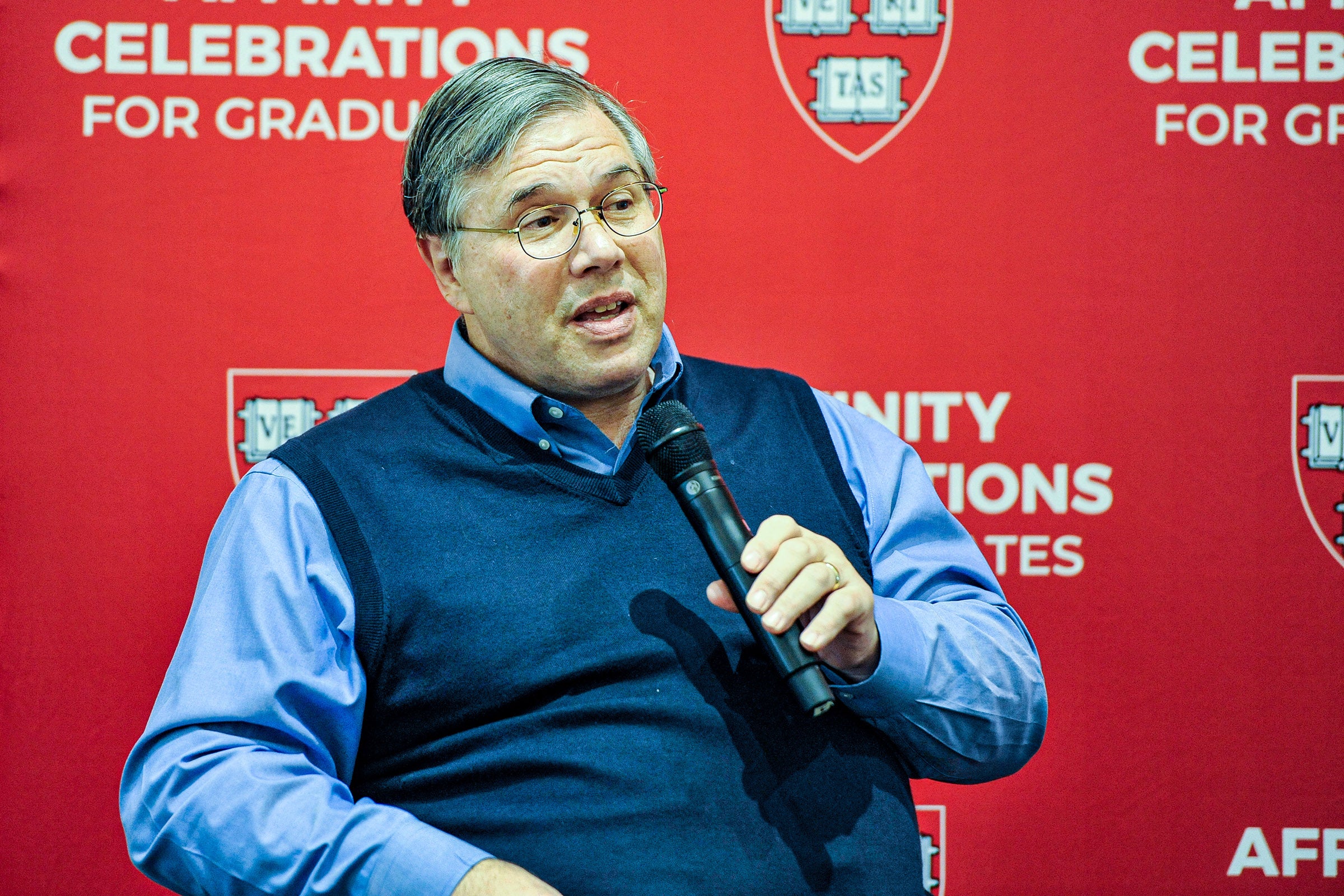 Reflecting on the challenges he faced when he first arrived at Harvard as a student with disabilities in 1985, and the many improvements that have occurred since then, Stein told the audience, "I would wish for all of you, that you would have had all the support and accommodations that you're entitled to, I would wish for you to have had an easier time, if you struggled at all, while at the university. … I want to thank you, each one of you, who has been advocating for disability rights for inclusion, not only for yourselves, but for the larger group. … [W]hat you have done even if you have not seen the change that you wished, you have added to the momentum, you have added to the voices, and you have moved forward and contributed to that arc towards inclusion."
Later the same day, at an event honoring Asian, Asian American, Pacific Islander, and Desi American (APIDA) graduates, Alexander Chen '15, founding director of Harvard Law School's LGBTQ+ Advocacy Clinic, received the Faculty Award for Outstanding Commitment to Diversity, Equity, and Inclusion and the AAPI/APIDA community. A lecturer on law, Chen teaches Gender Identity, Sexual Orientation, and the Law. His work focuses on expanding the rights of LGBTQ+ people through impact litigation and policy advocacy.
"So, this is what I want to leave you all with today to think about as you go off into the world as new graduates," Chen said to members of the Harvard Class of 2023 in the audience. "How can you really lean into the strength of your family history, the strength of your heritage, the strength of your cultural background, and your ancestors and your upbringing to contribute that richness and perspective to American society so that we can make it a stronger and a more just and equitable place for everybody concerned? I want you all to go off and do that. And I want to be excited by the new things that we will go create together if you go and do that."
Harvard University affinity celebrations honoring graduates are student-led, staff supported events that recognize the accomplishments of graduates from historically marginalized communities. These university-wide events provide an opportunity for graduates to honor those who have helped them achieve their milestone while centering their cultural traditions and values. Faculty award winners are nominated by students and selected by a student planning committee.
---
Want to stay up to date with Harvard Law Today? Sign up for our weekly newsletter.