Rita Hauser '58 and Roel Campos '79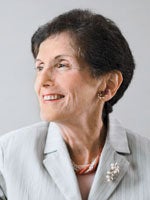 Since early 2010, Rita Hauser '58 and Roel Campos '79 have been serving on the President's Intelligence Advisory Board, appointed by President Barack Obama '91. The board acts as an independent source of advice on the effectiveness with which the U.S. intelligence community is meeting the nation's intelligence needs. Hauser first served on the nonpartisan board during the Bush administration, from 2001 to 2004.
An international lawyer, Hauser is of counsel at the New York City law firm Stroock & Stroock & Lavan, where she was a senior partner for more than 20 years. She is president of The Hauser Foundation, and she chairs the International Peace Academy (a research organization affiliated with the United Nations) and the Advisory Board of the International Crisis Group. She also serves on the Dean's Advisory Board at Harvard Law School.
Campos is currently the partner-in-charge of the D.C. office of Cooley Godward Kronish. Prior to joining Cooley, he was a commissioner of the Securities and Exchange Commission, acting as a liaison to the international regulatory community. He was one of two principal owner-executives of El Dorado Communications, a radio broadcasting company, at its headquarters in Houston, before joining the commission.