Sure, Lassie rescued Timmy. Rin Tin Tin tamed the Wild West. But could these canine heroes teach copyright law? Well, Meatball can.
Meatball, Heather Whitney's irresistible French bulldog puppy, starred in hypotheticals that provoked lively discussions of copyright law among the students that Whitney '13 guided as a Harvard Law School teaching fellow (see sidebar below).
Besides digging up bones of contention among Whitney's students, Meatball helped create a community founded on academic rigor and good-natured ribbing. "The back and forth in my section has been quite fun," she reports. "We all feel pretty comfortable with each other."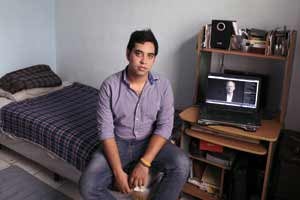 The intellectual rapport that Whitney describes developed not in a classroom, but virtually, online. It flourished among a small group of strangers dispersed across many continents, whose life experiences were as disparate as those of a Brazilian judge and a U.S. high school student. It happened because a new, experimental, Web-based Harvard Law School course prioritized the human dimension of online teaching. The course is the brainchild of Professor William W. "Terry" Fisher III '82.
Fisher, an intellectual property law professor and the director of HLS's Berkman Center for Internet & Society, is committed to what he calls the democratization of higher education. "Education, and higher education in particular, should be as widely available as possible," Fisher asserts. "It's essential to human flourishing, and it's immoral to confine access to something so valuable to a tiny group of people."
---
The Meatball Hypothetical
Heather posts on Facebook a photo of her French bulldog in an argyle sweater. It goes viral, and a huge international pet store wants to use the photo of Meatball in its next dog ad. But it was Chris—the pet's co-guardian—who suggested the sweater and hounded Heather to follow through. For copyright purposes, is Chris the author? Sole? Joint? Work for hire? Nothing? Discuss."
---
Practicing what he preaches, Fisher posts all his course materials, scholarship and lectures on his personal website, tfisher.org, making them accessible to anyone, anywhere, with an Internet connection. Now, he has created CopyrightX, a free, online, noncredit course for which students may receive a certificate of completion. It was offered this spring through edX, a Harvard and M.I.T. initiative that now has additional university partners. EdX provides MOOCs—massive open online courses—to millions of people across the globe.
MOOCs typically feature open enrollment—attracting as many as 150,000 registrants—without the sort of expertly guided, real-time discussion you would experience in a small classroom seminar. Attrition rates can soar to upwards of 90 percent. For CopyrightX, Fisher wanted to maintain the advantages of a MOOC while introducing new, educationally dynamic elements. So, he did some tinkering. He made online discussion a centerpiece, and brought attrition down to around 40 percent by limiting enrollment and implementing a formal application process. He recruited 20 Harvard Law School copyright students as teaching fellows. Of 4,100 people from around the world who applied during a two-week period, 500 were accepted—just the right number to distribute among 20 sections of 25 students, each led by a teaching fellow.
---
CopyrightX Demographics
Of the 500 people accepted into the class out of 4,100 applicants, only about 30 were lawyers. Students came from many backgrounds and a wide range of professions. About 300 had undergraduate degrees, 170 had master's degrees and 43 held Ph.D.s. The class was split evenly between men and women.
Age
3% were teens
38% were in their 20s
27% were in their 30s
20% were in their 40s
12% were 50 and above
Geography
The course had at least one admitted student from every continent except Antarctica.
70 countries represented
256 admitted students from the U.S.
21 from Canada
17 from India
16 from the U.K.
6 from China
---
Fisher taught CopyrightX concurrently with his on-campus copyright law course, allowing some interesting overlaps. "The idea was not only to make the course available to the world at large, but also to enrich the educational experience of the Harvard Law School students," he says. That enrichment occurred through the CopyrightX teaching fellowship program, and through special guest-lecture events where HLS students were privy, in real time, to the perspectives of the enormously diverse edX students (see demographics sidebar right).
Ana Enriquez, a visiting 3L from Berkeley Law, believes that being a teaching fellow has improved her ability to explain copyright law to nonlawyers. "That's a really important skill for a law student to develop," she says.
The HLS and edX copyright courses differed in important ways. Both the HLS and the edX students watched, online, Fisher's weekly prerecorded lectures. But while the HLS students met face to face with Fisher himself twice a week, the edX students met online once a week with their teaching fellows.
In addition to watching Fisher's lectures, teaching fellows prepared by posting questions about assigned readings online for their students to consider and discuss in advance of their weekly seminars; by attending Fisher's on-campus classes; by meeting occasionally with the professor one-on-one; and by attending weekly lesson planning meetings with him and his team.
During seminars, teaching fellows took quick minipolls to gauge students' understanding of the material. They then introduced concepts and case studies and started class discussion. The software, Adobe Connect, has functions that enable visual and audio presentations and that let students "raise their hands," see and speak to each other, and "chat." Each seminar lasted 80 minutes.
Abtin Kronold, 28, one of the few lawyers enrolled in CopyrightX, is a Swedish Iranian living in Brussels. He works for Facebook and speaks eight languages. What stands out for him is the richness of seminar discussions. "The benefits?" he wrote via email. "They are just too many to count—but how about access to knowledge that was not available before and suddenly is, to everyone! It is amazing. It's the next Wikipedia."
---
Guest Lectures
Artist Shepard Fairey, novelist William Landay, and intellectual property litigator Dale Cendali '84 were among CopyrightX guest lecturers.
---
Kronold's excitement is testimony to the quality of education being delivered by the teaching fellows, who banded together in a way that Fisher did not anticipate but was pleased to see. They shared the case studies that they wrote for their seminars and brainstormed solutions to teaching challenges they encountered. "They have a lot of responsibility and authority in organizing their sessions, and they have seized that responsibility and run with it," Fisher says
More than that, the teaching fellows reported benefiting from exposure to new angles on the law. "Hearing the perspectives of non-Americans makes you realize that more things are contingent than you would otherwise think about when you are just living in your own country with your own law," says teaching fellow Heather Whitney.
CopyrightX student Margaret Waters agrees. Interacting in virtual seminars with her classmates, she says, allowed her to view the issues from beyond her own experience. Also, for her, engaging in in-depth class discussions was essential. "You're not a sea of 500 people in a lecture dispersed all over the world," says Waters, a writer for high-tech companies who lives in the Boston suburb of Belmont, Mass., with her husband and two children.
The first edX course offered by a Harvard Law School professor, CopyrightX has the potential to bring the latest generation of online education to another level. "When I began, with the help of this whole team, to plan my course last fall," Fisher says, "I definitely did not take the edX-available technologies or approach as given and accommodate my course to it, but the opposite. I think the right way to engage in online education is to be very clear from the beginning what you want to achieve and then, to the extent possible, to develop technologies and structures that will advance it. That has required adding to or adapting the edX technology in many ways, to make it work for what I want to achieve." The ability to deploy such technologies as Adobe Connect in the edX platform has been an important contribution of the Berkman Center.
EdX is not without controversy. Critics wonder whether free, universal access to Harvard courses will devalue on-campus education. Fisher himself doesn't see the threat. For him, the irreplaceable value he sees in the ways people interact "in real space" coexists with the necessity of making higher education more accessible.
Fisher is also interested in the research mission of edX to explore and improve education both online and in university classrooms. MOOCs, by their nature, provide unprecedented access to massive amounts of data on how students learn. In that spirit, Fisher has embedded pedagogical experiments into CopyrightX. Some sections used the case method, focusing on U.S. law; others have an international scope. Some sections used traditional online discussion tools only, while others employed NB, a new technology developed by M.I.T. Professor David Karger, which permits readers jointly to annotate shared materials posted in PDFs online. Fisher is tracking the results with his core team: Berkman fellow Nathaniel Levy, head teaching fellow Kendra Albert and Berkman staff member Ed Popko.
It's too early to glean the results of these experiments. But there are already some questions at play: Does the use of annotative technology like NB facilitate more and better textual analysis? Will the analytical skills of the students who used the global curriculum differ from those of the students who studied the case law method, and if so, what are the implications for teaching international law? How will the teaching fellows be affected by their experience, and how will that resonate throughout the law school?
More broadly, CopyrightX and other online courses represent a new frontier—and that's part of what makes them exciting. Simply telling the story of the challenges and rewards of making CopyrightX work will be illuminating, Berkman fellow Levy believes. "We're definitely, definitely interested in and enthusiastic about distilling some practical recommendations," he adds.
What will MOOCs and MOOC-derivatives like CopyrightX tell university professors about best teaching practices? As Levy intimates, researchers are only beginning to explore that question. But one thing is clear: EdX and its ilk are here, and their proponents believe that they have enormous, untapped potential. For HLS, expect that CopyrightX is just the beginning.