The annual Last Lectures are traditionally a time for Harvard Law School professors to leave graduating students with a few inspiring thoughts. On April 23, Professor Michael Klarman chose to invoke two inspiring figures in legal history: Thurgood Marshall and Ruth Bader Ginsburg.
Klarman, an expert on constitutional law and constitutional history, has studied legal struggles for racial and social equality in his three books—most recently, in 2012's "From the Closet to the Altar: Courts, Backlash and the Struggle for Same-Sex Marriage." He said he is particularly inspired by civil rights lawyers, whose work evinces "hope and resilience in what I find to be an alarming political landscape."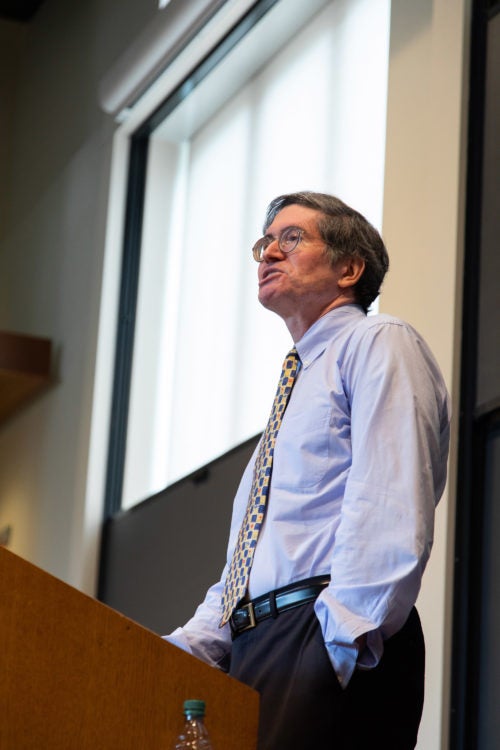 Klarman noted that pioneering civil rights lawyers faced the challenge of Jim Crow laws, enacted to enforce racial segregation: No Southern law school would admit African Americans until the 1950's. For women, the challenges were even greater, even in the Northeast: Harvard Law School didn't admit women until 1950, and when Ruth Bader Ginsburg enrolled several years later, she was one of only nine women in a class of over 500. At HLS, Ginsburg was not allowed to live in a dormitory, and she never had a female professor at Harvard or Columbia, where she completed her legal studies.
Relating a story that's become famous through the recent movie "On the Basis of Sex," Klarman said that those nine women were invited to dinner by then Harvard Law School Dean Erwin Griswold, and asked why they wanted to attend Harvard Law School when they were "taking the place of a man who could presumably put his law degree to better use." (In a 1993 interview with the Harvard Crimson, Dean Griswold claimed that he was only playing devil's advocate and that Ginsburg misunderstood).
But black Americans faced serious threats in advocating for civil rights, or in simply attempting to vote. Klarman cited the case of war veteran Etoy Fletcher who tried to register to vote in rural Mississippi in 1946. After being turned away, Fletcher was kidnapped by four white men who flogged him and warned him never to try to register again. That same year, in Tennessee, Thurgood Marshall was nearly lynched while he represented clients who participated in the Columbia race riot. Black lawyers were also humiliated in court, as when Supreme Court Justice James McReynolds literally turned his back on Charles Hamilton Houston '22, who was arguing the case (Missouri ex rel. Gaines v. Canada) that challenged Missouri's practice of excluding African Americans from the state's law school.
Klarman also said that history tends to forget the equally groundbreaking work that these lawyers did outside the courtroom. Marshall and Houston went into black communities and tried to educate people about their rights under the Constitution. "They saw part of their job as mobilizing black communities to fight against an oppressive status quo, encouraging them to believe that progressive racial change was actually possible." The very presence of black lawyers—who could, for instance, stand up and accuse a white sheriff of lying about mistreating black defendants—could have a galvanizing effect. In 1970, Ginsburg co-founded the Women's Rights Project, which was modeled after the NAACP and aimed at educating the general public on issues of sex equality. "She devoted at least as much of her time to educating people about sex discrimination as she did to litigating sex equality cases."
The past 50 years have seen change for the better, Klarman said. "A black man recently completed a successful eight years as president, and a woman just narrowly missed [becoming president], through a series of bizarre events." In the current political climate, he said, graduates face "unprecedented challenges, not only in saving the world but in saving democracy and the rule of law. Good luck, I know you'll make us proud."