After Hurricane Katrina hit the Gulf Coast, many HLS students felt helpless watching news accounts of the unfolding devastation while beginning fall classes. The law school had posted links for the university's matching donations program and announced plans to host 25 law students from Tulane and Loyola tuition-free. But HLS students sought their own ways to donate their time and talents.
Through the combined efforts of student organizers, the law school community and the school's Office of Clinical and Pro Bono Programs, HLS raised almost $70,000 and sent more than 30 students to the Gulf Coast in January to do pro bono legal work and participate in relief efforts.
Devika Kornbacher '06, from Baton Rouge, La., who had been evacuated before the storm, said she was surprised by how quickly student groups at HLS and other parts of Harvard jumped into action.
"Some of the organizations didn't have direct ties to the people who were affected, yet still they were throwing jazz fundraisers and collecting clothes," said Kornbacher.
Within days of the disaster, the Black Law Students Association organized a clothing and toiletry drive. A month later, HL Central, a student group that promotes community-building, tallied up more than $12,000 from the proceeds of its annual charity bash. The Federalist Society hosted a poker night. Competing 1L sections raised over $20,000. The Catholic Law Students Association and HLS's Child and Youth Advocates collected over $1,300 from the proceeds of a bake sale and the sale of cookie-grams, for a shelter for abused children in Mississippi.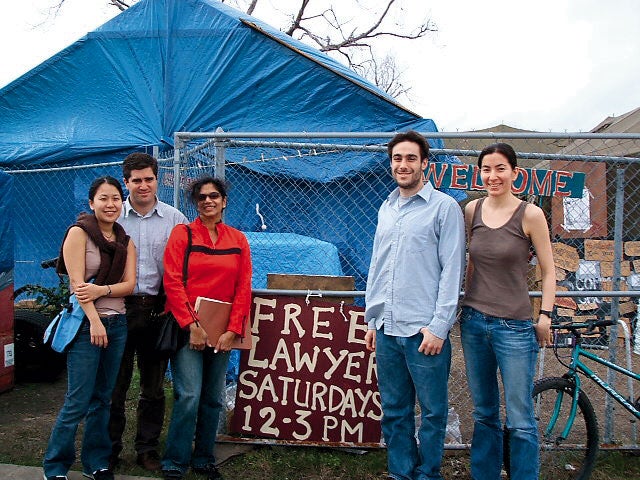 "A lot of the relief efforts were focused on things like the Red Cross, which are very important. But sometimes people like to give money when they can directly see where the money is going," said Caroline Rothert '08, who knew of the shelter from her previous work in child youth advocacy.
During fly-out week in late October, while some students interviewed at law firms, a group from the Black Law Students Association organized a trip to New Orleans and Alabama to help with cleanup and rebuilding efforts.
"We were talking about feeling helpless and not knowing what to do," said Sanetta Ponton '06, who helped plan the trip. "Because we're students, financially we can't give so much, and we were almost feeling as if being in law school wasn't enough, that there was urgent work that needed to be done."
The group of 10 3Ls spent the week distributing food, tearing down walls in people's homes in New Orleans and rebuilding a church in Alabama, thanks to a $5,000 donation from the Dean's Office and the BLSA. Ponton said it was wonderful to see the university support the things students feel are important.
Over winter break, HLS students participated in on-campus research projects and went to the Gulf Coast, with travel expenses paid for by the school's pro bono office. Seven students spent three weeks working for the Lawyers' Committee for Civil Rights Under Law. They included Ponton, who was in Washington, D.C., investigating racial discrimination allegations following Katrina, and Karl Baker, a 2L who is pursuing a master's in city planning from Massachusetts Institute of Technology, and who was involved in a community land trust project in Gulfport, Miss.
"Katrina has dissipated in the minds of a lot of people, but not really for me. It's something I think about every day," said Baker, who attended Tulane University and lived in New Orleans for six years. "If you've been down there and seen it, it's not something you can brush aside."
---
Helping others help
In the wake of Hurricane Katrina, Jeff Jamison '06 was one of many HLS students who contacted the Dean of Students Office looking for a way to contribute. It turns out helping students help was his greatest contribution. Jamison volunteered to organize student efforts.
Jamison, who says he learned his organizational and juggling skills as a litigation assistant for Professor Laurence Tribe '66 for seven years, cut back on sleep to manage the myriad tasks associated with coordinating multiple–sometimes simultaneous–fundraising events.
A class marshal who campaigned on a platform of building a cohesive community, Jamison connected groups with common goals to maximize fundraising efforts. He was instrumental in getting students involved and is now part of a leadership consortium of the Student Hurricane Network, a national movement which matches law students to pro bono opportunities in affected areas.
Jamison and his wife, Alisa–who were married in New Orleans in 2004–would have wanted to go there during winter break to help. But the couple had to stay close to home for the birth of their first child.
Jamison said he now sees the school in a different way: "You don't often make connections with each other here unless you're in the same section or the same class or the same student organization."
He added, "To see a group effort on this level, that crossed over student groups and different organizations, has made me feel amazing about this school, and I already felt great about it."