In the earliest weeks of the pandemic, much of the U.S. legal system ground to a near halt as courthouses closed one after another nationwide. Faced with unprecedented circumstances, lawyers, jurists, and litigants wondered how many days or weeks it would take for things to return to normal. But Texas state court Judge Emily Miskel '08 hardly paused to wonder. By March 17, just two weeks after Texas reported its first case of COVID-19, Miskel was back on the figurative bench, presiding over a one-hour virtual temporary restraining order hearing from home. One week later, she completed a virtual bench trial. And within two months, she was overseeing the first virtual jury trial in the nation.
Miskel's immediate adaptation of technology was born of simple necessity. In order to keep up with new filings, she says, she must resolve nearly 10 cases a day. Waiting for the pandemic to simply peter out was therefore not a viable option. Miskel, who spent three years designing oil and gas pipelines before going to law school, drew on her engineering background to bypass fretting about the global crisis and head straight into problem-solving mode.
Although "pretty tech-forward," Miskel had never heard of Zoom before March. But before long, she was working diligently to bring her Collin County district court online. Had the court tried to implement virtual hearings without a pandemic, Miskel says, it would have taken years of committee meetings and likely resulted in failure. But the pandemic forced change, and judges quickly adapted. Since March, Texas judges—many of whom Miskel helped train—have conducted more than 440,000 virtual hearings.
By May, Miskel was ready for the next big challenge: jury trials. To get the jury system up and running, she suggested her court first experiment with summary jury trials, a non-binding, one-day proceeding that litigants are required to complete before they can proceed with a long jury trial. Miskel found a suitable candidate, an insurance dispute, and plowed ahead.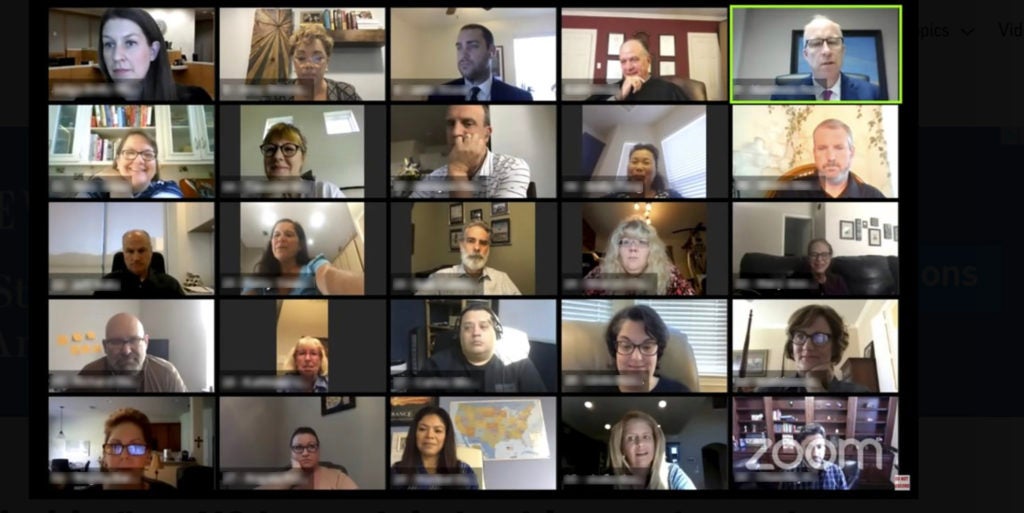 When the day came, 28 out of 30 summoned jurors showed up. Miskel points out that that is an astonishingly high percentage in a jury system that normally yields about 45%. From the comfort of their living rooms and home offices, jurors were selected, listened to evidence, and deliberated entirely through video streaming. While a retired judge oversaw the actual trial, Miskel "executive produced the show," ensuring that the technology worked smoothly. Although the trial had its hiccups, she said the feedback was surprisingly positive, with one attorney commenting that jurors appeared more open and forthcoming than usual, perhaps because they were more comfortable at home. And jurors generally appreciated that the process was more respectful of their time than typical jury duty.
Since then, at least three jury trials have proceeded entirely online in Texas. For her efforts in leading the charge, Miskel received the 2020 William H. Rehnquist Award for Judicial Excellence, the highest honor bestowed on a state court judge by the National Center for State Courts.
But big changes in the legal system also breed skepticism. Miskel is familiar with the common criticisms, particularly the concern that a fair jury cannot be selected if the pool is limited to jurors with internet access. In some ways, however, the shift to online jury trials may open up the jury pool to a wider cross-section of the community. Miskel's courthouse, in the middle of a suburban county with no public transportation, may have been less accessible to jurors before the pandemic than now. "Not everyone has their own automobile, can get a day off work, or find childcare to come to the courthouse," she says. "Our current system already excludes people who lack a car, and we don't send a taxi for every juror who doesn't have a working car."
Miskel believes online hearings can—and should—persist past the pandemic. Although technology poses its own challenges, virtual hearings can make a world of difference for individuals whose access to courthouses is stymied by geography, transportation, unavailable childcare, or other limitations.
She describes one recent case she had with a mother who lived one hour from the courthouse and, because she lacked a car, might have missed an in-person court date to determine her parental rights. But she was able to walk next door to use her church's Wi-Fi to join the hearing, giving Miskel a chance to meaningfully question her. Had she missed the hearing, as indigent parents often do in Miskel's courthouse, "we might infer things like she doesn't care about her kids because she can't even be here, even though we're doing a bunch of things that interfere with her ability to be there for her kids," Miskel says. "I see a lot of value in continuing much of this going forward because I think it's fairer for our litigants."