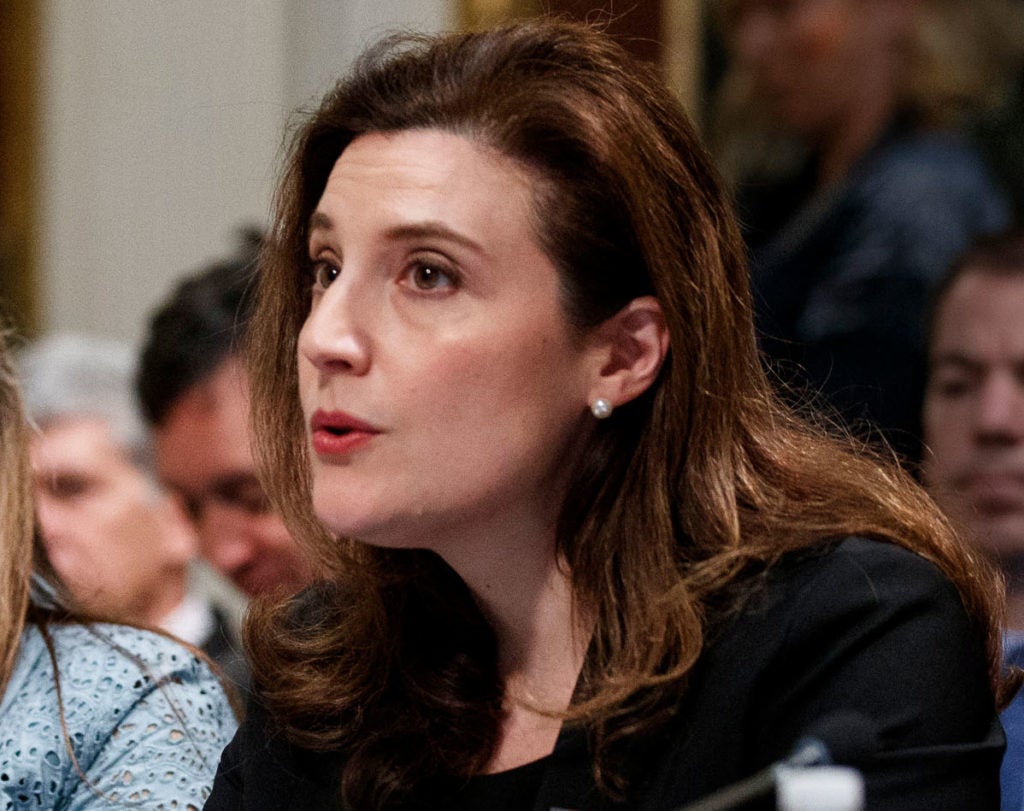 In August 2017, after her nomination by President Donald Trump and unanimous confirmation by the U.S. Senate, Beth Williams '04 became assistant attorney general for the Office of Legal Policy in the U.S. Department of Justice. At HLS, she was president of the Harvard Federalist Society. After clerking on the 2nd Circuit for Judge Richard C. Wesley, she served as special counsel to the U.S. Senate Committee on the Judiciary, where she assisted with the confirmations to the Supreme Court of Chief Justice John G. Roberts Jr. '79 and Justice Samuel A. Alito Jr. As a partner at Kirkland & Ellis, she was on the team that represented Shirley Sherrod in her defamation suit against Breitbart News. Williams recently received a top award from the Harvard Federalist Society and was designated a 2019 D.C. Rising Star by The National Law Journal. The Bulletin interviewed Williams in the fall.
Why did you go to law school?
I wanted to go to law school because I enjoyed writing and analyzing text, and also because my parents were terrified that I wouldn't be able to support myself, given that my undergraduate studies [at Harvard] focused on British history 1910 to 1914—not a huge job market for that niche!
What drew you to the Federalist Society?
I was drawn to the intellectual discussions. [The terrorist attacks of] September 11 happened the second week of my 1L year. I was in Harkness Commons and I thought, If now is not the time to be thinking about our nation's values and discussing these issues in an open-minded way, I can't imagine another time.
At Kirkland & Ellis you received the firm's pro bono award seven years in a row, putting in over 150 pro bono hours each year. What was the impetus for you?
I always believed an important part of being a lawyer is making sure you're also working for people who can't necessarily afford your services and helping to ensure they have good representation. In one case, I represented a man named Patrick Proctor who at that point had been held in solitary confinement in New York for more than 18 years. I argued—and won, before the 2nd Circuit—that he was entitled to periodic, meaningful review of his confinement, which he was not receiving.
Tell us about your work in the Office of Legal Policy.
I serve as a primary policy adviser to the attorney general and the deputy attorney general, and as the chief regulatory officer for the Department of Justice. I also oversee the judicial nominations process for the department. I lead an office of approximately 35 people. Our office is sometimes called the think tank of the department because we work on high-priority initiatives and perform a senior coordination role when special projects implicate multiple department components. What I like most about the work is that there is never a dull day. On any given day, I can be working on violent crime policy, cyber issues, opioid initiatives, encryption, judicial nominations, or human trafficking reduction—and often all of the above.
What is most challenging?
There is often so little public attention on the positive work of the Justice Department. For example, the recent FBI statistics for the first six months of 2018 showed a significant reduction in violent crime: a 6.7% decline in murders, a 12.5% decline in robbery, and a 12.7% decline in burglary compared to the first six months of 2017. That's gratifying to see, given our relaunch of Project Safe Neighborhoods, which works with U.S. attorneys to target the most violent criminals in each district. I wish that more attention would be paid to what is working.
What is the most interesting aspect of overseeing judicial nominations?
My favorite part is that I am able to work with some of the best attorneys in the country during the most exciting and stressful times of their careers. It's gratifying to be able to provide counsel, which to me has always been one of the best parts of being a lawyer.
What is your reaction to critics who focus on the number of President Trump's judicial nominees the ABA has rated as "not qualified"?
There are actually very few that have gotten that [ABA rating]. The overwhelming number are rated "qualified" or "well-qualified." The nominees have been overwhelmingly exceptionally well-qualified, smart, talented people.
How did you and your husband, John S. Williams '04, now a partner at Williams & Connolly in D.C., meet at HLS?
We originally met outside Pound 102, when we were opponents in Ames Moot Court—which probably ranks us among the nerdier lawyer-couple meeting stories.
Who won?
We don't know! They never told us who won! My husband gives a corny answer that he won because he met me.