As Taiwan's minister of justice in the early 1990s, Ma Ying-jeou led an aggressive campaign against vote-buying that earned him the sobriquet "Mr. Clean." He is proving true to his nickname in his new post as mayor of the island's capital city of Taipei, where he is intent upon "furthering the rule of law."
A member of the ruling Kuomintang (KMT) party, Ma S.J.D. '81 is in his second year administering the 2.64-million-resident city. In December 1998 he defeated then-incumbent mayor Chen Shui-bian of the Democratic Progressive Party.
Born in Hong Kong and raised in Taiwan, Ma climbed quickly in Taiwan's political ranks after receiving his S.J.D. from the School nearly two decades ago. Following a brief stint on Wall Street, he served as interpreter for Taiwan's former president, Chiang Ching-kuo; deputy secretary general of the KMT; senior secretary and interpreter for current President Lee Teng-hui; vice chair of the Mainland Affairs Council; minister of justice; and minister of state.
During a visit to the School last September as a guest of the School's East Asian Legal Studies Program and the University's Asia Center and Fairbanks Center for East Asian Research, Mayor Ma stressed his administration's focus on the "too-often neglected" rule of law in Taipei. "Your country has too many lawyers, and ours has too few," Ma told a standing-room-only audience in Pound Hall.
The mayor touched on several controversial matters facing him right after his inauguration, one of which involved the city's 86 licensed prostitutes. Ma's predecessor had ignored the city council's two-year extension of the prostitutes' licenses and begun cracking down on houses of prostitution, cutting off supplies of electricity and water. Ma was equally unswayed by lobbying efforts of citizens' groups adamantly opposed to prostitution, and women's groups on both sides of the issue, concerning himself only with due process: "I had no choice but to promulgate the law as it was passed by the city council," he said. "So I am upholding the two-year extension of the prostitutes' licenses, while encouraging those who oppose this policy to work within the system to change it."
Similarly, when a member of his own political party, the speaker of the Republic of China's 340-member National Assembly, led the passage of a controversial bill allowing assembly members two extra years in office, Ma supported the speaker's expulsion. "His actions hurt our constitutional rule and violated the public trust," said Ma. "There is no way the National Assembly can give themselves two more years without the public's support."
A few days after his return home from Harvard, the Mayor was confronted with an emergency — an earthquake in Taiwan. "Taipei was fortunate enough to avoid the brunt of the impact," Ma told the Bulletin recently, "but there was some serious and concentrated damage — a building collapsed, killing 73 people and leaving 14 missing." In addition, schools and other buildings sustained costly structural damage. "The earthquake tested our disaster response and crisis management network," said Ma, "and showed both our strengths and areas requiring improvement. We are purchasing additional equipment and have initiated

cooperative training programs with international partners to prepare for the possibility of future disasters."
Reflecting on his administration's workaday priorities, Ma, like many urban mayors, stresses safety. In the first year of his administration, violent crime was down 15.24 percent and theft down 14.03 percent. A set of crime-prevention measures, such as citizens' patrol teams, accounts for the improvements. The city government recently passed a domestic violence law requiring perpetrators to keep a certain distance — at least 50 meters — from victims, and police are now empowered to mediate domestic disputes. "These measures are very new in our society," he said.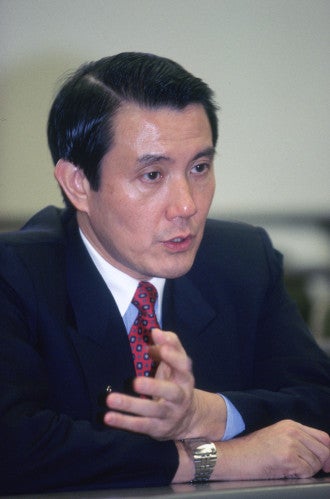 Taipei's mayor is equally concerned with the safety and well-being of the city's approximately 42,000 foreign residents. While Japanese, American, and European residents number around 15,000, the rest are mostly Filipinos, Thais, Malaysians, and Indonesians — many of whom work as maids and caregivers. "They are sometimes victims of sexual harassment by their employers," said Ma. "And they are reluctant to lodge complaints for fear of deportment. To give migrants needed protection, the legislature has introduced an amendment to a law that will prevent employers or brokers from deporting them while their cases are being investigated." Added Ma, "Foreign workers are entitled to the same rights as local residents."
Other items on the mayoral agenda are reducing traffic congestion by integrating the city's five subway lines and huge bus systems, and expanding the sewage system — currently 46 percent of homes in Taipei are connected to waste water treatment plants, and Ma wants to increase the percentage to 60 percent by the end of his first term in 2002. He is also busy working to renew "dilapidated" buildings in the city's older, western district. And he has responded to animal rights activists' concerns about a city government policy of killing stray dogs by arranging for nearly 70 animal hospitals to serve as animal adoption centers.
A thoroughly modern mayor, Ma is working hard to make Taipei "an Internet city" — a fitting goal given that much of the nation's high-tech business is centered around the capital city in Taiwan's so-called Silicon Valley, an industrial park with 140 international companies.
"We have a virtual city hall," he said, "a Web site from which citizens can download forms, report criminal cases, and voice their opinions. We are also offering three-hour free public computer competency classes and a free e-mail address to our city's residents, and they can use the Internet to locate national insurance-approved medical care providers in their neighborhoods."
At the same time, Ma is eager to make Taipei "a world-class city" by establishing sister-city relationships and developing exchange programs with other cities' symphony orchestras and medical establishments, for example. "I am very eager to make friends in the international community," Ma said.
While much of his agenda may be comparable to that of other urban mayors, Ma Ying-jeou also has broader concerns, given the controversy surrounding Taiwan's status. "The fact is that since the collapse of China's last dynasty, the Qing, in 1911, we have been an independent state whose official name is the 'Republic of China.' We have a representative democracy and a legal system based on a written constitution guaranteeing civil liberties," said Ma. "We want to dialogue with the PRC not from the position of a 'renegade province,' but from the position of an equal. And I think we should shift our attention to more productive subjects, like trade between Taiwan and the mainland, to establish a framework of protection for Taiwan business people on the mainland."
As for Taiwan's presidential election next month, Ma said he supports his party's candidate, Lien Chan, a former prime minister with whom Ma worked closely when he was minister of justice. "He is an open-minded, moderate candidate with broad experience in government. I believe he would be an important influence in stabilizing cross-strait relations."
The high-profile mayor has often been thought of as a potential future president, an idea he dismisses. "My aspirations are to retain the support of the citizens of Taipei and run for reelection as mayor in the year 2002."