The Class of 2016 selected Professor Jeannie Suk '02 for the prestigious Albert M. Sacks-Paul A. Freund Award for Teaching Excellence for her role as a dedicated educator, mentor, and 1L section leader. Professor Suk, wrote one student, "profoundly cares about the intellectual journey of her students. She masterfully exercises the Socratic method, intertwining legal doctrine with contextual learning in order to transform students understanding of how law shapes society. She encourages students to think critically about their ideas and intuitions so they can be better equipped as lawyers and professionals."
Suk thanked the students and said she's "always considered the Sacks-Freund award the highest honor imaginable," and went on to describe how the Class of 2016 has taught the law school community more than any class in recent memory. You've taught us "to question the status quo and to ask why things should not be different: more just, inclusive, and equal," she told them. "I am so excited to see what you will do to change our world for the better."
A specialist in criminal law and family law, Suk is the author of "At Home in the Law: How the Domestic Violence Revolution is Transforming Privacy" (Yale, 2009), which received the Herbert Jacob Prize by the Law and Society Association. She also researches and teaches in the areas of art and entertainment law, and explores legal issues pertaining to the performing arts. Suk holds a B.A from Yale, a DPhil from Oxford (where she was a Marshall Scholar) and a J.D. from Harvard Law School.
Suk was also selected to give a "Last Lecture" to the Class of 2016. Organized by the Class Marshals, the series asks popular HLS professors to give a lecture as if it were their last opportunity to address the graduating class.
The Sacks-Freund Award recognizes a single faculty member each year for teaching ability, attentiveness to student concerns and general contributions to student life at the law school. It was established in 1992 and is named in honor of the late Harvard Law School Professors Albert Sacks '48 and Paul Freund S.J. D. '32. Recent recipients include Jon Hanson, Tyler Giannini and Benjamin Sachs.
---
Follet receives staff appreciation award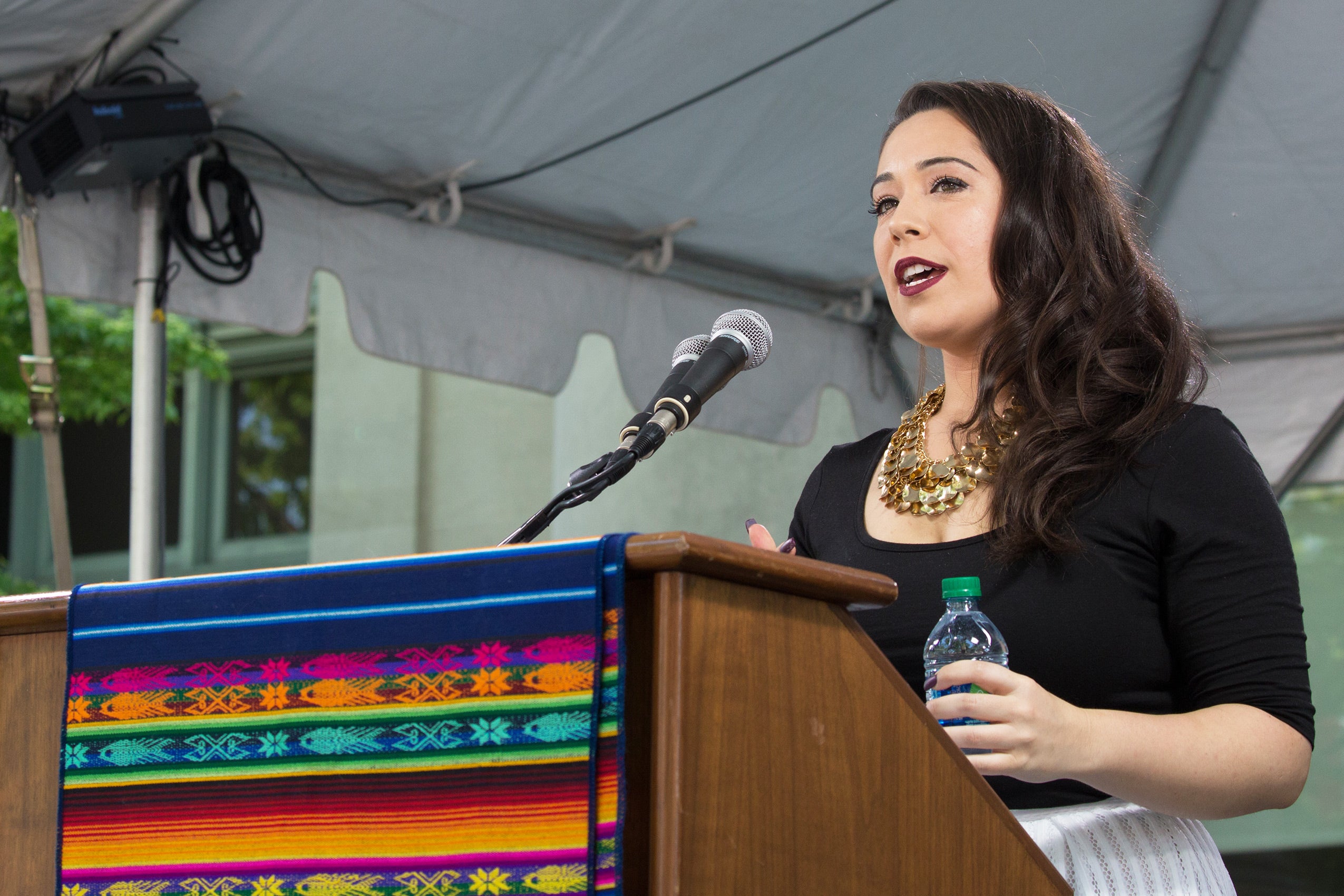 Gabriela Gonzalez Follett was selected by the Class of 2016 to receive the Suzanne L. Richardson Staff Appreciation Award for her work "around the clock to make sure that students are having an optimally enriching educational experience at HLS" and, noted another student, for being "approachable to all students, showing kindness and compassion that make students confide in her about issues in their lives." Follett is a Program Assistant for the Human Rights Program, where she has worked since 2014. The award is given each year to a member of the staff who demonstrates commitment to the student experience and concern for students' lives and work at the Law School.
Follett—who has been involved in the school-wide movement for racial justice —acknowledged two graduating students, Aaron Bray and Keaton Allen-Gessesse, who inspired her "to use my own voice" and thanked the class for "making me feel like I mattered, beyond my job description." She said that in just one semester they had changed her assumptions of what she thought Harvard Law students were supposed to be, "if you can do that in a semester, think of what you can do by listening to and valuing, the voices of others around you."
Follett is the 21st recipient of the staff award, and the 13th since the award was renamed for Suzanne Richardson, who was dean of students at HLS from 1993-2004.