Krzysztof Skubiszewski LL.M. '58
For almost half a century, Poland's foreign policy had been dictated by others—first the Germans during World War II and then the U.S.S.R. After the election of Solidarity in the spring of 1989 and the chain reaction it started, leading to the fall of Communist regimes throughout Eastern Europe, the leader of the new government, Tadeusz Mazowiecki, needed a foreign minister who could carefully negotiate the line between East and West while recreating relationships with Germany, the U.S.S.R. and other neighbors threatened by Poland's move away from communism. The man he chose was Krzysztof Skubiszewski LL.M. '58, a respected scholar of international law and an expert in Polish-German relations. "He was a complex figure, straddling the gap between East and West both professionally and politically," recalls HLS Professor David Kennedy '80, who met Skubiszewski in Poland in the early 1980s.
Skubiszewski, who died earlier this year at age 83, lived a life shadowed and shaped by World War II and communism. During the war, he went to high school clandestinely in occupied Warsaw, and narrowly escaped deportation to a German labor camp. He taught international law at Polish universities on and off throughout his career, at times running afoul of the Communists, as when he condemned the Soviet invasion of Czechoslovakia in 1968 and when he criticized anti-Semitism within the Polish government. He also studied and worked abroad, often making contact with Polish political exiles during his travels. During his studies at Harvard in the late 1950s, he was particularly close to Professor Louis Sohn LL.M. '40 S.J.D. '58, a fellow Pole who left his country just before the Nazis invaded. Skubiszewski took Sohn's class in United Nations law, a topic Skubiszewski had been discouraged from investigating back in Poland.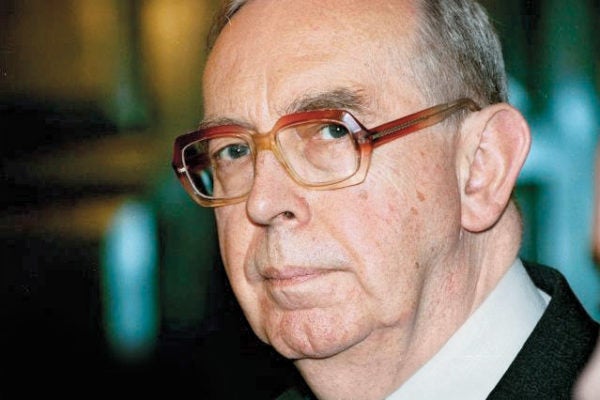 Part of the reason he was chosen as foreign minister was his expertise on frontier issues between Poland and Germany. The tension over shifting borders during World War II was one of the vital issues that needed to be solved by the new government. Skubiszewski, an early proponent of German reunification, forged a close relationship with Germany, and eventually negotiated an agreement recognizing Polish gains of German territory during the war.
Maintaining a good relationship with the U.S.S.R. was perhaps even more vital—even though its influence was waning. The Soviets had stored vast amounts of ammunition in Poland, and the hundreds of thousands of Soviet troops stationed in East Germany were accustomed to crossing through Poland at will. In the early 1990s Skubiszewski called for talks on their withdrawal, and 20 months of tense negotiations followed. Finally, with the intercession of President Lech Walesa, an agreement was reached.
Skubiszewski's ultimate goal was to open Poland up to relations with the West, but he knew he had to tread carefully. As he pointed out in a November 2009 interview, Poland couldn't connect with the West while still in the Warsaw Pact, yet it also couldn't unilaterally leave the pact without offending its neighbors: "The Warsaw Pact had to be weakened first, and subsequently disbanded, in an effective way—with all parties' consent. And that meant that the U.S.S.R. had to be convinced that the Warsaw Pact was dead."
Skubiszewski remained foreign minister, through four different governments, until 1993. His work building Polish relations with the West culminated in Poland's membership in NATO and the European Union.
Jerzy Makarczyk, a former student of Skubiszewski's and later a colleague in the Foreign Ministry, wrote a tribute in 1996 that captures both his mentor's importance and the tensions of life under communism: "It is thanks to men like him that we, the younger generation of lawyers, during the darkest years of communism, the university purges, the submission of our country to the U.S.S.R. and the Communist Party, never lost faith in human values, in the primacy of law both in internal and international relations, in the indivisibility of international law, in short—in our belonging to European culture."