It's a raw Saturday morning in October, and as rain begins to pelt the streets of Dorchester, a Boston neighborhood hard-hit by the foreclosure crisis, Wonny Lervisit '11 and Mike Plank '12 climb the stairs to a third-floor apartment and knock on the door. A young couple opens slowly. Lervisit, decked out in a bright red "No One Leaves" T-shirt, gives them a broad smile, ignoring the large dog the woman is struggling to hold.
"We're Harvard Law students," explains Lervisit, who's with the Harvard Legal Aid Bureau, known as HLAB, the oldest student-run legal aid organization in the country. "You might have heard that this building is being foreclosed on. We want you to know that under Massachusetts law, tenants have a lot of rights, and you don't have to just move out, even if the bank tells you to or gives you money to leave."
Relieved, the couple peppers the pair with questions: How can they remain in their home? Should they keep paying rent? Plank urges them to attend the meetings held each Tuesday night in Jamaica Plain at City Life/Vida Urbana, a community organization that, in partnership with HLS legal aid clinics, is having remarkable success at saving Boston neighborhoods by keeping people in their homes.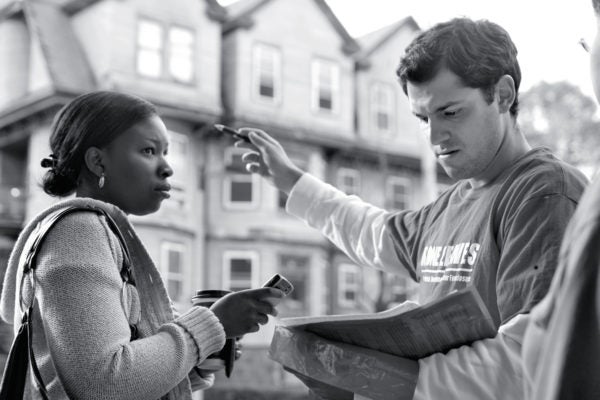 The canvassing effort, dubbed Project No One Leaves, was launched in 2008 by two HLAB students, Nick Hartigan '09 and David Haller '09, along with WilmerHale Legal Services Center clinical student Tony Borich '09. Each week, students gather the list of newly filed foreclosures in Boston, create a database, and organize students from HLS and eight other Boston-area law schools and colleges to knock on those doors and inform the homeowners and tenants of their legal rights. Project No One Leaves, which in 2009 contacted more than 1,000 people living in properties being foreclosed on, is a key part of HLAB's attack on the foreclosure crisis in low-income areas. Its strategy also includes direct representation of clients in need, legislative advocacy and pressuring banks to change their tactics.
As the rest of the nation struggles with the foreclosure crisis, and even the White House hasn't found easy solutions, the Harvard Law students are racking up numerous victories, including the almost-unprecedented result of getting banks to reduce the principal amount on mortgages. Students have also negotiated a string of five-figure and higher settlements against banks that don't keep properties in good condition for tenants who live there, and in 2008, two students won a $54,000 jury verdict against the Bank of New York for turning off heat and water in a tenant's home to try to force him out.
Last spring, largely as a result of the momentum of the foreclosure work, HLAB saw a huge increase in the number of students applying for the program and had to turn many away, although they are still welcome to volunteer (HLAB comprises about 47 2Ls and 3Ls who make a two-year commitment to work 20 hours a week for clinical credit doing civil legal aid work, including family law and benefits work).
One reason for its appeal, says HLAB Director and Clinical Professor David Grossman '88, is that the project is making a real difference in keeping Boston neighborhoods alive, and using innovative methods to win.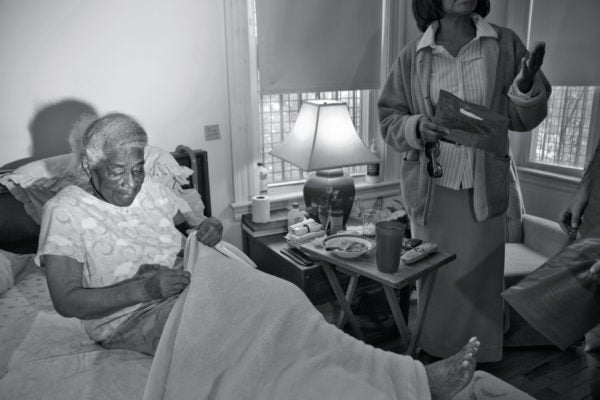 Under pressure by the student advocates and community partners, banks are selling foreclosed-on properties to the tenants or the former homeowners at prices reflecting the current value, which is typically around 50 percent less than the outstanding mortgage. It's a model that the HLAB and LSC students helped create in conjunction with their community partner, City Life, Grossman notes. In one case that settled last July after extensive litigation by HLAB students, the FDIC, after taking over a troubled bank that owned a dilapidated property, deeded it to the tenants for one dollar and put $60,000 into escrow for repairs. In another, a laid-off cop, Anthony Allen, couldn't keep up payments on his $480,000 mortgage and unsuccessfully tried to restructure his loan with the bank. With Grossman as his attorney, he's now buying back the property from an intermediary, Boston Community Capital, which purchased it from the bank for around $220,000 and is flipping it to Allen for around $271,000. City Life and BCC have scores of similar cases in the pipeline.
In partnership with City Life and other community organizations, the HLS students have also participated in successful eviction blockades, and they are now using a new tactic of moving families back into properties from which they have been kicked out. The students are also involved in drafting and supporting three bills currently before the Massachusetts Legislature that would put a moratorium on foreclosures and take other actions to halt the crisis.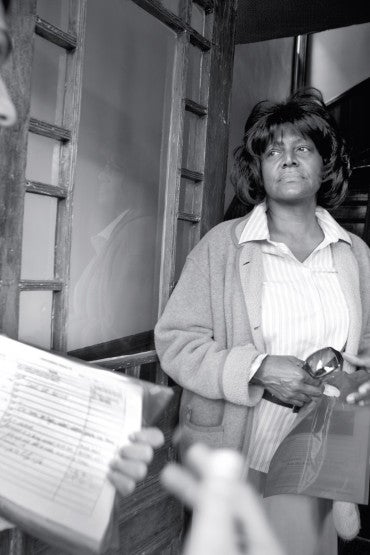 "We've had a lot of happy endings here," says Grossman. "The question is how to scale it up." For one thing, people in other cities need the same assistance, and fledgling projects are under way in Chelsea, East Boston and Lynn. Grossman also hopes to get lenders—who don't want to be landlords anyway—to agree to sell properties in bulk to Boston Community Capital, which could then flip them to low-income buyers at affordable prices.
"It feels like we're making a dent," says Grossman. "You can measure it by the percentage of buildings going through foreclosure that are boarded up, which certainly looks like a smaller percentage now."
Another measure is the number of residents attending the weekly meetings at City Life. A year ago, it might have averaged 10 or 15. Now, there are usually at least 50, and one October night, it was standing room only, with more than 90 people in attendance. Many were tenants or homeowners there to thank the students who prevented them from being evicted and to provide support for others going through what they did.
Sandra Douglas has lived 20 years at the same home in Dorchester, faithfully paying her rent on time. Recently, her landlord gave her some bad news: The landlord was behind on her mortgage, and the house might soon be in foreclosure. Finally, the dreaded letter came in the mail: The bank had foreclosed and was selling the home. Douglas, it said, had to get out.
"I tell you, when I got that letter, I cried," says Douglas, 59. "I thought I would come home one day and everything I owned would be on the street." But Douglas contacted City Life, which referred her to Harvard Law School. She took the T out to HLS and met Casselle Smith '10, president of HLAB. In turn, Douglas was assigned to Libby Benton '11.
"She's like a daughter to me," says Douglas. She wipes tears from her eyes, and adds, "God bless the Harvard students."
[pull-content content="
A week in the life of a foreclosure project
On Tuesdays, students working with Project No One Leaves gather the list of new foreclosures and enter them into a data bank to use for the weekend canvassing. On Tuesday nights, students from the Harvard Legal Aid Bureau and from the housing clinic at the Legal Services Center give legal advice to tenants and homeowners at the City Life/Vida Urbana meeting. On other days, the students serve as "attorneys of the day" in housing court in Boston, providing free legal representation to clients in need, and they also hold legal clinics at HLAB and LSC to assist tenants and homeowners with post-foreclosure legal issues. They also operate a housing hotline and prepare for their cases or head to court to argue them.
"The good side of the foreclosure crisis," says HLAB Director and Clinical Professor David Grossman, with an ironic smile, "is that it's created complex problems for students to solve.