"The Morphine Dream," by Donald L. Brown '89, with Gary S. Chafetz (Bettie Youngs Books). The title of this memoir is literal—and relates to Harvard Law School. While on morphine, recovering from an operation meant to restore his ability to walk after an accident, the author imagined he would graduate from the school. And walk across the country. His doctor thought he was delirious. After all, Brown had few prospects and only a ninth-grade education. But the dream did indeed come true; he tells the story of his long walk both literal and metaphorical.
"Overheated: The Human Cost of Climate Change," by Andrew Guzman '96 (Oxford). Humans are causing the earth to warm, and humans will sustain the consequences, contends Guzman, a professor of law and associate dean at University of California, Berkeley. These consequences include rising water levels that will displace millions of people, interfere with food production and disrupt the availability of fresh water. Climate change may also exacerbate tensions within and between nations. He outlines what should be done to mitigate the effects, including raising the price of emissions, developing alternative energy and instituting a carbon tax. Otherwise, he warns, we could face human tragedy never before seen.
"The Lawyer Bubble: A Profession in Crisis," by Steven J. Harper '79 (Basic Books). Marked by short-term thinking and a fixation on national rankings, both law schools and large firms focus on maximizing immediate profits, thereby victimizing the very people who enter the legal profession, according to Harper, a former large-firm litigator now teaching at Northwestern University School of Law. The result: too many lawyers for the market and too little job satisfaction for those who are working in it. He calls for greater transparency, restructured financial incentives and a change in a culture that too often, he says, is driven by greed.
"Priests of Our Democracy: The Supreme Court, Academic Freedom, and the Anti-Communist Purge," by Marjorie Heins '78 (NYU). New York's 1949 Feinberg Law allowed for investigations of teachers' loyalty, leading to summary dismissals. Recounting challenges to that law in two contrasting Supreme Court decisions that showed the evolving standards of academic freedom, Heins also tells the personal stories of those who fought against a "witch hunt" targeting educators. The founder of the Free Expression Policy Project also explores issues of academic freedom that continued after the Feinberg Law was overturned in 1967, particularly following the 9/11 terrorist attacks.
"For the Survival of Liberty: Great Presidential Decisions," by Elton B. Klibanoff '67 (Dog Ear Publishing). Calling the survival of liberty akin to America's "state religion," Klibanoff delves into the decisions of six U.S. presidents that helped cement the country's freedoms. From Washington's creation of a national economic structure to Lincoln's fight for equality to Franklin Roosevelt's establishment of Social Security, such decisions "have earned their place in America's political tradition because successor presidents and later Congresses have built on their foundation and followed their example." Thus, these turning points in history also are relevant to the choices we make today.
"Two Presidents Are Better Than One: The Case for a Bipartisan Executive Branch," by David Orent-Licher '86 (NYU). Imagine if the two Harvard Law graduates running for president in 2012 both could have won. Orentlicher can, and argues that such an arrangement would benefit the country. He contends that a single president inspires partisan conflict and invites imperious behavior. In contrast, a bipartisan executive branch would make for better decision-making and less conflict, and provide the public with broader representation, all while remaining more faithful to the framers' vision. And he outlines why the prospects for a two-person presidency might be better than one might expect. "The Knockoff Economy: How Imitation Sparks Innovation," by Kal Raustiala '99 and Christopher Sprigman (Oxford). Intellectual property law exists to protect creative industries and incentivize people to create, according to the authors. Yet they argue that the fashion industry, in which designs (as opposed to trademarks) are not covered by copyright law, thrives precisely because of copying. That industry—and others ranging from food to football—demonstrates that "imitation often co-exists with innovation," write Sprigman and Raustiala, a professor of law at UCLA, in a book that offers a fresh perspective on how creativity can flourish in an increasingly ideas-based economy.
"Federalism and the Tug of War Within," by Erin Ryan '01 (Oxford). Ryan examines the tensions created by the concept of federalism, which inspires not only the question of whether the state or federal government will have ultimate authority, but also the question of which among the three branches of government will determine the answer. Offering examples from environmental law, land-use law, and public health and safety regulations, the associate professor at Lewis & Clark Law School proposes a "Balanced Federalism" model, which "offers hope for moving beyond the paralyzing features of the federalism discourse that have stymied it for so long."
"More Essential Than Ever: The Fourth Amendment in the Twenty-First Century," by Stephen J. Schulhofer '67 ( Oxford). In an era in which the "relevance and meaning of the Fourth Amendment seem increasingly obscure," the author seeks to prove that the right against unreasonable searches and seizures remains just as vital as it was during the American Revolution. Exploring the amendment's tradition as well as threats posed by the modern, high-tech world, he exposes the "myths" behind the increasing willingness to cede privacy.
"The Counterinsurgent's Constitution: Law in the Age of Small Wars," by Ganesh Sitaraman '08 (Oxford). Small wars have never been so important, and so, too, is the role of law in counterinsurgency operations, argues Sitaraman. His book is divided into three parts: on the laws of war; counterinsurgency's turbulent transitions from war to peace; and its approach to reconstruction. Combatants must follow the rule of law, the author contends, or lose legitimacy, popular support and, in the end, the chance for success.
A President for All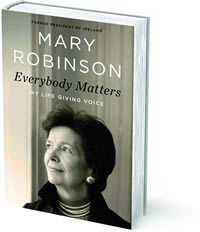 "Everybody Matters: My Life Giving Voice," by Mary Robinson LL.M. '68 (Walker). Robinson covers a remarkable journey, in which the only daughter in a deeply religious Catholic family from a small town in Ireland becomes a global champion of human and women's rights, forever renowned as the first female president of her home country. Prepared to become a nun, she had an early revelation that would shape her future. "[I]nstead of accepting the way of life that I had been brought up in, I was questioning everything around me in a constructive but nonetheless implacable way," she writes. She maintained that conviction as an activist attorney representing marginalized people and as a member of the Irish Senate, when she proposed a bill to amend a law prohibiting contraception. As president, she brought a global perspective and broke a "taboo" by standing side by side with the Queen of England. She also chronicles the impact she made and frustrations she experienced as U.N. high commissioner for human rights, a role that represents just part of her lifelong fight for universal rights.