Sama ElBannan, program manager for the Harvard Defenders, accepted the 2023 Suzanne L. Richardson Staff Appreciation Award during Harvard Law School's Class Day exercises on Wednesday, May 24.
The award is given each year to a staff member who demonstrates commitment to the student experience and concern for students' lives and work. ElBannan, who was introduced by a Class Marshal, Liesbet van Acker, was recognized by the Class of 2023 for her "selflessness" and "kindness" in supporting students and clients alike.
"Sama cares deeply for every student in Defenders, and she creates such a warm and welcoming environment, which is especially appreciated given the sensitive work we do," wrote a nominator, who added that "Sama genuinely cares about our clients and shares our passion for the work that we are doing. … We are so incredibly lucky to have her and cannot think of someone more deserving of this recognition."
ElBannan joined Harvard Law School in 2018 and Harvard Defenders in June 2021. Defenders is one of the law school's largest and oldest student-practice organizations. Each year, roughly 85 law students gain hands-on experience serving real clients by volunteering to provide pro-bono representation to low-income defendants in criminal show-cause hearings.
In remarks to the graduating class of 735 J.D., LL.M. and S.J.D. students, as well as their family and friends gathered on campus and watching online, ElBannan recounted her winding path to Harvard Law and the sense of community the school has provided her.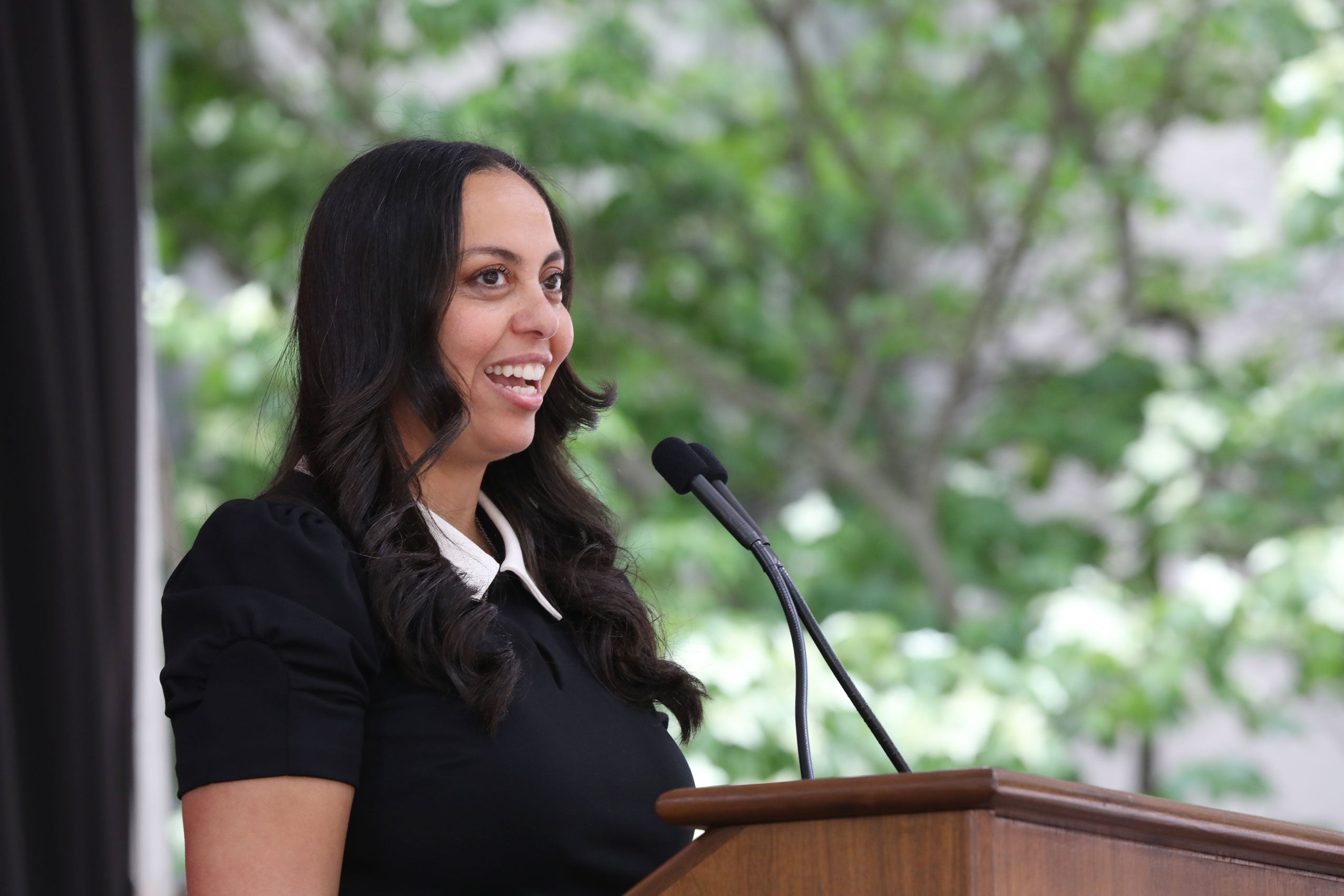 "I was born and raised in Egypt, went to school in the United Kingdom, and I have been living in the United States for over 20 years." Her journey left her, she said, "puzzled about my sense of belonging." But her perspective changed after she began working at Harvard Law School. Citing community-building opportunities for staff including Tuesdays at 10, Fridays at 4, Meals with Manning, and the Emerging Leaders Program, ElBannan said she "met so many amazing coworkers" and "formed everlasting friendships."
Harvard Law School has empowered her to bring her whole self to work each day, ElBannan explained. "I can freely talk about my Egyptian upbringing. I can say I observe Ramadan. I can crack silly jokes that do not make sense because I am often translating from Arabic. But it does not matter, because I belong to a community that embraces diversity, race, color, gender, nationality, and all social classes."
The "highlight" of her time at Harvard, ElBannan said, has been her time working with students in Harvard Defenders. "I am often amazed by the enthusiasm of Harvard Defenders students who built a compassionate community that serves others through dedication, love, passion, and compassion. Defenders' students do not get paid, they don't get academic credit for their work, and yet they work very long hours, go to courts, defend and comfort their clients and find them resources to improve their lives."
"I have seen these students in and out of the office when they are exhausted, busy, sad, and overwhelmed by the injustice that takes place every day around us, and yet they are dedicated to the mission of Defenders and its community," she continued. "Through everything they're experiencing, they always find their way back to the Defenders' office because it's home —and because there are a lot of snacks. I came to work every day because I too know that Harvard Defenders is my home."
ElBannan shared with the Class of 2023 several lessons her late mother had taught her as a child, including "the value of belonging to a community, the importance of forgiveness, and giving with no expectations," principles she is now teaching her son, Adyan.
"I now know that my purpose in life is to connect people and build communities," ElBannan said. "That's why God created me. I know you too can be part of this. You all have the capacity to create communities. This is one of the most powerful ways to overcome living in such an individualist society, and to have better mental and emotional health. We are more powerful together. We will make the future better because we will stay connected!"
ElBannan is the 27th recipient of the staff award and the 19th since it was renamed for Suzanne Richardson, who served as Harvard Law School's dean of students from 1993 to 2004.
---
Want to stay up to date with Harvard Law Today? Sign up for our weekly newsletter.