Intellectual property expert Ruth L. Okediji LL.M. '91 S.J.D. '96, the Jeremiah Smith Jr. Professor of Law, has received a 2023 Barry Prize from the American Academy of Sciences and Letters in recognition of her intellectual excellence and courage. The prize was awarded on November 8 in a ceremony at the Library of Congress in Washington, D.C.
"A transformative legal scholar, Ruth Okediji's scholarship has helped nations around the world grasp the revolutionary implications of a simple but powerful notion: that an idea can be someone's property," said the academy in its official citation. "Her signal contributions to the development of intellectual property rights in international legal systems has empowered human flourishing globally by protecting people's right to own not only the work of their hands, but the work of their minds. The academy honors Dr. Okediji's distinguished contributions to humanity's development of just laws that facilitate fair transactions so all may prosper."
A 501(c)(3) organization, the American Academy of Sciences and Letters promotes scholarship and honors outstanding achievement in the arts, sciences, and learned professions. The Barry Prize is the academy's premier award to promote excellence in scholarship. The annual award, which is open to scholars across diverse fields and disciplines, honors those whose work has "made outstanding contributions to humanity's knowledge, appreciation, and cultivation of the good, the true, and the beautiful."
In addition to Okediji, this year's ten award recipients included two other Harvard University faculty members: Harvard Divinity School's Jon D. Levenson, the Albert A. List Professor of Jewish Studies and Orlando Patterson, the John Cowles Professor of Sociology in the Faculty of Arts and Sciences.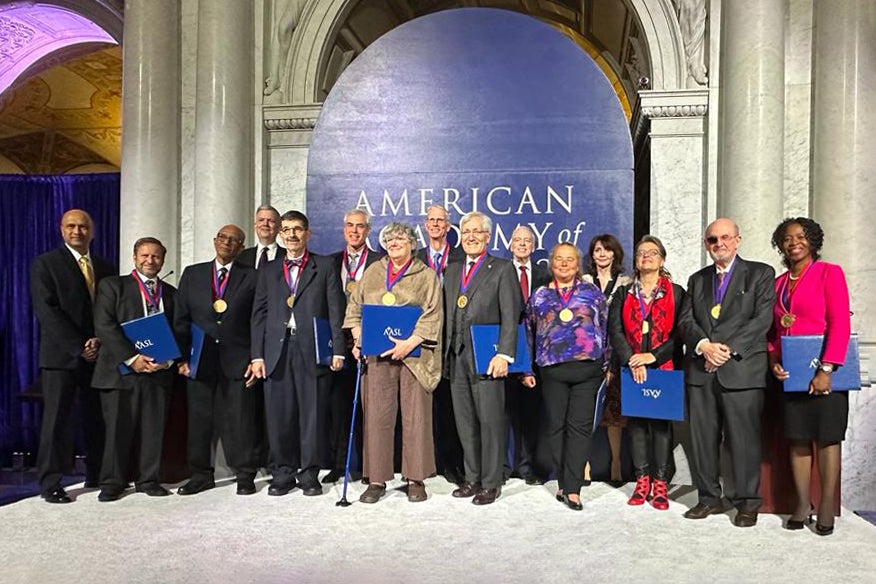 Okediji's research and scholarship examine, among other things, the impact of IP law and policy on human welfare in developing and least-developed countries. Her interest in the development impact of IP laws began when she was a student at the law school, studying under faculty that included William Alford, the Henry L. Stimson Professor of Law, William W. Fisher III, WilmerHale Professor of Intellectual Property Law, and the late Leroy Hazen Vail, who pioneered African studies at the Faculty of Arts and Sciences, and for whom she served as a teaching assistant in his courses on African history.
It was in Vail's classes that Okediji's research grew in ambition and scope, exploring colonialism's impact on the rate and direction of innovation in Africa and framing patents as a source of technology transfer to the continent. Her seminal work on international patent law, drug development, and access to medicines helped define the now well-known field of IP and Development.
During her distinguished career, Okediji has served as a policy adviser to inter-governmental organizations, regional economic communities, and national governments on various matters related to IP, competition law, innovation policy, and human welfare. She has written extensively on these topics and her scholarship has influenced government policies and national strategies for implementing the World Trade Organization's Agreement on Trade-Related Aspects of Intellectual Property Rights (TRIPS Agreement) and other global IP treaties in Africa, the Caribbean, and Latin America. Her most recent book, "Copyright Law in an Age of Limitations and Exceptions," was published in 2017, by Cambridge University Press.
Okediji served as the chief technical expert and lead negotiator for the Delegation of Nigeria to the 2013 WIPO Diplomatic Conference to Conclude a Treaty to Facilitate Access to Published Works by Visually Impaired Persons and Persons with Print Disabilities (Marrakesh VIP Treaty). In 2015, United Nations Secretary-General Ban Ki-moon appointed her to the 2015-2016 High Level Panel on Access to Medicines.
Okediji joined the Harvard faculty as a tenured law professor and co-director of the Berkman Klein Center in 2017. At Harvard Law School, she founded and serves as faculty director of the Program on Biblical Law and Christian Legal Studies. She was recently appointed the Oppenheimer Faculty Director of the Center for African Studies at Harvard University.