Not many judges have served on every court in their home state. And not many have been on the bench for nearly 40 years. But Robert Bell '69 has an even more unusual distinction: He serves on a court that at one time ruled against him.
Only 31 years old in 1975, when he became the youngest judge in Maryland history at the time, Bell was already known in his native Baltimore for a case that stemmed from his actions as a 16-year-old. As student government president of Dunbar High School in Baltimore, he was one of a group of students arrested during a sit-in at a local restaurant to protest segregation in 1960. The convictions were upheld by the Court of Appeals of Maryland—the court he presided over as chief judge until his retirement this year, on July 6 (his 70th birthday). The U.S. Supreme Court in Bell v. Maryland sent the case back to the state because of a subsequent change in public accommodation law, and nearly five years after the arrests, the Court of Appeals vacated the convictions.
Though his early experience with the justice system was formative, Bell can't say that it propelled him into the law. His mother, a single parent with a third-grade education, pushed him to achieve in school, to find opportunities beyond inner-city Baltimore. Plus, his love of reading, particularly Perry Mason novels, showed him that the law was a means to do good.
"It painted a picture of a lawyer as being a person who was a helper," says Bell. "That struck me and stuck with me, so I went to law school with the idea of changing the world."
He was concerned, however, that he would never get the chance when he saw a question on the HLS application asking whether he had ever been arrested. Yet his explanation of the circumstances actually bolstered his candidacy, he believes. He arrived when the school was beginning to admit more black students, among them the vice president from his Dunbar High class, Reginald Lewis '68, who would go on to be a well-known CEO.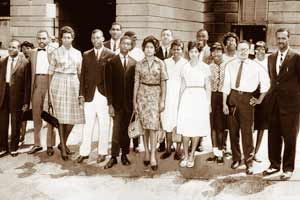 Bell would travel a different career path from that of his friend. Working after graduation for the firm Piper & Marbury in Maryland, he never considered becoming a judge. But members of the black community urged him to apply for a judgeship, seeking to increase minority representation on the bench. He has been there ever since—first on the District Court, then on the Circuit Court, then on the Court of Special Appeals and finally in his current position, in which he oversees courts throughout the state. In that role, he has advocated for more judicial transparency, including community outreach efforts by judges and webcasts of court proceedings, as well as increased access to justice and alternative dispute resolution.
As a trial judge, Bell presided over some wrenching cases, including one of a 7-year-old accused of murder and another of three middle-schoolers convicted of killing a fellow student over a Georgetown University jacket. More recently, on the appellate level, he was in the minority when the court ruled against same-sex marriage, which the state's voters approved during the last election.
As he steps down as chief judge, he supports the mandatory retirement he's subject to: It helps bring fresh ideas and new voices, he says. He particularly appreciates the inclusive attitude of the younger generation, so different from the era when he was arrested at a segregated restaurant. "The young people today can't even imagine it when we talk about the way things were," says Bell. In many ways, that is exactly what he has worked for.