It's been eight years since Massachusetts voters decriminalized the possession of one ounce or less of marijuana. On Tuesday, they'll decide whether to tax and regulate the sale and adult consumption of it.
The initiative, known as Question 4, would legalize and create a commission to regulate marijuana in Massachusetts. Under the new law, individuals at least 21 years old would be able to use marijuana, possess it, and grow up to six marijuana plants in their homes.
For Charles Nesson, Weld Professor of Law at Harvard Law School and co-founder of the Berkman Center for Internet and Society at Harvard University, the issue was the subject of an in-depth discussion at the Harvard Ed Portal in Allston.
Nesson's discussion Tuesday evening on the upcoming vote was part of the faculty lecture series at the Ed Portal, and drew strongly from Nesson's HarvardX course "JuryX: Deliberations for Social Change."
Nesson began the discussion by showing three videos that highlighted very different points of view. First, he showed an interview clip from "60 Minutes" in which a Colorado pediatrician advocates for a ban of recreational pot due to rising numbers of babies born with marijuana in their system.
Next, Nesson showed a video created by the American Civil Liberties Union of Massachusetts (ACLUM), which supports the legalization of marijuana for racial and social justice. Those in the video argue that marijuana policing in Boston is racially biased, and that black people are three times more likely to be arrested for marijuana possession than white people.
Finally, Nesson showed part of an interview he conducted with Ras Iyah V, founder of the Westmoreland Hemp and Ganja Farmers Association in Jamaica. The organization advocates for ganja's economic development in Westmoreland, as well as protecting the traditional and cultural roots of ganja.
Iyah V is an elder of the Rastafari, an indigenous people of Jamaica. For Iyah V and others like him, Nesson said, marijuana is not a recreational drug, but "a sacrament for his culture … something that is not only regarded as safe, but centric and integral."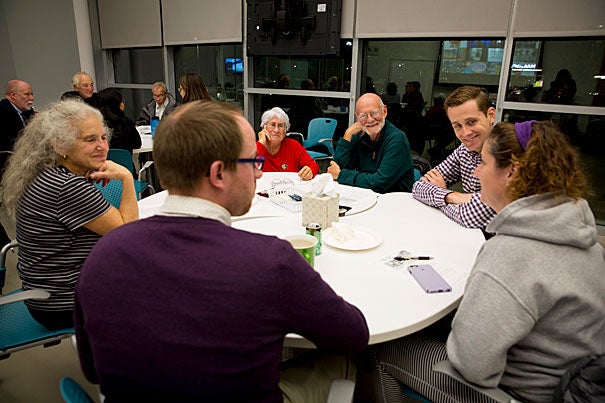 After showing the clips, Nesson asked the attendees to gather in small groups and discuss the different points put forward. He encouraged them to negotiate what he called "the tinderbox of face-to-face conversation," asking them to confront "the problem of listening … of coming to understand that the truth is an ambiguous object."
"Litigators sometimes say that the truth lies at the bottom of a bottomless pit, and in fact, the Socratic process for approaching truth is one of polite, civil give-and-take. You know yourself that whenever you win an argument by anger and overpowering your opponent, you lose: It doesn't work. You actually win an argument when the other person sees you listening, sees a softening in your eye that signals understanding."
After breaking into groups and discussing their different points of view, attendees voted on Question 4 via Post-it notes. The tally was 11 votes for the initiative, and seven against.
"Speaking to the question of civil discussion … I've thought about this matter, but I've never sat down with five other people I didn't really know and exchanged ideas like this," said Brent Whelan '73, an Allston-Brighton resident and member of the Harvard-Allston Task Force.
"I have an extraordinary appreciation for the complexity of this question now. It became much more interesting in hearing these different points of view, and that seems like a great endorsement of what Professor Nesson is trying to accomplish with his 'JuryX' course."
Kevin Casey, associate vice president for Harvard Public Affairs and Communications, said the event reflected Harvard's commitment to lifelong learning of all ages.
"The way that Professor Nesson distills decision-making and communicating is extraordinary — and today, that's more important than ever," he said. "He poses important questions about our role as citizens, and how many varying viewpoints might form consensus."
This article, "Professor has Ed Portal audience vote on legalization of marijuana," by Jennifer Doody, Harvard Correspondent, was originally published in the Harvard Gazette, on Nov. 4.