Lam Ho '08 was sitting in a conference room in an office building in downtown Chicago looking out at a view of Millennium Park and the city's famous Bean sculpture. He had achieved his goal of working for a public interest legal organization. But something was missing, and he found himself pondering whether law was truly the right path for him.
The problem wasn't the organization that he worked for, which focused on advancing the rights of people with disabilities, says Ho. The problem was that he didn't actually see an organization that matched his vision of what lawyering should be.
Instead of leaving the law, he discovered that he could create that organization himself. From that conference room, in the spring of 2013, he called Judy Murciano, associate director of the Bernard Koteen Office of Public Interest Advising at Harvard Law School, who had helped him get his fellowship with Chicago's Legal Assistance Foundation, which brought him to the city after he graduated. When he explained his concerns, she encouraged him to apply for a seed grant through Harvard Law School's recently created Public Service Venture Fund, which awards initial funding to innovative projects that further the public good. With the grant that followed, Ho launched what would become Beyond Legal Aid, which has, under his vision as founder and executive director, upended the concept of how a public interest legal organization operates.
His model is built around community partnerships and empowering the people they serve. Beyond Legal Aid operates community law offices within local organizations, helping community members (Ho's preferred term, rather than "clients") as they deal with issues ranging from housing to workers' rights to immigration. Beyond Legal Aid attorneys don't decide which cases to take; the organizations they partner with do. In fact, community partners and members participate in all aspects of the legal process, even reviewing and editing court filings. In addition, Beyond Legal Aid, as its name suggests, assists with many nonlegal strategies to support community members, including organizing and direct action.
"We take on cases that other organizations have rejected," Ho says, "because we're not just using the law. We're using all these other strategies."
The community-driven approach of Beyond Legal Aid drew Elizabeth Arumilli '09 to serve on its board, for which she works primarily on development. She understood through her own experience as an AmeriCorps volunteer that outsiders need to work in collaboration with community members to effect change. She didn't know Ho in law school, but throughout her six years on the board, she has seen him build the organization and expand to more than 20 partnerships.
"He brings the qualities that you absolutely need in a leader. He's inspirational. He has a vision," Arumilli says. "He also knows how to reach out to people," she adds. "The most essential thing for Beyond's model is being able to reach out to the community partners."
A special counsel for the Commodity Futures Trading Commission in Chicago, Arumilli says her association with Beyond Legal Aid also has provided perspective on her own work.
"From early in my career, looking back, sometimes I was shocked by my clients and how much they knew, and I should have listened to them more closely instead of thinking I was the expert on everything. Being humble and knowing that the clients have something very important to contribute is something that Beyond reminds me of all the time."
Ho's philosophy of serving the public as a lawyer was shaped by his experience as a community organizer before law school. He recalls working with lawyers, including on issues of access to care for people with HIV and AIDS. They were committed and cared about the cause, but they were so focused on filing lawsuits and taking charge of the cases that they neglected to collaborate with the workers on the ground like him.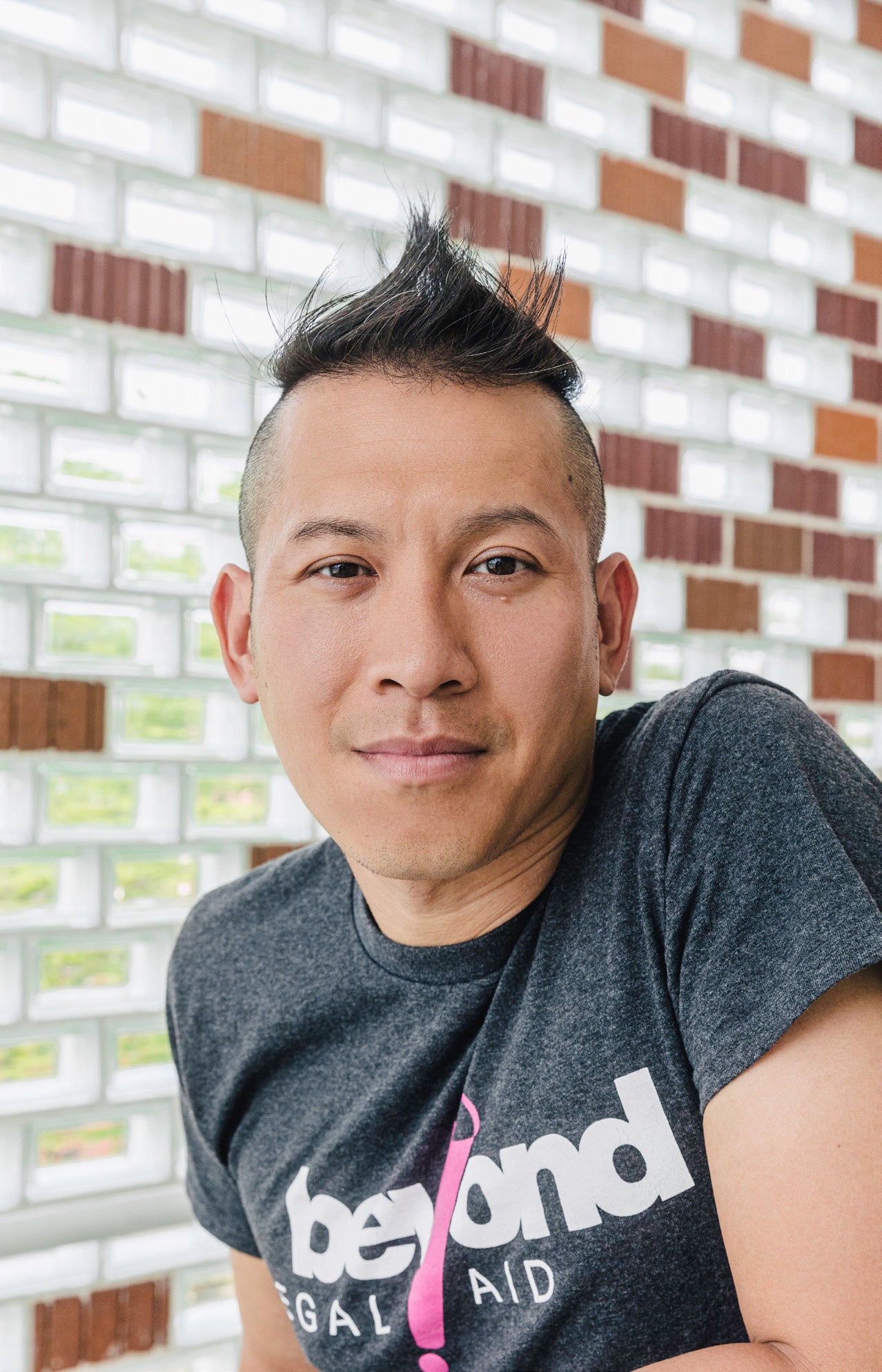 At HLS, he was president of the Harvard Legal Aid Bureau and completed more than 3,200 hours of pro bono work, the most in his class. He thought he had done everything possible to prepare to be a community lawyer, which culminated in the postgraduate fellowship with the Legal Assistance Foundation. He was working for the Lawndale Christian Community Church in Chicago and created 10 community-based legal clinics. But toward the end of his fellowship, as he was trying to extend funding, he was unprepared when his contact at the church introduced him to a community member who Ho was told would be taking over the legal clinic project. Ho's contact told him the community appreciated his work, but that what they needed was a program focused on youth involvement with the criminal justice system, which Ho couldn't provide because of the Legal Assistance Foundation's funding restrictions. And they wanted one of their own to help create it. Although Ho did his best to be gracious and helpful to his replacement, he felt hurt and even angry that no one had given him any warning. But looking back, he sees the situation very differently. "
I should have been so happy that the community took charge, and they were going to create their own resource," he says. "I didn't actually build the relationship as well as I thought I had. I didn't develop the trust that was needed for the community."
That experience, which he considers the origin story of Beyond Legal Aid, helped him realize that in order to serve a community, you must empower it. But his path to becoming the community lawyer — and person — he turned out to be started much earlier in his life.
Ho's family emigrated from Vietnam to the city of Brockton, Massachusetts, when he was 6 years old. He slept in a bed with his sister and two cousins in a small apartment, the family relying on welfare and soup kitchens to survive. He remembers the government-provided cheese he had to eat that made him sick, never having eaten dairy products in Vietnam.
Ho had much to overcome in his childhood, but he considers himself lucky. He was able to escape poverty and hardship and can understand, more than most, the challenges that many community members face. He appreciates the saying: "He who walks in from the rain is least likely to go back out." It's not that he's unwilling to step out into the rain. It's that he has a deep awareness and empathy for how hard it is.
"That's something that's really difficult, when you're in a position of privilege, to understand," says Ho. "And that's where the sense of gratitude and responsibility comes from."
---
Want to stay up to date with Harvard Law Today? Sign up for our weekly newsletter.