When section mates Phil Caruso and Gareth Rhodes graduated from Harvard Law School in 2019, neither could have known they'd be working to address the COVID-19 crisis in their home state less than a year later: Caruso as Department of Defense liaison to the New York City Emergency Management Department and Rhodes as a member of New York Gov. Andrew Cuomo's COVID-19 task force.
Both quickly pivoted to their roles when the pandemic began to take hold in early March. An Air Force reservist with 11 years of service under his belt, including two tours in Afghanistan, Caruso knew it was likely that the military would somehow be part of the federal government's response. With the support of his employer, private equity firm Onex Partners (in addition to his J.D., he also received an M.B.A. from Harvard), he accepted the charge to lead a Department of Defense team tasked with supporting FEMA.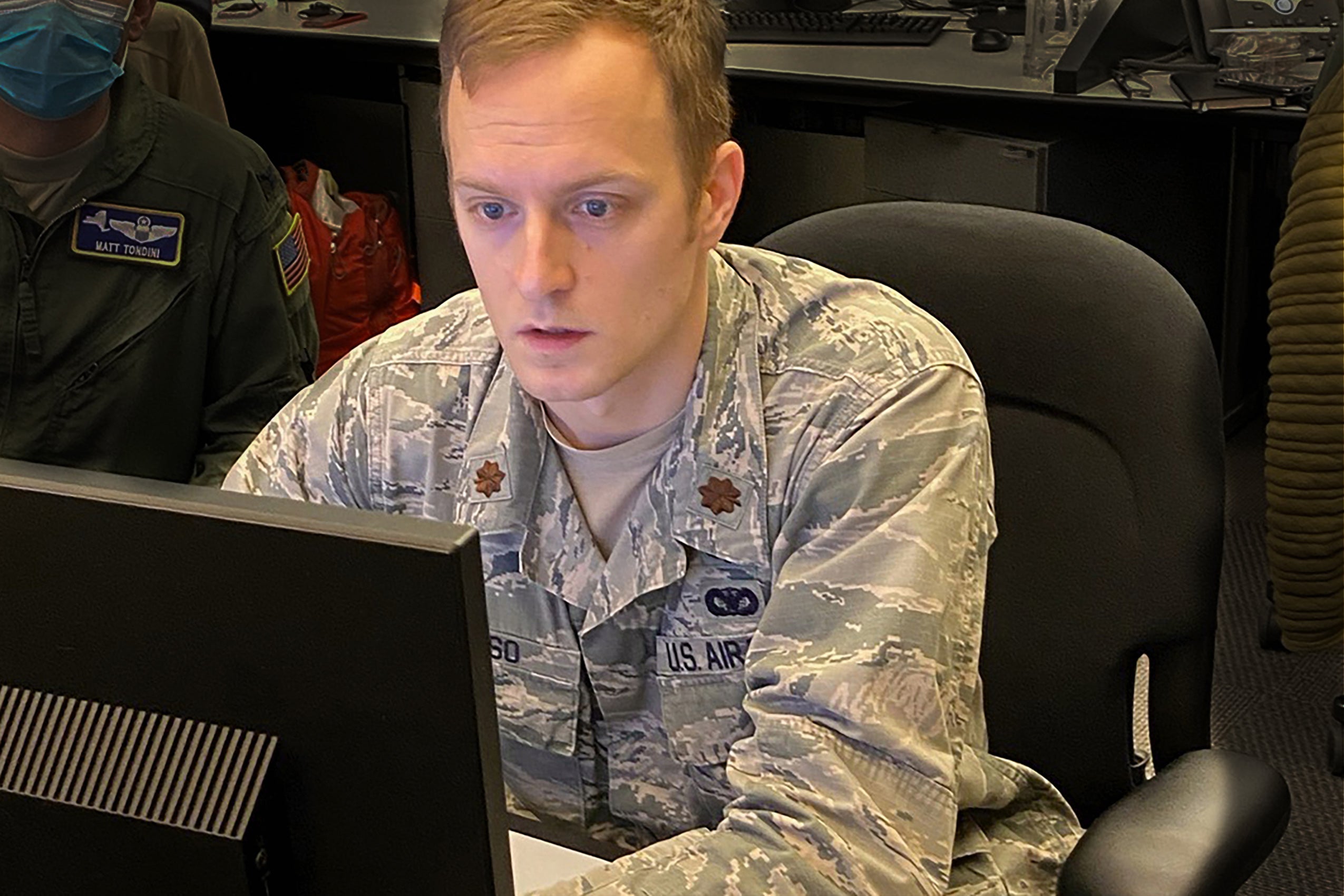 On March 18 he reported for duty in Brooklyn at the NYC Emergency Management Department, where he began coordinating with state and local governments to help transform the USNS Comfort and the Javits Center into field hospitals and to onboard 700 military doctors, nurses, and respiratory technicians into area hospitals. Caruso sat in on multiple city planning meetings that touched on all aspects of local government's response to the pandemic, offering insight and advice on requests for federal aid. It's a very different mission from his experience in Afghanistan, he noted, where the military was obviously in the driver's seat: "We're supporting FEMA, and FEMA is supporting the state and the city. I'm in the back room in an operational capacity, making the sausage, trying to help the people who are actually doing the work get what they need. Yet it's some of the most impactful work I've done."
"I'm in the back room … trying to help the people who are actually doing the work get what they need. Yet it's some of the most impactful work I've done."

Phil Caruso '19
Rhodes' day job is deputy superintendent and special counsel at the New York State Department of Financial Services. Before coming to HLS, he served four years in Gov. Cuomo's administration as deputy press secretary. On March 1, he received his first task force mandate: Boost the state's testing capacity, with an initial goal of 1,000 tests a day. "I became best friends with lab directors all over the state," said Rhodes, adding that the effort required daily calls at all hours with lab equipment manufacturers and suppliers. Within a few weeks, New York ramped up to 20,000 tests a day; to date, it has one of the highest testing rates per capita.
He then moved on to working with the Army Corps of Engineers to expand hospital capacity through field facilities such as the Javits Center; a subsequent project involved working on a team to ensure that patients were transported from hospitals nearing capacity to facilities where they could be easily transitioned to higher levels of care if their condition worsened suddenly. By mid-April, he was focused once again on expanding testing capacity, this time with the goal of doubling the number of daily tests to 40,000.
It was helpful, Rhodes said, to check in with Caruso, especially during the Javits Center conversion. "You're coordinating multiple federal, state, and city agencies. To have someone I knew personally who could give me a sense of what was happening on the ground and where we needed to send more resources gave an added degree of insight," he said, even as they used established channels to execute the work at hand.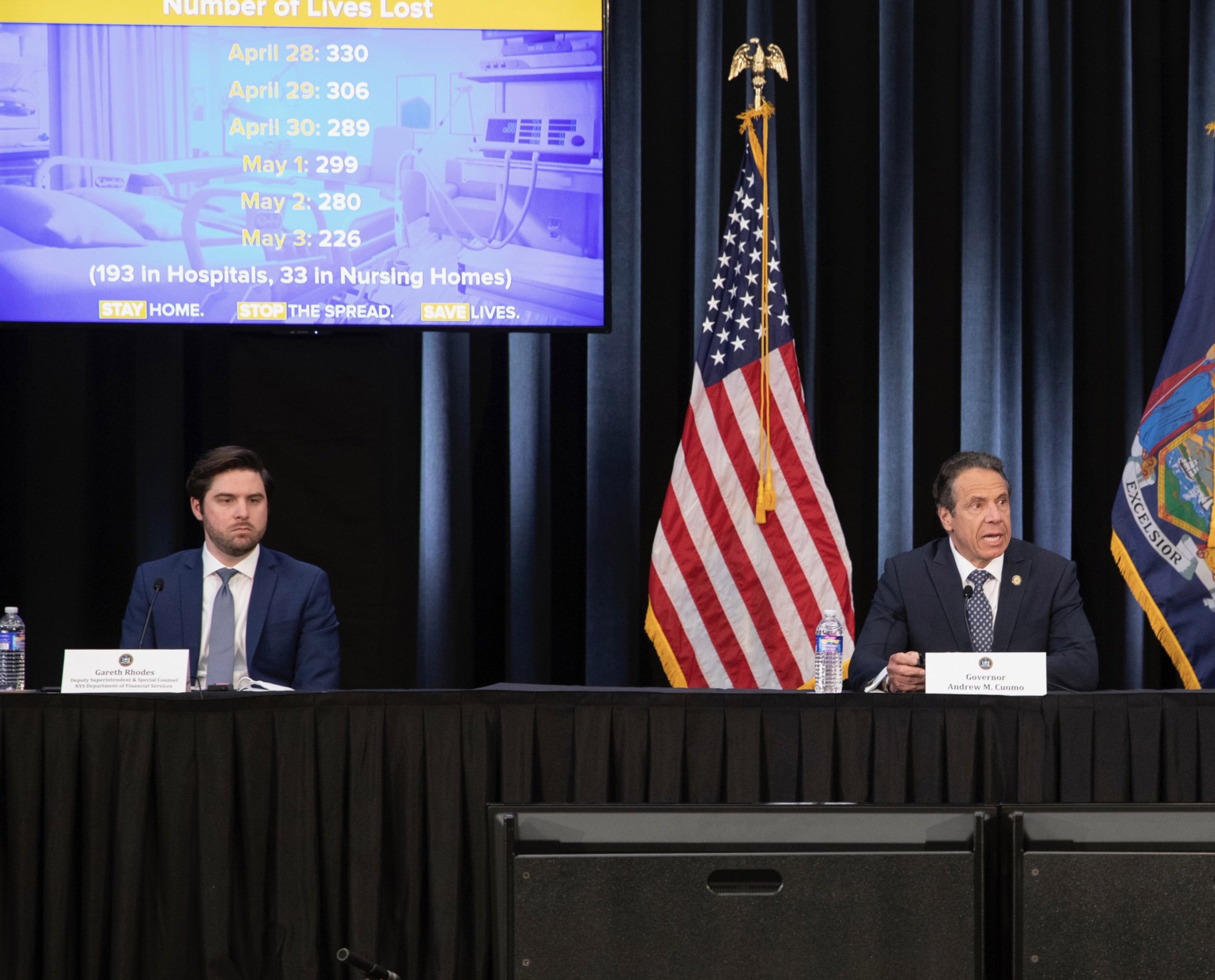 Both experienced the nonstop nature of crisis work; by April 30, when he first spoke with the Bulletin, Rhodes had worked 61 days straight. "Every morning starts very early, prepping for the governor's 11:30 briefing," he said. After that, the team often works well into the evening: "You have the sense that every hour you're not working on this, you're losing precious time, and time is of the essence in these crises."
Even as the days blended together, Caruso and Rhodes offered up vignettes that stood in stark, surreal relief. For Rhodes, it was seeing a dorm he had lived in as a CUNY undergrad identified as a potential field hospital site. And on April 21, he traveled to Washington for an Oval Office meeting between Gov. Cuomo and President Trump that focused on building New York's testing capacity. "That's not an experience I ever thought I'd have," he admitted. While media gave the encounter advance billing as a "showdown," Rhodes emphasized the real focus: saving lives. "The governor has shown the nation how you can communicate facts through effective leadership," he said. "When you have to count on New Yorkers' buy-in for stay-at-home orders and quarantines, it's important to have the public's trust."
"You have the sense that every hour you're not working on this, you're losing precious time, and time is of the essence in these crises."

Gareth Rhodes '19
Caruso's data-intensive, operational role had its moments, too. "We don't forget about the suffering and pain this virus is causing patients and their families, even when we're in the weeds with logistics," he said. "But when I saw it happening on the ground at places like the Javits Center, the coffins at the medical examiner's office, it really hit home; you have a visceral empathy and understanding for the devastation behind the numbers." (As of mid-July, nearly 32,000 New Yorkers had lost their lives to COVID-19, the highest fatality rate of any U.S. state.)
It's difficult to find any encouraging outcomes in the face of so much loss. But Caruso highlighted one positive result: what is possible when local, state, and federal government entities work together. "At the beginning, the scale and complexity of turning the Javits Center into the state's largest hospital made it seem like an impossible task," said Caruso. "It's pretty incredible to see how something as terrible as COVID-19 can also bring out the best in people."