Rafael Mariano Grossi, the Director General of the International Atomic Energy Agency (IAEA), recalls that after Russian troops occupied the Zaporizhzhia nuclear power plant in March 2022, the organization he leads was "propelled, quite unexpectedly, into the war in Ukraine — going there, crossing the front line many times, establishing an international presence … and trying to avoid a nuclear accident as a result of the war." It took many months, he noted, but "what allowed me to move in, and in a sense, impose myself in the war," is the IAEA's authority and competencies in nuclear safety.
Grossi, who has more than 40 years of experience in non-proliferation and disarmament, spoke at Harvard Law School on September 21, and reflected on an array of challenges the agency has faced.
He addressed the "permanent concerns that linger on for many, many years now about the possibility that Iran may cross the line, just as North Korea did [in its detonation of a nuclear device] in 2006, after many diplomatic attempts to prevent proliferation." Grossi cited Iran's "eventual and open non-compliance" with the 2015 agreement between Iran, the five permanent members of the Security Council, and Germany, which set stringent limitations on Iran's nuclear program.
"What we have is an empty shell," he observed, noting that the IAEA has found traces of uranium "in many places where we shouldn't have, evidence of secret activities that should have been declared to the agency. It is a potentially volatile situation that requires a lot of diplomacy."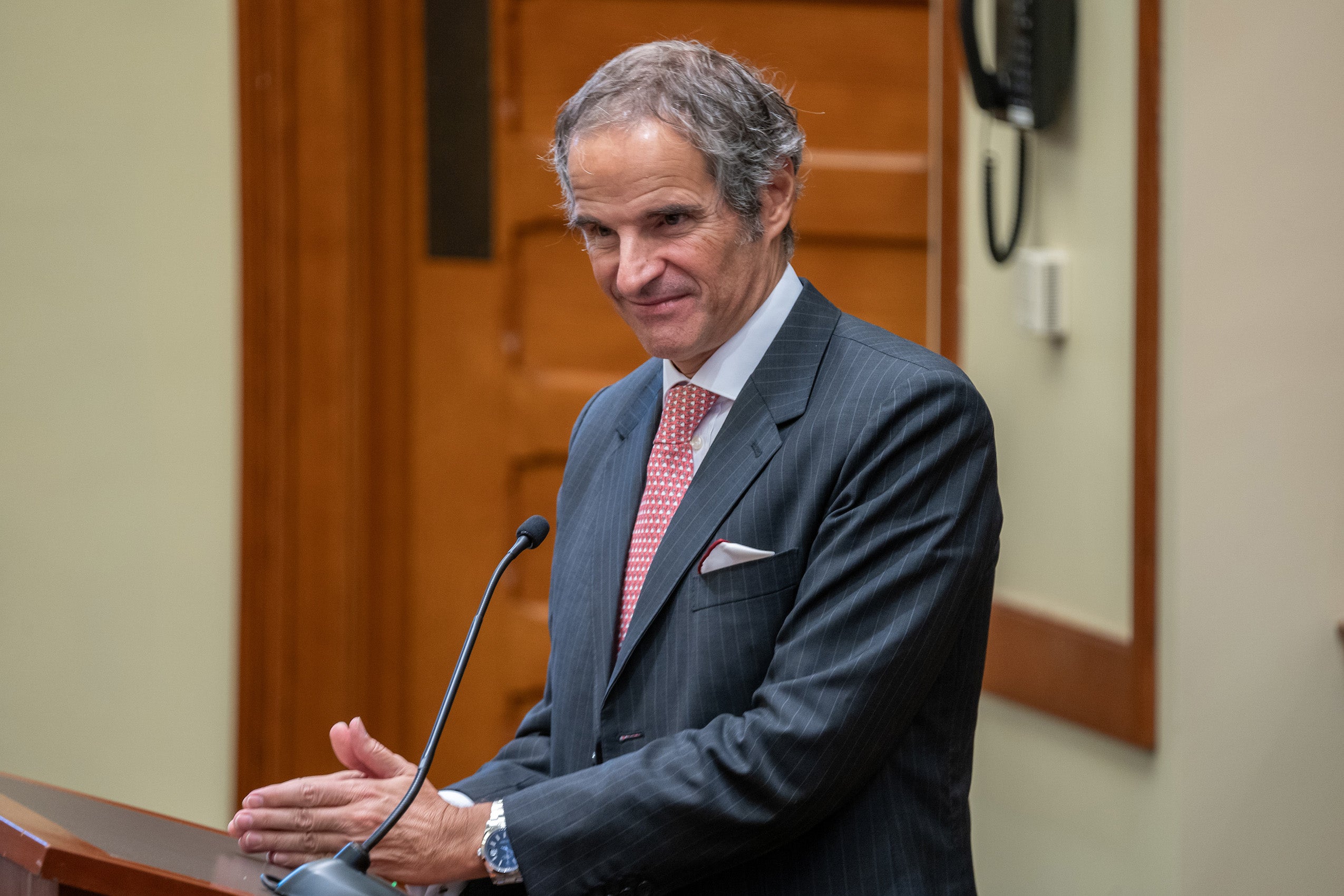 Grossi also described the important work that the IAEA carries out in other areas, including nuclear medicine and food security. The agency is equipping and training oncologists and radiologists in developing countries and expanding the use of technologies used to develop drought-resistant crops and eradicate fruit flies and disease-carrying mosquitoes.
After his introductory remarks, students and researchers from the law school, the university's graduate programs in chemistry and physics, and the Harvard Kennedy School engaged him on issues ranging from concerns over the Fukushima Daiichi nuclear power plant accident in 2011 to the agency's need to address misinformation that affects political decisions and public opinion.
Grossi concluded by looking to the future. "By a convergence of factors — global warming, climate change, and the sudden energy crisis we are having … all of a sudden there is a lot of interest in building nuclear reactors, with countries making new decisions or moving away from the previous decisions to phase out nuclear energy, and the appearance on the horizon of smaller nuclear reactors, new generations of nuclear energy facilities, and projects approaching the demonstration phase after many years of being considered an almost Utopian scientific curiosity," he said. "This increases the responsibility of the IAEA to make sure this happens in a way that is safe and secure."