Last summer, Professor Robert Mnookin '68, an expert in the field of conflict resolution and negotiation, found himself wanting to know more about U.S.-Cuba relations. "I had an idea that there was a very interesting set of questions related to when, how and whether the two countries would ever negotiate a reconciliation," he says. He decided to investigate by teaching a reading group—a small, 1-credit class with no exams or graded papers, where 2Ls and 3Ls are able to dig deeply into a given topic in a way that provokes extended discussion among the group. "I am not an expert on Cuba; I'm an expert on negotiation, and what a reading group allowed me to do is learn with the students about an area I didn't know much about," he says.
For students, reading groups are a way to study with professors in a less formal setting, and to discuss topics that often go beyond the purview of regular HLS classes. This academic year, 43 reading groups (see sidebar) were offered to upper-level students (non-credit versions are available every year for 1Ls).
Meredith Boak '12, who took Professor Charles Fried's course The Good Life and Living Well, says of the reading group experience: "It's a much more tightly knit learning environment—there's nowhere to hide in the classroom. You get to engage with the professor more, and the conversation is much more organic and fluid."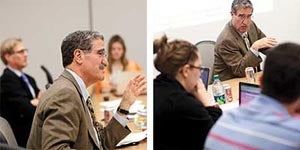 The syllabus for the class Fried offered this spring, which considers the interplay for lawyers between happiness and ethics, included Sidney Sheldon's "Rage of Angels," "a sort of junky novel to get in the mood," as Fried describes it, about a young lawyer whose professional choices lead her down an unethical path. They went on to the essay "On Experience" by the philosopher Montaigne, and the DOJ Office of Professional Responsibility's report on the conduct of John Yoo, author of the so-called torture memos, during the Bush administration. Fried's goal, he says, is to pick readings that allow students to "speak personally and freely about the choices they've made, and compare those to the choices of others." Also on the syllabus was Fried's own book "Because It Is Wrong: Torture, Privacy and Presidential Power in the Age of Terror," and Boak points to the unusual experience of being able to talk through a professor's ideas with him. "What I really appreciated was seeing the thought process that he went through to come to his conclusions," she says.
[pull-content content="
Selected Reading
12 of the 43 reading groups offered this year
Critical Race Theory, Professor Kenneth Mack '91
Great Book ("The Magic Mountain"), Professor Richard Parker '70
Jewish Law and Legal Theory, Professor Noah Feldman
Judicial Independence, Judicial Ethics, and the First Amendment, Lecturer on Law Margaret Marshall
Market Efficiency and the Crisis of 2008-2009, Professor Reinier Kraakman
Natural Law and Positive Law, Professor Lewis Sargentich '70
Population, Assistant Professor I. Glenn Cohen '03
Public Domain and the American Ideal, Professor Charles Nesson '63
Real Science, Junk Science and CSI, Professor of Practice Nancy Gertner
Roman Law, Professor Charles Donahue Jr.
The Supreme Court's 2010 Term, U.S. Supreme Court Justice Elena Kagan '86
Tocqueville, Professor Mary Ann Glendon
Transnationalism and Constitutionalism, Professor Vicki Jackson
" float="right"]
In a March session of Mnookin's reading group, the class had a spirited back-and-forth about Cuba's recent political history and the barriers to negotiation between the U.S. and the Castro regime (Jonathan Hansen, a lecturer in social studies at Harvard and the author of "Guantánamo: An American History," helped teach the class). The readings assigned for that week included an essay by a Cuban dissident, an article from a law and trade journal on the Helms-Burton Act, and a New Yorker "Talk of the Town" piece on Cuba's split identity. Throughout, Mnookin gently but firmly nudged the students to clarify their thoughts, often pushing them to reframe them in more forceful ways. Ronald Anguas J.D./M.B.A. '12 suggested that if the U.S. were to start negotiating with Cuba, it would amount to admitting that the whole embargo might have been misguided: "If the Castro regime outlasts the embargo, what does that mean for other regimes who are holding out?" Mnookin responded that Anguas was pointing out a problem that's common in legal disputes—being afraid that settling looks like an admission of guilt. In negotiating, Mnookin continued, "it's a matter of framing things differently—you need to help each side figure out the story they can tell themselves to make compromise seem worthwhile." What story, he asked, could the U.S. tell here?
That day, a few of the students shared their perspectives as Cuban-Americans while a couple of Latin American students spoke about growing up with an outside view of the long diplomatic war between the U.S. and Cuba. William C. Marra '12 said that along with back-and-forths with the professor, the reading group format allows for dialogue among students, in this case giving them space to express their personal views of Cuban history and politics. For Mnookin, who started the reading group as a way to explore a scholarly interest, the class has become something richer: "I'm getting even more out of it than I anticipated."