Refugees and migrants to the U.S. face a host of challenges, ranging from climate change to racial bias to health care inequality. And according to panelists at last week's "Emerging Issues in Immigration Law" conference, they're also facing a system that's weighted against them.
"Immigration is a humanitarian issue, a racial justice issue, a 'you' issue, and an 'us' issue; and we believe that together we can enforce changes," said human rights advocate Guerline Jozef of the Haitian Bridge Alliance. "We are here, we exist and our voices must be heard."
The day-long event sponsored by Harvard Law School's Immigration and Refugee Clinical Program was held in honor of immigration law pioneer Deborah Anker LL.M. '84, who recently moved to emeritus status and was present for the event. The day began with a tribute to Anker's work, and continued with panels that examined the effect on immigration of two significant factors, systemic racism and climate change.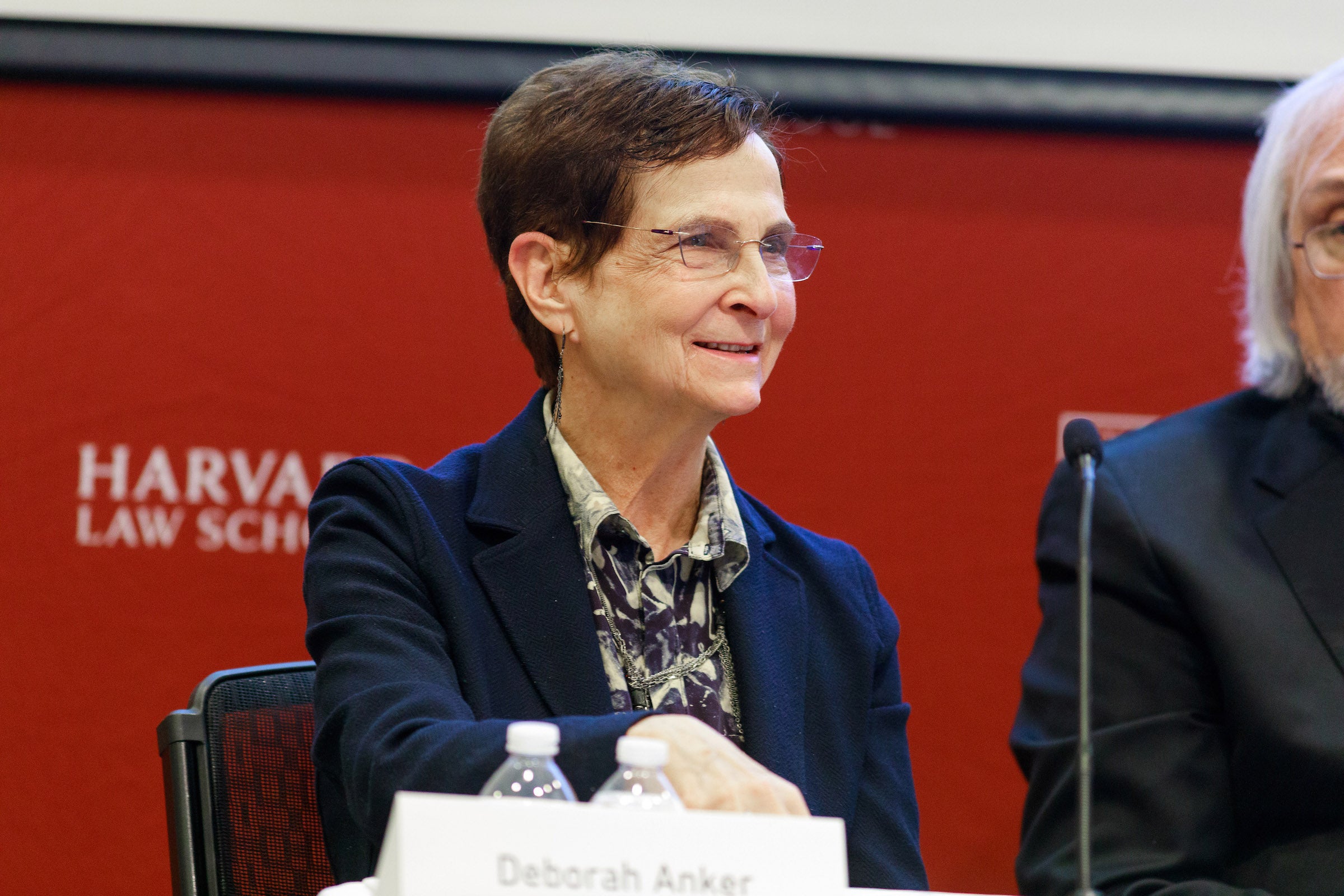 The disproportionate amount of hardship faced by Black immigrants was an especially resonant topic for Jozef. Her own cousin had been deported from the U.S. and subsequently murdered. Such tragedy is by no means unique, she said, invoking the recent fire that killed 39 migrants at a detention center near the U.S. border in Juarez, Mexico. "The immigration system as we know it was created for Black bodies — refugees from Haiti in the 1970s and '80s. This is our reality. And if you hear these stories, you will not be able to sleep."
The first Haitians arrived in Miami in 1972, barely ten years after that city desegregated, noted Kurzban, former president of the American Immigration Lawyers Association and author of the leading immigration law treatise, Kurzban's Immigration Law Sourcebook. "The first policy started, I think disgracefully, under Jimmy Carter. To expedite the removal of Haitians from South Florida he instituted a mass effort to bring hundreds of legal cases simultaneously. Lawyers were running from one courtroom to another." Deportation efforts increased drastically under President Ronald Reagan, and Kurzban noted Anker's efforts to provide asylum seekers with work visas. Yet, he said that progress has been slow. "Today when people ask me what the policy is, I say what I've said for 20 years: They don't want Black people coming on boats to the United States. That is the policy toward Haiti; everything else is secondary."
It's not only Republican administrations that have stacked the deck against Black immigrants, said Nicole Ramos of the legal organization Al Otro Lado. "Under the Obama administration we saw the start of 'metering,' which was a waitlist that required all migrants — initially only Haitian and Black migrants —to put their names down and wait for an unspecified period of time to begin the process of seeking asylum. There were children coming here for help who were handcuffed and placed in adult detention centers."
Today, she said, Black migrants are being denied protections extended to Ukranian refugees. "The difference is the color of the skin. The difference is that white supremacists do not want more Black and brown people to lessen their majority." To the students she said, "Graduate and practice, but understand that the system you work in is inherently rigged."
Climate change is one of many factors that could lead people to seek asylum in the U.S., said Refugees International director Yael Schacher. She reported on two recent trips to Guatemala, which has been devastated by an ongoing drought and hurricanes that followed. "They had hurricanes dumping water on dried soil, and this affected 80 percent of the food supply. The matters are worse in poor indigenous areas, where crop failure had affected their livelihood."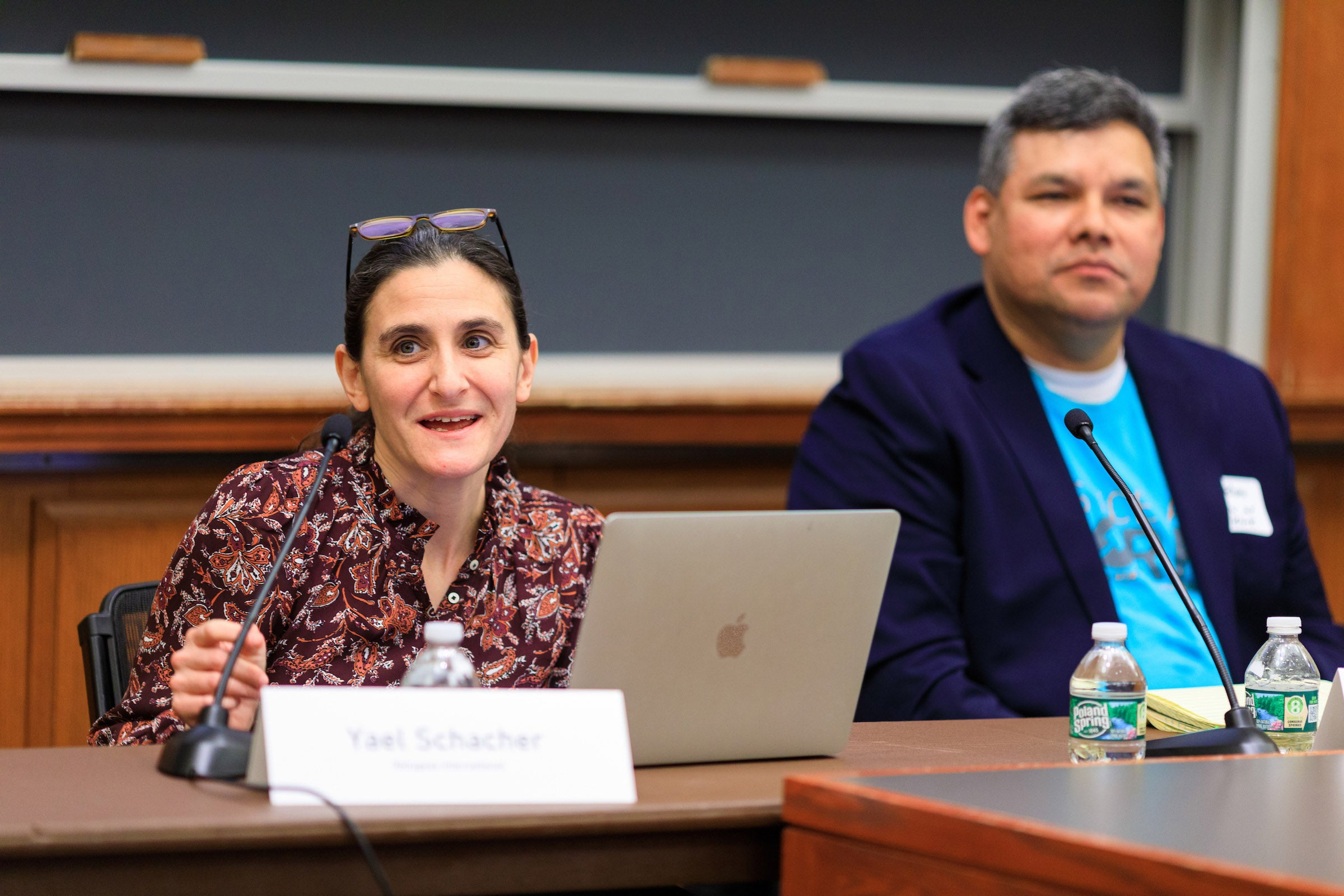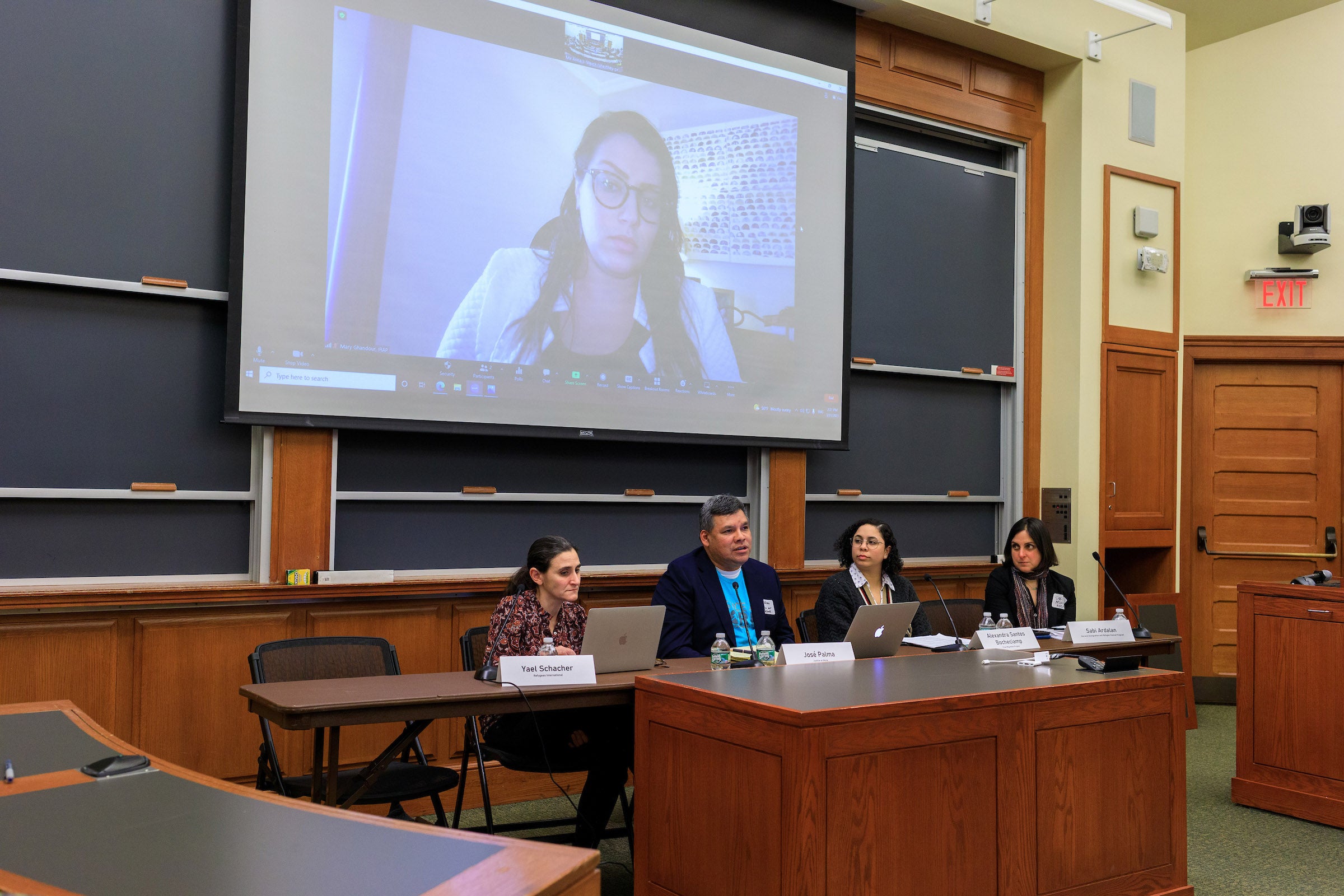 Still, she said, many people would prefer to move to cities rather than migrate to the U.S. Thus, the international community needs to be more creative with its solutions. One suggestion she offered was for the U.S. government to grant temporary protected status (a designation that allows migrants to live and work in the U.S., although it does not currently provide a path to citizenship) to people at risk, rather than only to those who have already suffered disasters.
Mary Ghandour of the International Refugee Assistance Project called for greater U.S. participation in the United Nations' Loss and Damages Fund, which provides assistance to nations most vulnerable to climate change. "What is needed is the political will of governments to offer long term and meaningful solutions." But Schacher countered that it might take more public pressure to bring that about. "I've spent a lot of time on the Hill and I'm not seeing a sense of urgency about this. There's a certain urgency about climate change, but not about providing a permanent pathway [for migrants]. The Biden administration has to see it as something that Americans really want, but refugee asylum issues are not a top priority in expanding global capital. People need to protest."
Other threats have gotten less notice. Alexandra Santos Bocheciamp of the Free Migration Project called attention to the disturbing trend of medical deportation, when patients are taken out of U.S. hospitals because of inability to pay. She mentioned a mother of two in Philadelphia who had gone into a coma, and was threatened with being returned to the Dominican Republic where she might easily die in transit. "Cases like this don't exist in a vacuum. They are the result of systems that are in place — the health care system as well as the immigration system. We have to start by acknowledging that our systems are oppressive ones. The purpose of our immigration system is to exclude non-U.S. citizens from our society. Listening to those who are impacted should be the starting point for what comes next."
The panelists emphasized that these issues — climate change, health law, immigration law — are all connected, and that the solutions need to be integrative. As Ghandour told the students, "Working outside your area is important for this kind of movement building. We need to change these narratives, because climate change is affecting us all at this point."
---
Want to stay up to date with Harvard Law Today? Sign up for our weekly newsletter.