As Harvard Law School Clinical Professor Deborah Anker LL.M. '84 moves to emerita status, she and her many students and colleagues can reflect on her formidable record of achievement — as a pioneer in the study of refugee and asylum law, the author of the seminal text on the subject, and a tireless advocate for the rights of refugees, particularly women and children. As her former student Molly Linhorst '16 puts it — quoting a sentiment voiced by many of Anker's admirers — "She's the Beyoncé of asylum law."
"As founding director of the Harvard Immigration and Refugee Clinic, Deborah Anker has played a pivotal role at Harvard Law School, not only by founding our clinic but in helping build our clinical program," Harvard Law School Dean John F. Manning '85, the Morgan and Helen Chu Dean and Professor of Law at Harvard Law School. "Her work in the clinic enabled countless clients to enjoy freedom and escape persecution by remaining in the U.S., and she trained and inspired scores of other lawyers to work to those same ends."
"Debbie wins the prize for tenacity in terms of standing up for refugee rights in America," says James Hathaway, prominent international refugee law scholar and founding director of Michigan Law's Program in Refugee and Asylum Law. "Literally nobody has fought the good fight as often as she has done. But she is also an intellectual trailblazer, having, in particular, developed a gender-inclusive understanding of refugee status, and having made the case for the alignment of American understandings of asylum with our international obligations. She truly is a hero."
Groundbreaking scholarship and litigation
A pioneer in the development of clinical legal education in the immigration field, Anker joined the Harvard Law faculty in the early '80s, as a lecturer on law and later clinical professor of law in 2008. Along with her colleagues Nancy Kelly and John Wilshire-Carrera, Anker founded the Harvard Immigration and Refugee Clinical Program, or HIRC, which has since become a model for similar clinics nationwide. Her book, "Law of Asylum in the United States," first published in 1998 under the editorship of former student Paul Lufkin and now updated annually with a cadre of HLS student editors, remains the key authoritative text in the area. She also has authored numerous amicus curiae briefs in major refugee litigation, served as an expert witness before national and international fora, and helped draft national gender refugee guidelines.
Harvard Law Clinical Professor Sabrineh Ardalan '02, Anker's former student and the current faculty director of HIRC, credits its significant expansion over the decades to Anker's "commitment to advocating for immigrants' rights and dedication to responding to the evolving challenges facing immigrants and refugees in the U.S."
In addition to the clinical work at Greater Boston Legal Services, overseen by Kelly and Willshire Carrera, "HIRC now includes two clinics, a student practice organization [SPO], and the Harvard Representation Initiative, which serves members of the Harvard community whose immigration status is at risk. In addition to the flagship Immigration and Refugee Advocacy Clinic, there is now a Crimmigration Clinic, led and directed by Phil Torrey, which focuses on cutting-edge appellate and district court advocacy at the intersection of immigration and criminal law. And through the HLS Immigration Project, the student-practice organization, students can hit the ground running with hands-on immigration and refugee advocacy their 1L year," said Ardalan. "Debbie built a team at HIRC that now supervises over 140 HLS students each year through the two clinics and SPO and in so doing, centered immigration and refugee law as a core component of HLS's clinical program."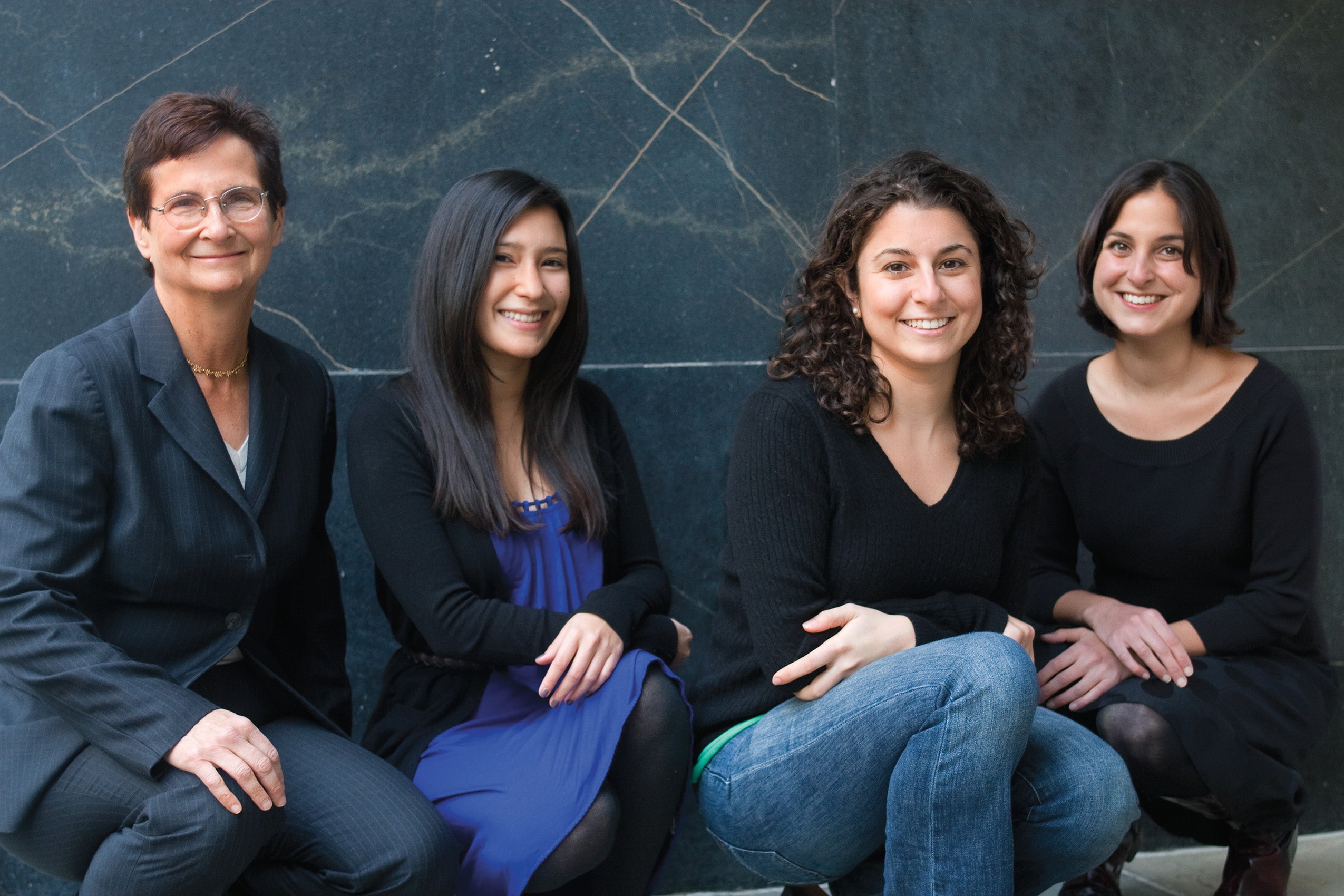 Committed to justice from an early age
Raised in New York, Anker graduated magna cum laude from Brandeis University, and went on to earn her J.D. from Northeastern before continuing her legal studies at Harvard. Even before she began formal studies, Anker was invested in the study of and advocacy for human rights. She credits that in large part to her family history and values: Her Jewish grandparents crossed the Atlantic to escape the persecution leading to the Holocaust, and both of her parents were committed public school educators. Her father was a New York City Schools chancellor during desegregation. "The belief in the equality of all people was central to how I was raised," she said.
"From my family I got deep beliefs and commitment to anti-racism. I have a strong memory of my father telling me about Ralph Bunche, a Nobel Peace Prize recipient, one of the founders of the United Nations, leading actor in the mid-20th-century decolonization process and U.S. civil rights movement, and recipient of the Presidential Medal of Freedom," said Anker. According to her father, Anker reports, Bunche was discriminated in obtaining housing, and refused membership in a neighboring tennis club in the area of Queens where Anker's family moved in her early teenage years. "That was something that stuck with me," she said. Early in her legal career, Anker represented a Black family that had moved into Dorchester during desegregation and was subject to violent attacks; this was one of the cases covered in J. Anthony Lukas' classic 1985 book, "Common Ground." "For me personally, a commitment to racial justice was central to my identity," she says.
Anker credits the late Harvard Law School public interest professor Gary Bellow '60, founder and former faculty director of Harvard Law School's clinical programs, with advising, advocating and paving the way for her engagement in clinical education at the law school.
She also credits the 'extraordinary determination and integrity' of Lisa Dealy, former assistant dean of clinical education, with whom Anker worked closely, in helping to expand the school's clinical program.
In 1984, when Anker, along with Kelly and Willshire Carrera founded the Immigration and Refugee Advocacy Clinic, the study of immigration law was still in its infancy, and clinical education was relatively new in legal education.
And, according to Kelly, Anker was writing the law from the beginning. "The article she co-authored on the legislative history of the Refugee Act shaped how that law would be interpreted, with the U.S. Supreme Court citing it in support of an internationalist approach to refugee and asylum law, grounded in our treaty obligations, as signatories to the U.N. Protocol relating to the Status of Refugees," said Kelly. "She authored some of the first empirical studies of immigration adjudication and co-authored the first study of the expedited removal process for addressing the claims of asylum seekers at the U.S. border."
According to Willshire Carrera, Anker "believes in bringing the reality of the law as it is experienced by real people into the classroom and into scholarship. We developed an approach of 'legal change from the bottom up,' changing ground-level legal institutions, which set the stage for changes at higher levels, including in precedent decisions in the federal courts." From its earliest years, HIRC worked to bring administrative decision-making out of the shadows, publishing administrative asylum decisions, which were otherwise inaccessible to advocates and researchers.
During these early years, Anker also worked with Hathaway, who developed a structured human rights approach to interpretation of refugee law, an approach HIRC would adopt including in much of its women's refugee work.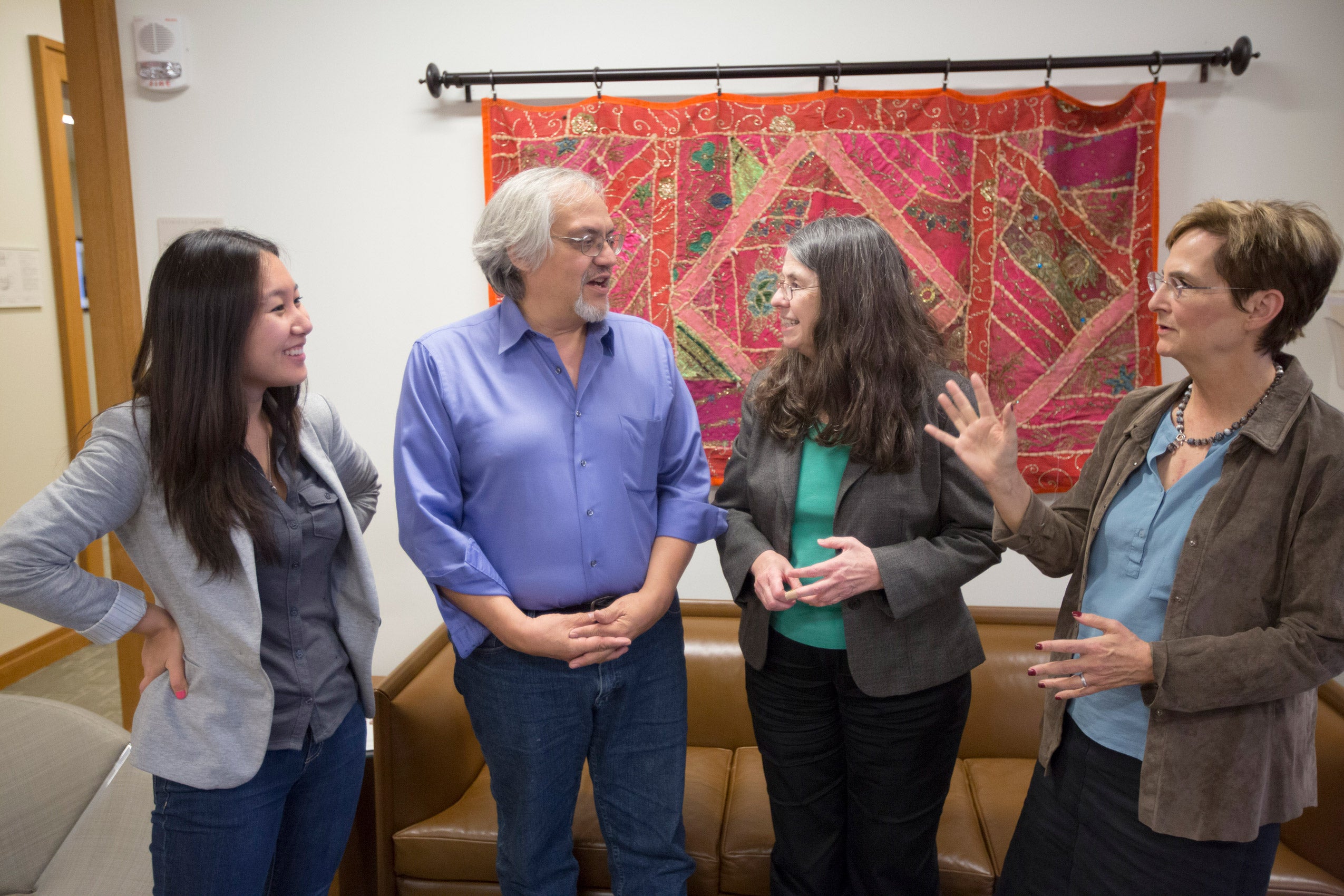 Anker's background in racial justice led her to work with Haitian refugees beginning in the mid 1980s. "I got to know civil rights lawyer Ira Kurzban, who was leading the charge on behalf of Haitian refugees fleeing a horrible and violent dictatorship, which the U.S. had backed." Among other work, Kurzban engaged Anker as an expert witness on U.S. asylum law, in challenges he brought based on discriminatory detention and treatment generally of Haitian refugees. She would continue to be called in as an expert, including later in challenges brought by Canadian NGOs in 2005 and 2017 to exclusionary policies of the Canadian government, refusing entry to asylum seekers coming from the U.S. under the Safe Third Country Agreement.
The Canadian Supreme Court will soon issue a ruling on whether the Canadian policy of returning asylum seekers to the U.S. complies with the Canadian Charter and international law. Canadian attorney Andrew Bouwer praised Anker's work on the Safe Third Country Agreement and says he looks forward to her continued advocacy on these issues. "Professor Anker is a force of nature! Working with her on Canada-US border issues, especially the inhumane Canada-U.S. Safe Third Country Agreement, these past 17 years has been an incredible honor and a highlight of my practice."
Also in the 1980s, Anker helped found the Boston Committee against Deportation, defending a group of Haitians who were arrested by immigration authorities as they attempted to organize a union at Faneuil Hall market place.
HIRC continued this work with Haitian refugees who fled again during the 1990s after the violent overthrow of Haiti's first democratically elected president, Jean Bertrand Aristide. HIRC's early engagement with Haitian refugees led to groundbreaking work on gender asylum. "After President Aristide was deposed, there were security forces who went into women's houses (the men had mostly fled) and raped them, because they were known, or assumed to be, supporters of Aristide," explained Anker. "So it was really rape used as punishment based on 'political opinion,' one of the grounds of protection in the refugee treaty to which the U.S. is a party."
Working in conjunction with other groups, HIRC got the administrative Board of Immigration Appeals to recognize that this was a form of what the agency called "grievous harm," which HIRC argued fit the concept of persecution. "This case, Matter of D.V., was the first administrative gender asylum decision; along with others, we were able to convince the board to publish it as a precedent decision," said Anker.
Meanwhile, the group traveled to Haiti to collect affidavits; their work ultimately led the Inter-American Commission on Human Rights to make the first finding by an international human rights body that rape could constitute torture.
This in turn contributed to greater global awareness of violence against women within a human rights framework. Canadian NGOs and academics took the lead, particularly through the Canadian Immigration and Refugee Board. "The Canadians worked up an amazing series of guidelines, and we [the HIRC] took those and adapted them to American law," Anker said. "We published these and asked the U.S. government to take our guidelines and issue official government guidelines, based on them — and in fact, they did that." Later, HIRC led a major amicus effort, drafting a brief to the then-attorney general signed by 187 organizations and individuals, arguing that violence against women in the "domestic" sphere, that is, in the home by sexual intimates, could be the basis for protection. Eventually the attorney general reversed an original denial and the petitioner, represented by the Center for Gender and Refugee Studies, was granted asylum.
(HIRC was) committed to having legal education grounded in actual clients' experiences of persecution. … We set a precedent that law school clinics are not just a place to do policy work or major litigation, but also a place to engage with clients, to get to know them and to help them articulate their experiences. … I am grateful to the law school for allowing us to advance that approach to legal advocacy and education.

Deborah Anker
Personal involvement became key in Anker's approach to teaching. "We were committed to having legal education grounded in actual clients' experiences of persecution. Students represented clients and learned to help them tell their stories. We then gave them the time to reflect in class and to write about it. We set a precedent that law school clinics are not just a place to do policy work or major litigation, but also a place to engage with clients, to get to know them, and to help them articulate their experiences," said Anker. "I am grateful to the law school for allowing us to advance that approach to legal advocacy and education. We now have such a rich and diverse clinical education program at the law school, which has developed in many different directions – client work, policy advocacy, regulatory reform, as well as litigation."
Anker also points to the clinic's work with the United Nations High Commissioner for Refugees (UNHCR) to develop general guidelines for international refugee law.
"My perception was that few academics and major practitioners around that time, the mid to late 1990's, were thinking conceptually about this. Jim Hathaway's work was a major force in bringing a principled, and importantly structured, human rights approach to interpretation of refugee law," said Anker. "We got the UNHCR to adopt general guidelines recognizing gender itself as a category of protection within the refugee treaty's 'particular social group' ground. In the amicus work we have done over the years, we have stuck to this approach and increasingly federal courts as well as some administrative decision makers are recognizing that gender itself can be a basis for protection, including in the ground-breaking 2020 First Circuit decision in De Pena-Paniagua v. Barr, which directly adopted language from HIRC's lead amicus brief."
HIRC has continued to expand its scope, working in recent years with students who were eligible for DREAM Act protection. Most recently, Anker and the group have worked on climate change and refugee law, pushing for interpretations of the law to account for the large-scale climate-based displacement that is already occurring in Central America and is expected to worsen. "We need to show decision makers and policy makers that displacement is caused by multitudes of factors and a person can qualify for protection if part of the cause is environmental," said Anker.
"Our work has always been informed by what is happening," Kelly said. "The gender work came from a sense of, 'Where are the women in this system? They don't seem to be represented'. The Haiti work was geared toward what happened to Haitian women after the coup in 1991. That brought the reality home of what was happening to Haitian women, and got that recognized in a legal context that could then be brought back to cases in the US. The two are integrally connected."
"We pride ourselves on doing work from the ground up," Willshire Carrera said. "We've had a large number of students who have gone on to be major contributors in the development of asylum law in the country. One thing for sure is that the clinic is now very well recognized. So much of that has to do with Debbie."
Former students pay tribute
Ardalan, who now directs HIRC, acknowledges a significant personal influence. "Debbie has shaped the course of my life. I have learned so much from her advocacy and scholarship, from her empathy in working with clients, from her tremendous care for her students and colleagues, and from her incredible persistence in continuing to fight against injustice no matter what the odds. She has modeled for me how to approach teaching and lawyering with dedication, humility, strength, and compassion."
Anker's influence also goes far beyond Harvard Law School. According to Mark Fleming '97, who studied with her at Harvard Law and is now a partner at WilmerHale, "Debbie's contribution to how young lawyers thought about immigration law really can't be overstated. She was the first person I met at HLS who was not only a gifted academic, but devoted to using her knowledge to represent clients. She used her knowledge to manage a significant group of people who were trying to push immigration law in a good direction and to help people who needed it. That was a new thing to me."
Fleming currently does pro bono work in the immigration field and cites this as an example of Anker's influence. "One of the more important lessons she taught me is that immigrants who come to our country are thrown into a very complicated system without anybody to help them. She showed me that things immediately change when a lawyer shows up, so a pro bono lawyer can make an enormous difference." This, he said, goes back to his days at Harvard Law. "As a law student, the opportunity to walk down the street, to what used to be called Cambridge and Somerville Legal Services, had an impact. First of all, it was terrifying, because I had no idea what to do. But also very rewarding, because people in the system are otherwise forced to navigate it by themselves."
"Debbie's seminar influenced the way I think about asylum," said Fatma Marouf '02, who now directs the Immigration Rights Clinic at Texas A&M University School of Law. "The way she talked about absorbing each person's story, I never forgot that. She walked us through each element of her incredible text about the law of asylum, and made sure we had a great understanding of it. She helped us connect the cases we were working on with the thinking behind it. And I loved that she really got in an international perspective — not just U.S. asylum law but how the U.K., Canada, Australia might approach it."
Marouf particularly credits Anker with emphasizing the connection between asylum and human rights law. "When I teach my own clinic I talk about the importance of bringing in a comparative perspective of what asylum should be, versus how it is — and that's all Debbie's. I don't know if I could have gone into immigration law without her, much less fallen in love with teaching."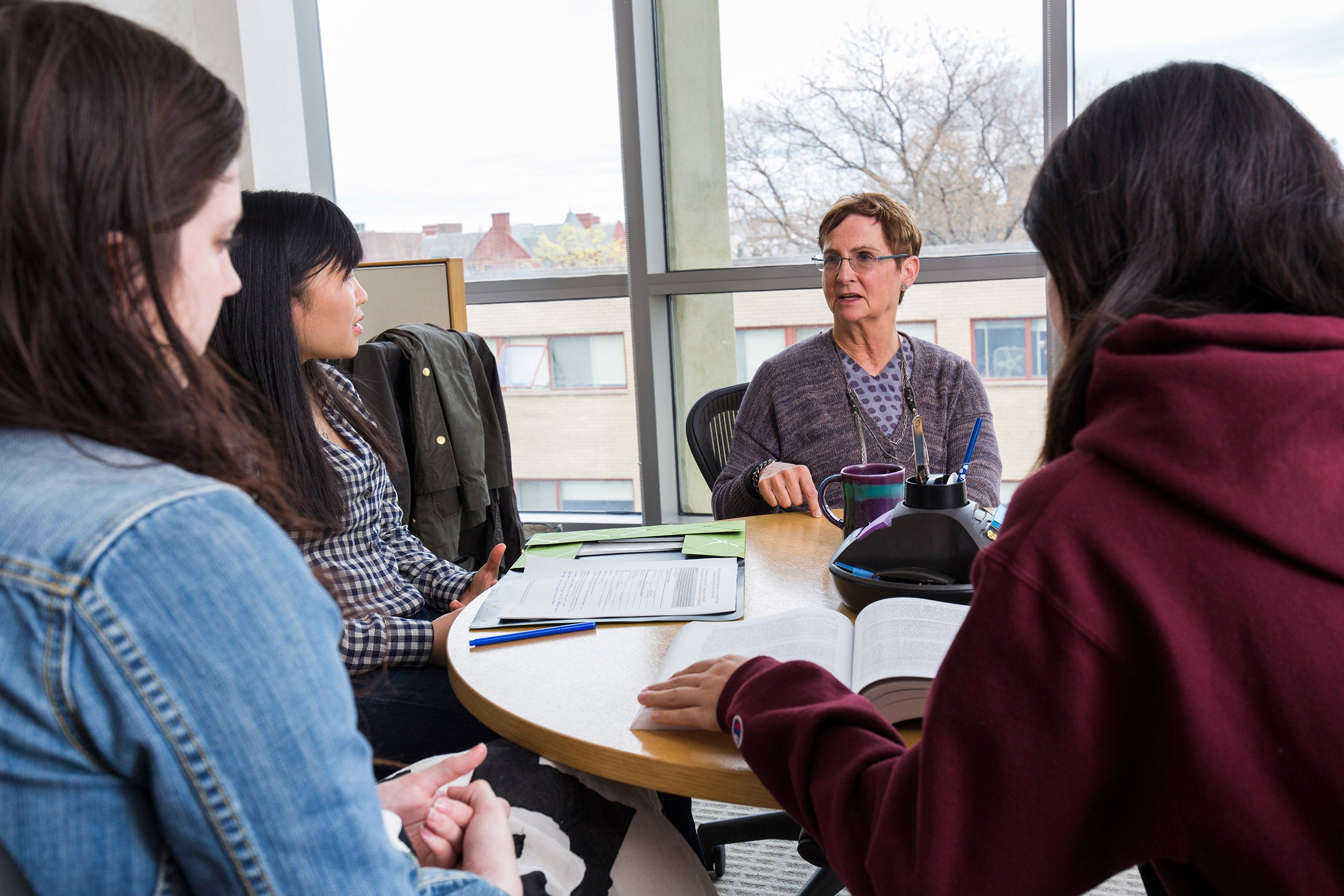 "She built a program at a time when immigration clinics were not found at many law schools," said David B. Thronson '94, who went on to teach international human rights law at Michigan State University. "Part of what impressed me from the beginning is that her work is absolutely compelling and consequential; it changes peoples' lives. You're talking about people who are going to face persecution in their home countries if they are returned. It's not an equal fight, the stakes and the consequences are high and their resources are often minimal; the government is always well represented but the migrant seldom is. To find someone with Debbie's expertise and willingness to take on those issues — and who is also a tremendously human person that you can get to know — makes a huge difference, and it was a really defining law-school experience for me."
That experience stuck with Thronson through his career. "I got the realization that things could go together; I could be a professor and still make a difference in the real world, representing clients — and hopefully I can do that in a way that lets my students grow and have good experiences. Debbie taught me that those aren't mutually exclusive things to do."
Another former student, Rebecca Sharpless '94, now directs the immigration clinic at the University of Miami School of Law. "Debbie was the single most influential professor during my time at HLS. As I started my first year, I knew that I wanted to be a social justice lawyer, but I didn't know what kind. Debbie taught me the urgency and importance of working with immigrants. Her work on some of the most difficult issues relating to the protection of refugees has been pathbreaking, but to me she is first and foremost a teacher and mentor. Under her guidance, I argued in immigration court, organized a trip to Miami to help Haitian refugees, and contributed to federal court briefing. Without a doubt, she made me into the immigration lawyer and teacher that I am today."
Looking back on a lifetime of impact
Anker has been designated a Woman of Justice by the Massachusetts Bar Association, and in 2011 was elected as a fellow to the American Bar Foundation. The HIRC's Women's Refugee Project, which spearheaded work on gender asylum, received the American Immigration Lawyers Association's (AILA) most prestigious "Founders Award." HIRC also received AILA's Human rights award for its work in clinical legal education and advocacy on behalf of refugees. Anker has received AILA's Elmer Fried Excellence in Teaching Award; two awards for gender asylum work from the Federal Bar Association; the Massachusetts Governor's New American Appreciation Award; and the CARECEN Award from the Central American Refugee Center.
Presenting her with the latter honor, lead attorney Patrick Young called Anker "one of the architects of modern refugee law. She really defined the field from its inception and her essays and her seminal treatise, 'Law of Asylum in the United States,' have helped educate and train two generations of asylum lawyers. Without her thoughtful guidance, it is doubtful CARECEN and many other refugee defense programs could have succeeded in protecting the persecuted as effectively as we have."
In addition to those already mentioned, Anker notes that "HIRC and I are so fortunate to have on staff attorneys Sameer Ahmed, Jason Corral, Tiffany Lieu, Mariam Liberles and Cindy Zapata. HIRC's staff also includes our head of social work, Liala Buoniconti; paralegal Karina Buruca; Mary Hewey; and Anna Weick, our chief administrator." Anker credits her faculty assistant, Sophie Jean, as being an incredible resource, organizing work on "Law of Asylum" research with students, among other invaluable assistance. "Not much can be accomplished without her amazing intelligence and commitment, and of course thank you to those who have come and gone like the incomparable Jordana Arias, a force of nature, and all my assistants going way back to wonderful Delona Wilkins."
In entering emerita status, Anker reflects back with much gratitude at the opportunities she has been given. "I love this community and I love this work. It truly has been an honor. I am so very grateful."