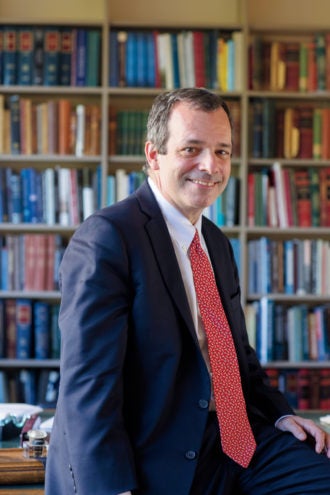 The American Law Institute has elected John F. Manning '85, Harvard Law School Morgan and Helen Chu Dean and Professor of Law, as a member.
The leading independent organization in the United States producing scholarly work to clarify, modernize, and improve the law, the ALI drafts, discusses, revises, and publishes Restatements of the Law, Model Codes, and Principles of Law that are influential in the courts and legislatures, as well as in legal scholarship and education.
Manning was one of 34 new members elected this year. Four Harvard Law School graduates were also elected: Former Solicitor General and current partner at Kirkland & Ellis Paul Clement '92; University of Arizona College of Law Professor Keith A. Swisher LL.M. '07; University of California, Berkeley School of Law Professor Amanda Tyler '98, and the Hon. Lawrence J. Vilardo '80, U.S. District Court, Western District of New York, Buffalo, New York. Election of these new members raises ALI's total number of elected members to 2,846.
Manning, who was named dean of the law school last year, joined the Harvard Law Faculty in 2004. He was Bruce Bromley Professor of Law from 2007–2017 and Deputy Dean from 2013–2017. Prior to coming to Harvard, Manning was the Michael I. Sovern Professor of Law at Columbia Law School, where he began teaching in 1994.
Manning teaches administrative law, federal courts, legislation and regulation, separation of powers, and statutory interpretation. His writing focuses on statutory interpretation and structural constitutional law.
He is a co-editor of Hart & Wechsler's Federal Courts and the Federal System (6th ed., 2009) (with Richard Fallon, Daniel Meltzer, and David Shapiro), and Legislation and Regulation (2d ed., 2013) (with Matthew Stephenson).
Prior to entering teaching, Manning served as an assistant to the Solicitor General in the U.S. Department of Justice (1991-94), an associate in the D.C. office of Gibson, Dunn & Crutcher (1989-91), and an attorney-advisor in the Office of Legal Counsel in the U.S. Department of Justice (1986-88).
He served as a law clerk to Hon. Antonin Scalia on the Supreme Court of the United States and to Hon. Robert H. Bork on the U.S. Court of Appeals for the D.C. Circuit.
A number of Harvard Law faculty are members of ALI. Most recently, in 2016, Harvard Law Professors Tomiko Brown-Nagin, Jonathan Zittrain '95, Kenneth Mack '91 and William Rubenstein '86 were elected members. Henry E. Smith and Howell E. Jackson '82 currently serve as Reporters for active projects, and Robert H. Sitkoff is member of the Council, the governing body of the ALI.