Harvard Law School today announced the launch of the new LGBTQ+ Advocacy Clinic.
The clinic will provide students the opportunity to work directly on cutting-edge issues involving LGBTQ+ rights, with a particular emphasis on issues affecting underrepresented individuals and groups within the LGBTQ+ community. Clinic offerings include local and national projects covering the spectrum of LGBTQ+ issues. Students will engage in a range of work encompassing various strategies for advancing LGBTQ+ rights, including impact litigation and amicus work, policy and legislative advocacy, and direct legal services for LGBTQ+ clients.
"The LGBTQ+ Advocacy Clinic will give our students a wonderful opportunity to address vital legal issues in an important and rapidly developing field, to provide first-rate legal representation to the LGBTQ+ community, to develop practice skills and substantive knowledge at the very highest levels, and to make a positive difference in the world," said John F. Manning '85, the Morgan and Helen Chu Dean of Harvard Law School. "I want to welcome the clinic's terrific new director, Alex Chen, and to wish him and his students well as they undertake the important work of this new clinic."
Alex Chen '15, an HLS lecturer on law and clinical instructor, will serve as founding director of the clinic. A graduate of HLS, Chen has been a tireless advocate in recent years in efforts to protect and expand LGBTQ+ civil rights.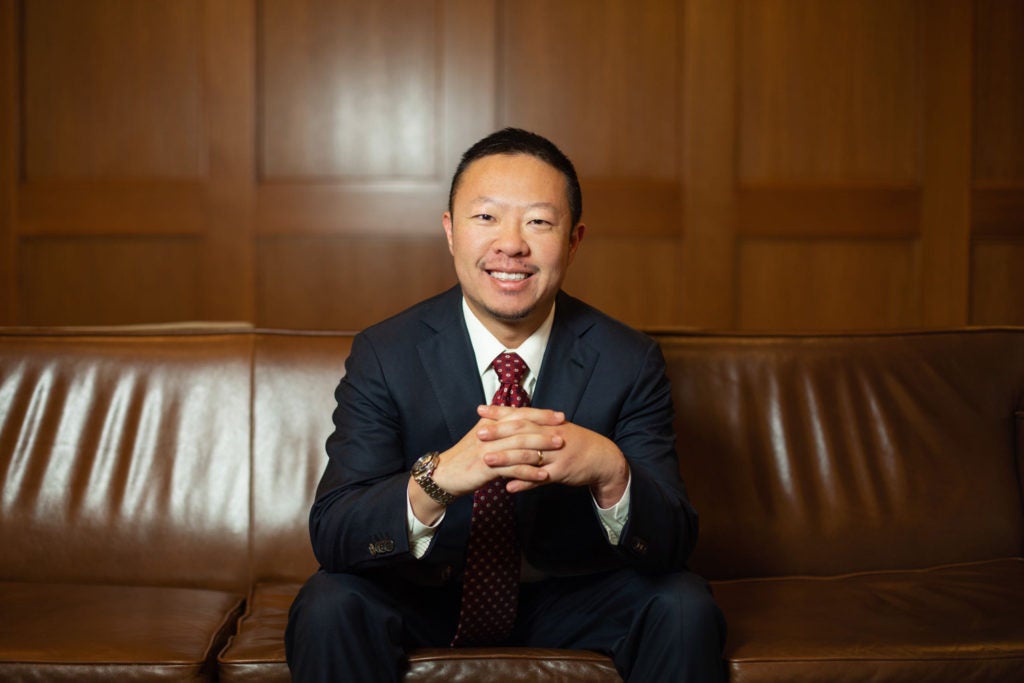 Announcing the clinic, Harvard Law School Clinical Professor Dan Nagin, vice dean for experiential and clinical education and faculty director of the WilmerHale Legal Services Center (LSC) and Veterans Legal Clinic, said: "Alex Chen is a fantastic advocate and creative thinker who also possesses a deep commitment to mentorship and community. Under Alex's leadership, the LGBTQ+ Advocacy Clinic promises to provide singular learning opportunities for law students and critical legal services to underserved populations. We could not be more thrilled to welcome Alex back to Harvard Law School."
The LGBTQ+ Advocacy Clinic will be based at LSC, a general practice community law office in Jamaica Plain.
Lisa Dealy, assistant dean for the Office of Clinical and Pro Bono Programs at Harvard Law School, added: "We are so fortunate to have Alex join HLS—I cannot think of a better person to start the new LGBTQ+ Advocacy Clinic. Alex is already well-known in the national LGBTQ+ advocacy community and will bring his boundless energy, vision, intellect and connectedness to create a clinic that can help shape national movements. I cannot wait to see all that Alex, his students, his colleagues and advocacy partners will do together as part of the new clinic."
In 2017, Chen was named one of Forbes 30 Under 30 for his groundbreaking legal work to expand the rights of transgender youth. As an Equal Justice Works fellow at the National Center for Lesbian Rights (NCLR) in San Francisco, Chen conducted national LGBT civil rights impact litigation, legislative and policy advocacy, and public education, including in education, employment, health care, housing, prison, conversion therapy, and child welfare and juvenile justice settings.
He was a member of the litigation team in transgender military ban cases (Doe v. Trump and Stockman v. Trump) and a landmark Ninth Circuit transgender prisoner surgery access case, Edmo v. Corizon. He co-drafted AB 2119, a bill making California the first state to guarantee transition-related health care access for trans youth in foster care. He also wrote the "Trans Youth Handbook," a first-of-its-kind legal resource guide for trans youth and their families.
"I am thrilled that Harvard Law School is launching the LGBTQ+ Advocacy Clinic, which will offer students the opportunity to develop their legal advocacy skills while providing critical services to the LGBTQ+ community. I look forward to rejoining the HLS community, and working together with HLS's incredible faculty and staff to build this exciting new initiative," Chen said.
At HLS, Chen will supervise clinical students on client matters related to LGBTQ+ civil rights law and he will teach a course on Gender Identity and the Law. Course topics will include constitutional and statutory law; sex-segregated spaces and activities; religion-, speech-, and ethics-based objections; access to health care and reproductive technology; non-binary and intersex identities; race and transgender experience, and military, family, and prison litigation.
Chen earned a B.A. from the University of Oxford in 2009, an M.A. in English and Comparative Literature from Columbia University in 2012 and a J.D. from Harvard Law School in 2015. At Oxford, Chen was awarded the Wadham College Prize for outstanding performance in final-year examinations. Born in Colorado, the son of Chinese immigrants, Chen was awarded a Paul & Daisy Soros Fellowship in 2014. Chen has also lived in Southern California, Canada, and Hong Kong.
While a student at HLS, he co-founded Queer Trans People of Color at HLS and the Labor and Employment Action Project at HLS, and he served as a student attorney in the Harvard Immigration and Refugee Clinic and the Harvard Prison Legal Assistance Project. He was also an articles editor for the Harvard Law Review, and on the board of the Harvard Civil Rights-Civil Liberties Law Review.
During the summer following his second year at HLS, he served as a fellow for the National Center for Transgender Equality, in Washington, D.C., where he drafted policy guidance for federal agencies and performed legal research on employment, criminal, administrative, and education issues involving transgender people, and as a legal intern in the Educational Opportunities Section of the U.S. Department of Justice, Civil Rights Division, Washington, D.C., where he drafted legal briefs, reviewed depositions, and prepared witnesses for desegregation hearings. He also performed legal research for Department of Education Title IX sexual violence guidelines and reviewed Title IX complaints.
As a 2013 legal intern for the American Civil Liberties Union, LGBT & HIV Project, in New York City, he conducted legal research for LGBT civil rights impact litigation, including on marriage equality (United States v. Windsor), family law, status decriminalization, health care access, and transgender rights.
He served as a clerk for U.S. Court of Appeals for Judge M. Margaret McKeown of the Ninth Circuit, and Judge Gonzalo P. Curiel of the U.S. District Court for the Southern District of California.
Clinical instruction plays an important role in legal education at Harvard Law School. Through the collective work of 44 different legal clinics and student practice organizations, HLS students learn the skills lawyers engage in under the supervision of clinical professors by practicing law on behalf of clients, while helping improve the lives of individuals in need through pro bono legal services. More than 80 percent of JD students take at least one clinic, and more than 40 percent take two or more. Existing HLS clinical programs focus on a wide range of legal areas, from cyber, tax and veterans' law to human rights, immigration, health and housing law.