Finn M.W. Caspersen '66: 1941-2009
Bruce Wasserstein '70: 1947-2009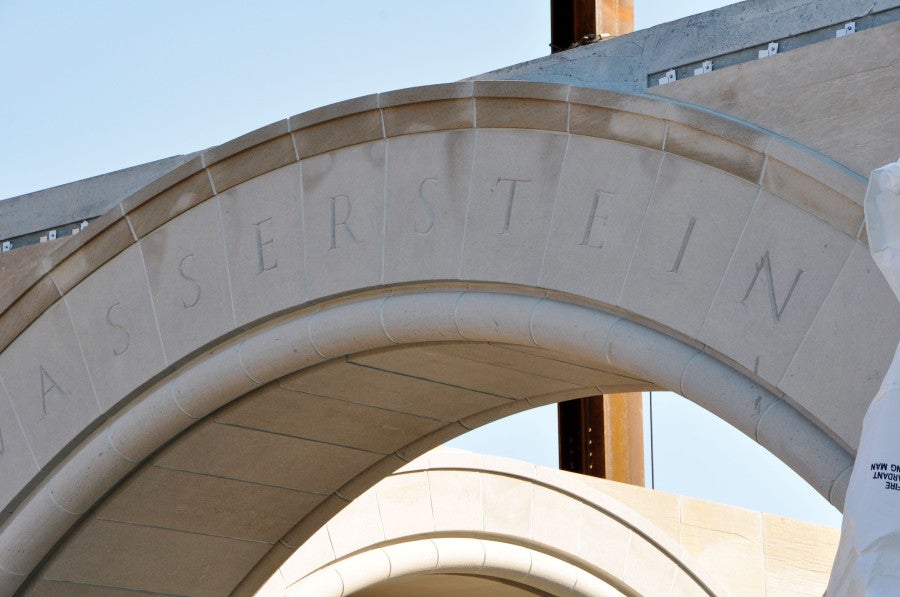 Two of Harvard Law School's greatest alumni leaders died this fall, as the building that will stand as a tribute to their support was rising. Both were enormously important to HLS for many years, both serving on the Dean's Advisory Board and taking leadership roles in two fundraising campaigns. The student wing and the academic center in the Northwest Corner building now under construction will bear their names.
Caspersen led HLS's "Setting the Standard" campaign, which, when it was completed last spring, raised more than $476 million, exceeding its goal and making it the largest and most successful campaign in the history of legal education. At that time, he designated his own record-setting gift toward the construction of the new Northwest Corner building. He was also a major donor to the school's previous capital campaign, completed in 1995.
"He was totally devoted to the school," said Professor Robert Clark '72, who was dean from 1989 to 2003. Caspersen was a strong supporter of higher education in general, said Clark. "But he managed somehow to make us realize that Harvard Law School was special—above everything else."
"He really believed that top institutions could make a huge difference in the world," Clark recalled. "He also thought we leveraged our effect on society by creating leaders. He got it—what our special role is in the world—and he wanted to help."
In addition to his leadership of the campaign, Caspersen endowed two professorships at HLS—the Beneficial Professorship of Law, and the Finn M.W. Caspersen and Household International Professorship of Law and Economics. A special collections room in Langdell Library bears the Caspersen name. In 2008, he was given the Harvard Law School Association Award, the highest honor the school bestows on its alumni.
"Finn Caspersen once said that Harvard Law School challenged him to think, and he in turn became an extraordinary friend and supporter of the school and its mission," said HLS Dean Martha Minow. "We mourn the loss of a visionary believer in the power of education."
Education was at the heart of Caspersen's philanthropic interests. As he told the Harvard Law Bulletin last year, "If there's any one area of charitable endeavor that should be highlighted, it's education, because it's an investment in the future—an investment in human capital. I've been active in a range of other things, but education has always been my particular love."
He is survived by his wife, Barbara, and four sons: Finn Jr. '95, Erik '96, Samuel '99 and Andrew '03.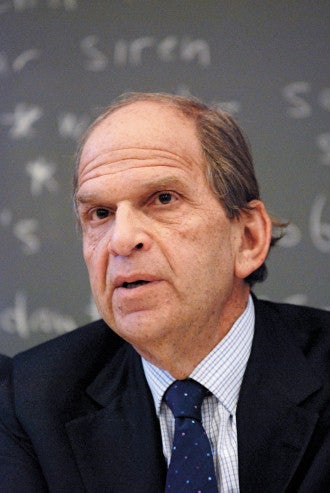 Wasserstein started his career at the law firm Cravath, Swaine, and Moore; worked at First Boston; and later started his own firm, Wasserstein Perella, before becoming chairman and CEO of Lazard in 2005. A creative thinker and a talent scout, he also chaired Wasserstein and Co., owner of The Daily Deal and New York Magazine.
He brought his strategic genius and creativity in service to Harvard Law School as a member of the Dean's Advisory Board and the HLS Visiting Committee.
Wasserstein was a longtime supporter of the school. During the most recent "Setting the Standard" campaign, he was a member of the executive committee and his family made a historic gift to help pay for construction of the new building on the northwest corner of campus.
"Bruce Wasserstein's impact on modern finance is immeasurable, and so is his impact on the Harvard Law School," said Dean Martha Minow. "[He] had an unwavering belief in what an education here makes possible not only for those pursuing their own dreams, but also for those who use law to pursue justice. We will miss him terribly."
"Bruce was a wonderful guy," recalled former Dean Robert Clark.
"The more you got to know him, the more you realized that despite his brainy character, he was someone who cared a lot about people in his life and certain causes," said Clark. And among those causes was Harvard Law School, he added, including public interest activities at the school.
Wasserstein and his family endowed a professorship in public interest in honor of his father, Morris Wasserstein, a businessman, inventor and philanthropist. They also established a program that brings public interest attorneys to campus to advise law students.
Clark recalled how much the school benefited from Wasserstein's advice: "He had a really good take on goals and strategies for the law school. … He understood the importance of scale—of being the big city rather than the little town—and of linking up to the business school and the Kennedy School and being international. He had great strategic vision, and it helped us."
While at HLS and Harvard Business School, Wasserstein worked for a summer as one of Ralph Nader's ('58) "raiders." His law school friend Mark Green '70, with whom he wrote an impassioned anti-establishment book early in his career, recalled: "His brilliance and candor won him the trust of populists like me and Ralph Nader as well as financiers like [Carl] Icahn."
During his career, Wasserstein worked on some of the biggest deals of the past three decades, reshaping the mergers and acquisitions business.
"He was a master of his craft," said HLS Professor Guhan Subramanian J.D./M.B.A. '98. "Ever since I was a student at Harvard Law School and continuing through my current work, he contributed generously of his time to help me understand corporate deal-making."
Wasserstein is survived by his wife, Angela Chao A.B. '95 M.B.A. '01, and six children, including Pamela A.B. '00 J.D. '04, Ben A.B. '03 and Alex A.B. '07.