Ketanji Brown Jackson, a 1996 graduate of Harvard Law School, was confirmed today as the 116th justice of the U.S. Supreme Court. In a 53-47 vote, the Senate approved Jackson's appointment making her the first Black female justice in the Court's 233-year history. Nominated by President Joseph Biden, Jackson succeeds Associate Justice Stephen Breyer '64, for whom Jackson once worked as a law clerk.
"I'm delighted that Judge Jackson has been confirmed to the Supreme Court. She brings great wisdom and judgment to her new role and will make terrific contributions to the important work of the Court," says Harvard Law School Dean John F. Manning '85.
At a campus event organized by Harvard Law School Student Government, Harvard Black Law Students Association, and the Harvard Women's Law Association, dozens of students gathered in the Reginald F. Lewis Law Center and erupted in cheers as the historic Senate confirmation vote was announced.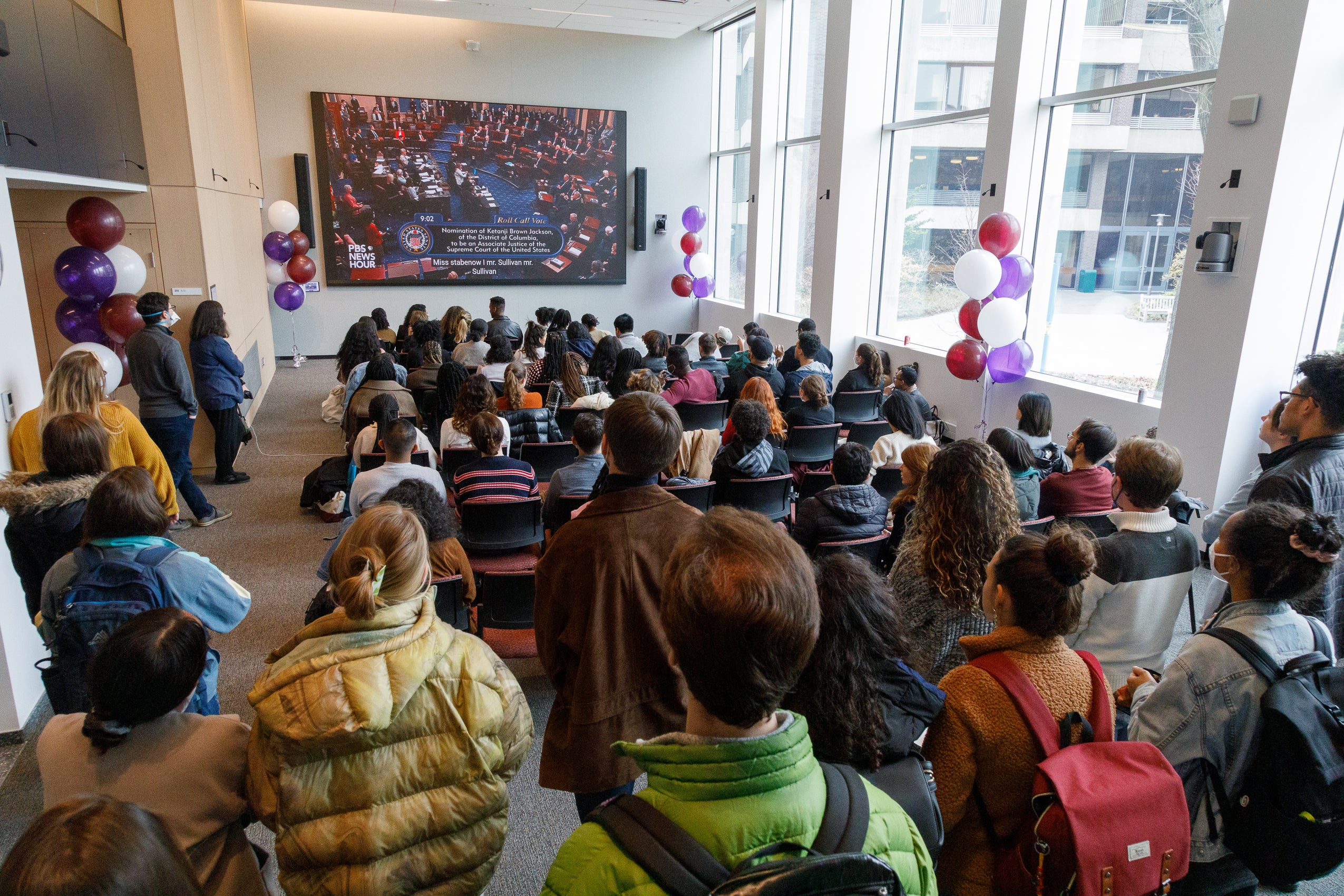 In an article published in the New York Times, eight current members of the Harvard Black Law Students Association reflected on the nomination process and what Jackson's confirmation means to them.
"This is a Black woman who went to Harvard undergrad, who went to Harvard Law School," Aiyanna Sanders '22 told the Times. "We are literally walking in her shoes as we walk through this hallway. And so it's so close to home. Wow, these things are attainable. But also dang, why hasn't it happened yet? Or why is it that in 2022 is the first time this has occurred?"
"[I]f there is going to be somebody who can test where America truly is and our acceptance in wanting to be reflective of what this nation is and can be in many different ways, breaking the mold, then she is the person to do that," said Mariah K. Watson '22, in the same news article.
Several Harvard affiliates and many of Jackson's former colleagues and Harvard classmates have lauded her historic appointment, explaining why they believe she will be a standout jurist.
Jackson previously served as a judge on the United States Court of Appeals for the District of Columbia Circuit. She was nominated to the position in 2021 by President Biden, to fill the vacancy left by his appointment of then-Judge Merrick Garland '77 to be U.S. attorney general.
President Barack Obama '91 first nominated Jackson to the bench in 2012 to serve as a United States district judge for the District of Columbia, in Washington, D.C. During her more than seven-year tenure on that court, she oversaw multiple prominent cases.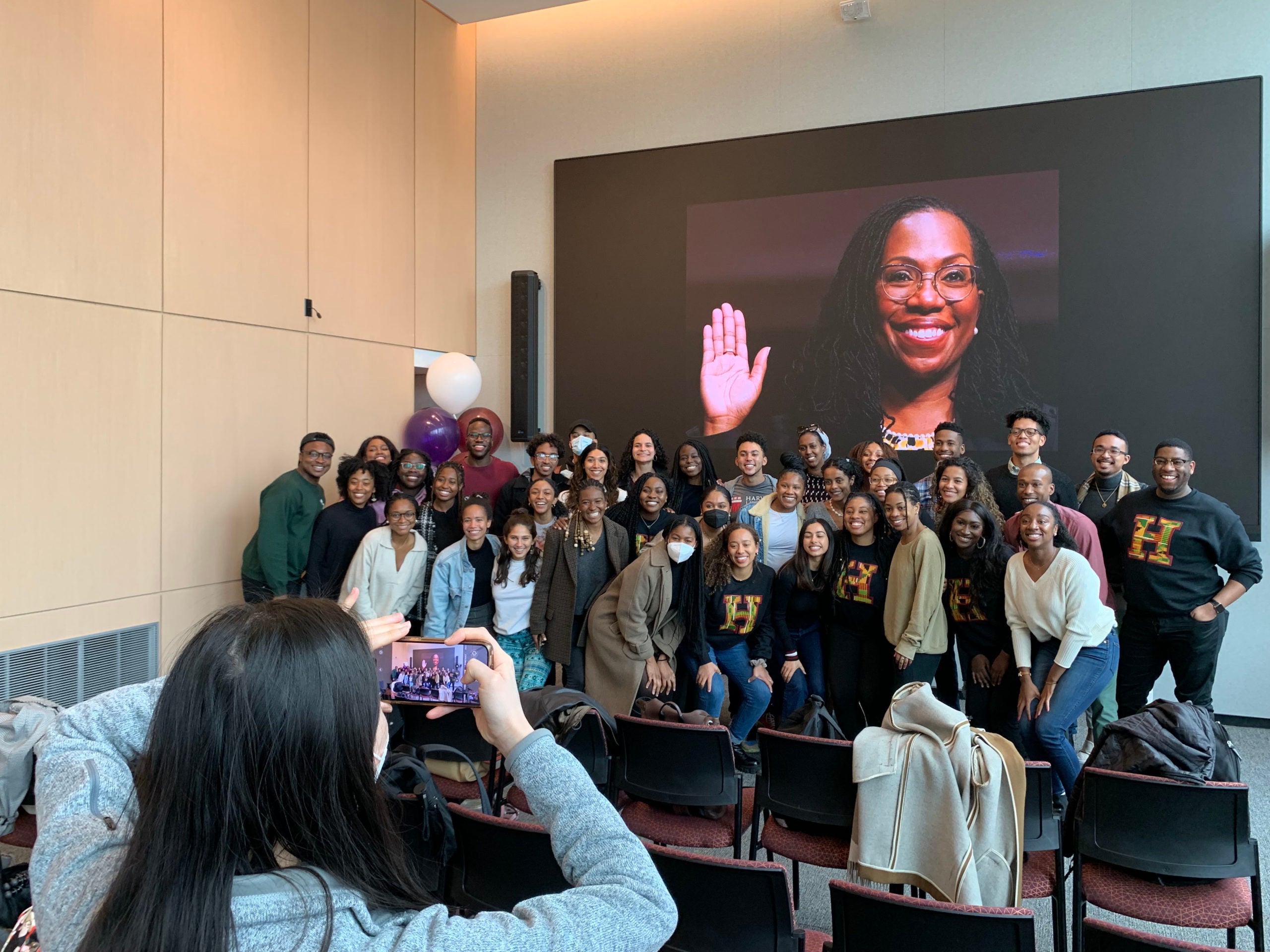 Jackson also spent two years as a public defender and three as an appellate litigator, which distinguish her as a Supreme Court nominee. According to the Washington Post, Jackson "would be the first former federal public defender on the high court and the first justice since Thurgood Marshall with extensive criminal defense experience."
Jackson earned her A.B. in Government from Harvard College, graduating magna cum laude in 1992. After being accepted to Harvard Law School, she took a gap year to work as a reporter for Time magazine, and enrolled as a member of Harvard Law School's Class of 1996. While at the law school, Jackson served as a supervising editor for the Harvard Law Review.
After law school, she served as a clerk for Judge Patti B. Saris '76, of the United States District Court for the District of Massachusetts, and later for Judge Bruce M. Selya '58, of the U.S. Court of Appeals for the First Circuit. After a year as an associate at a litigation firm, Jackson again served as a clerk, this time for Supreme Court Justice Breyer.
Jackson later worked in private practice before serving as assistant special counsel to the United States Sentencing Commission, an independent agency aimed at promoting transparency in sentencing and addressing disparities. She rejoined the agency in 2010, when President Barack Obama '91 appointed her as its vice chair and commissioner.
Related Coverage:
Boston 25 News: Black women at Harvard Law celebrate Judge Ketanji Brown Jackson
CBS Boston: Judge Ketanji Brown Jackson's Confirmation Inspires Next Generation At Harvard Law
WCVB5: Jackson's SCOTUS confirmation brings Harvard Law student 'overwhelming sense of joy'