On Friday, President Joseph Biden nominated Ketanji Brown Jackson '96 to the Supreme Court of the United States.
"Today I'm pleased to nominate Judge Jackson, who will bring extraordinary qualifications, deep experience and intellect, and a rigorous judicial record to the Court," said Biden, adding that he viewed Jackson as "a proven consensus builder, an accomplished lawyer, and a distinguished jurist on one of the nation's most prestigious courts."
If confirmed, Jackson, a judge on the United States Court of Appeals for the District of Columbia Circuit, would be the first Black woman to serve on the nation's highest court.
"I am truly humbled by the extraordinary honor of this nomination," she said. "If I'm fortunate enough to be confirmed as the next associate justice of the Supreme Court of the United States, I can only hope my life and career, my love of this country and the Constitution, and my commitment to upholding the rule of law and the sacred principles upon which this great nation was founded, will inspire future generations."
With more than two decades of experience as a private litigator, public defender, sentencing reform advocate, and judge, Jackson would succeed fellow Harvard Law School alumnus, Associate Justice Stephen Breyer '64, for whom Jackson once worked as a law clerk.
"I send warm congratulations to our alumna Judge Ketanji Brown Jackson on her nomination to be an Associate Justice of the Supreme Court of the United States," says Harvard Law School Dean John F. Manning '85. "As a member of the Harvard Law School visiting committee, Judge Jackson has been a brilliant, thoughtful, and generous advisor to multiple HLS deans. I am grateful for the wisdom, rigor, insight, and humanity she has always brought to our work and for her many contributions to the nation through years of distinguished public service."
Jackson was born in Washington, D.C. and raised in Miami by parents who were public schoolteachers. Her father later became a lawyer and chief attorney for the Miami-Dade County School Board.
As a first-year student at Harvard College, Jackson was influenced by Michael Sandel's course "Justice," which asked students to grapple with difficult ethical questions. "Professor Sandel's class was a marvel," Jackson told the Harvard Gazette in 2020. "The kinds of questions that he was asking overlapped with philosophy and law. It was just really, really formative, and I think it set a path for me."
After earning her A.B. in Government, Jackson was accepted to Harvard Law School, but took a gap year to work as a reporter for Time magazine. As a member of Harvard Law School's Class of 1996, Jackson served as a supervising editor for the Harvard Law Review.
After graduating cum laude from Harvard Law, Jackson clerked for U.S. District Judge Patti B. Saris '76.
The following year, Jackson served as a clerk for Bruce M. Selya '58, a judge appointed to the U.S. Court of Appeals for the First Circuit by President Ronald Reagan.
"Judge Ketanji Brown Jackson clerked for me in the 1997-1998 term. She was a superlative law clerk: she was very astute, very hard working, and she sees the big picture. In my opinion, she would be a magnificent addition to the Supreme Court bench," says Selya.
And after a year as an associate at a litigation firm, Jackson again served as a clerk, this time for Supreme Court Justice Breyer. "She is great, she is brilliant," Breyer said of Jackson during a confirmation hearing for her role on the Court of Appeals. "She is a mix of common sense, thoughtfulness. She is decent. She is very smart and has the mix of skills and experience we need on the bench."
Jackson later worked in private practice before serving as assistant special counsel to the United States Sentencing Commission, an independent agency aimed at promoting transparency in sentencing and addressing disparities. She rejoined the agency in 2010, when President Barack Obama '91 appointed her as its vice chair and commissioner.
"I've known Ketanji since we were on the Law Review together, and we worked together on the U.S. Sentencing Commission," says Rachel Barkow '96, vice dean and Charles Seligson Professor of Law at New York University School of Law. "She's as kind as she is smart, which is saying something on both counts. It was a pleasure working with her, and I know all the justices are about to feel exactly the same way I did having her as a colleague. She's the best, and a well-deserved pick for the Court."
Jackson also spent two years as a public defender and three as an appellate litigator, which distinguish her as a Supreme Court nominee. According to the Washington Post, Jackson "would be the first former federal public defender on the high court and the first justice since Thurgood Marshall with extensive criminal defense experience."
In 2012, Obama nominated Jackson as a United States district judge for the District of Columbia, in Washington, D.C., and she received her commission the following year. In her more than seven years as a district judge, Jackson oversaw multiple prominent cases.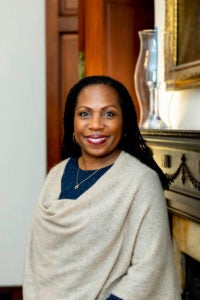 "I am passionate about making sure that people who are powerless in our society and are being mistreated are heard by the system and are able to get their grievances heard and are treated fairly," Jackson told the Gazette. "Fairness on a fundamental level, no matter who you are, no matter how much money you have or how little money you have or whatever your circumstances, is crucial and is at the core of who we are and who we should be as a society."
Jackson told the Gazette how her position as a judge contrasts with her prior roles as an advocate. As a lawyer, "You start with the answer, 'My client wins.' Then you work backwards from there to support that answer with case law and arguments. As a judge you are neutral to begin with and you are trying to get it right," she said. "You are trying to answer the questions in the way that makes the most sense in terms of the law, and that is most consistent with our core constitutional values."
In 2021, President Biden nominated Jackson to be elevated to the United States Court of Appeals for the District of Columbia Circuit, to fill the vacancy left by his appointment of then-Judge Merrick Garland '77 to be U.S. attorney general.
"Judge Jackson has demonstrated a record of excellence throughout her academic and professional career," wrote Judge Thomas B. Griffith, a current lecturer on law at Harvard who served from 2005 to 2020 on the U.S. Court of Appeals for the D.C. Circuit, in a letter in support of Jackson's nomination. "Although she and I have sometimes differed on the best outcome of a case, I have always respected her careful approach and agreeable manner, two indispensable traits for success in a collegial body."
"I am truly excited about the prospect of Judge Jackson's nomination to the U.S. Supreme Court," says Robert L. Wilkins '89, a judge on the United States Court of Appeals for the District of Columbia Circuit. "Judge Jackson is superbly qualified, a terrific and thoughtful judge, and a warm and wonderful person. She will be a tremendous asset to the Court."
Jackson, whose nomination to the Court has been championed by current colleagues, former employers, and Harvard Law alumni alike, is married to Patrick G. Jackson, a surgeon, whom she met while attending Harvard College. The couple have two daughters. She is also a current member of the Harvard University Board of Overseers, one of the institution's two governing bodies.
"President Biden's nomination of Judge Ketanji Brown Jackson to the United States Supreme Court marks an extraordinary point in our nation's history," says Marilyn Holifield '72, a partner at Holland & Knight, who serves with Jackson on the board. "The nomination unravels layers of invisibility shadowing highly accomplished Black women and honors the countless unnamed and unknown who sacrificed, suffered, struggled and also triumphed to make this moment of renewed inspiration and hope possible.
"Nearly ten years ago, I met Judge Brown Jackson when she served as an elected director of the Harvard Alumni Association. In recent years, I have enjoyed serving with her on multiple committees of the Harvard Board of Overseers where she has brought her intellect and sensitivities to challenging questions. Judge Brown Jackson's personal story and multi-dimensional career cultivated perspectives that will be invaluable to surmounting hurdles presented by the confirmation process. Her varied experiences and talents have built a solid foundation for consensus building, principled pragmatic problem solving and persuasive dissents that will serve her well as a justice of the United States Supreme Court."