Harvard Law School has named two members of its faculty tenured professors. Assistant Professor Christine Jolls '93, a leader in the emerging field of behavioral law and economics and a scholar of employment law, and Mark Roe '75, a Columbia Law School professor who currently teaches corporate law as a visiting professor at HLS, will assume their new posts July 1.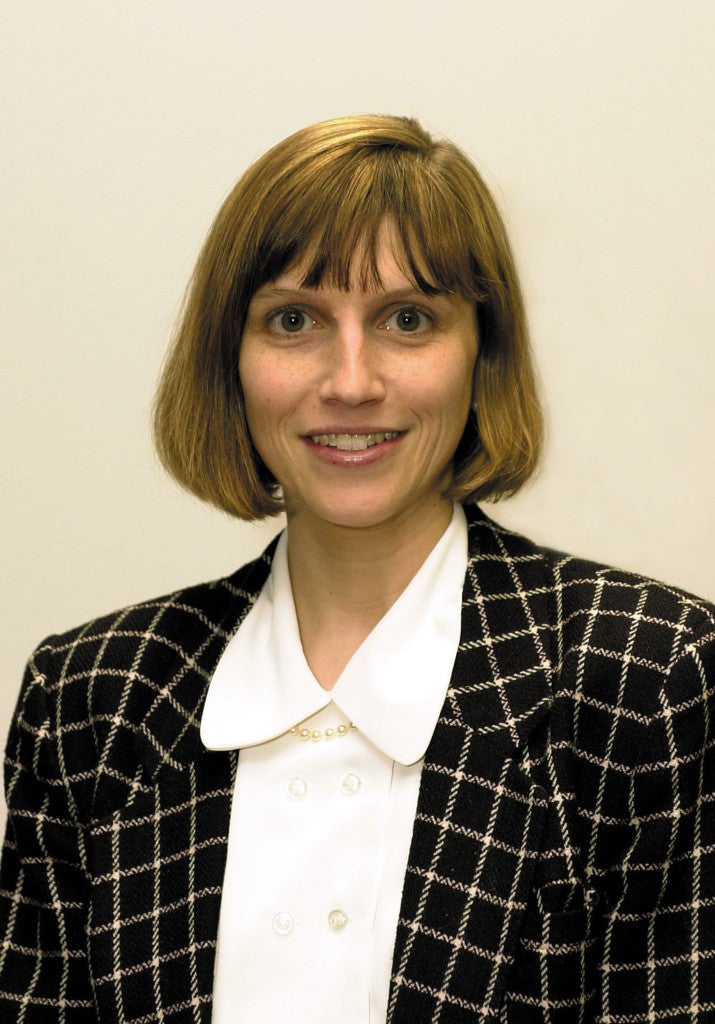 Jolls, one of the country's leading researchers on employment and labor law, seeks to integrate more realistic insights of people's psychological makeup into traditional economic analysis of law. This behavioral approach distinguishes her scholarship from traditional law and economics. At Harvard, Jolls has taught employment law, contracts, and numerous seminars in labor law.
"This is a great institution, and I'm honored to be a part of it," said Jolls. "I look forward to a future of continuing my work on employment law and the economic analysis of law surrounded by the terrific students and colleagues here."
"Harvard Law School is fortunate that one of the world's foremost experts in employment law has agreed to become a tenured professor here," said Dean Robert Clark '72. "Christine Jolls is the leader of a new generation of scholars that incorporate behavioral models into the economic analysis of law. The Harvard Law community will benefit immensely from her cutting-edge scholarship."
Jolls currently serves on the editorial board of the American Law and Economics Review and is a faculty fellow for the Harvard University Mind/Brain/Behavior Interfaculty Initiative. Additionally, Jolls has been appointed a national fellow at the National Bureau of Economic Research.
In addition to her law degree, Jolls holds a Ph.D. in economics from the Massachusetts Institute of Technology and an undergraduate degree in English and quantitative economics from Stanford University.
Roe has written extensively on corporate law and new methods of corporate reorganization and bankruptcy. At Harvard, he has taught Corporate Finance and Reorganization, as well as a seminar on advanced issues in corporate law.
"It's nice, 25 years later, to return to Harvard Law School," said Roe, "this time on the other side of the classroom's lectern. There's a great group of colleagues in the corporate and business area; I look forward to joining them on the faculty."
"I am very happy that Mark Roe has accepted our offer to join the faculty," said Dean Clark. "Mark is a truly extraordinary scholar. He is highly regarded in the fields of corporate finance, corporate governance, and bankruptcy. Our students will benefit immensely from his 20 years of teaching experience and his legal expertise."
Roe's scholarship has earned him praise from colleagues across the country. In a recent front-page profile in the Daily Deal–a new business journal–Roe was identified as being "among a handful of scholars devoted to explaining the evolution and history of the principles of corporate governance." In his 1994 book, Strong Managers, Weak Owners: The Political Roots of American Corporate Finance, Roe demonstrates how American-style populism fragmented financial intermediaries, making dispersed ownership inevitable in the United States in a way that it wasn't in other nations. In 1999, as part of his Clarendon Lectures at Oxford, "Political Determinants of the Separation of Ownership from Control," Roe showed how European-style politics historically destabilized large public firms.
Roe joined the Columbia Law School faculty in 1988, following several years of teaching at the University of Pennsylvania School of Law and the Rutgers University School of Law. Prior to his work as an educator, he worked on Wall Street.
"I am absolutely delighted that Mark Roe is joining our faculty," said Professor Reinier Kraakman, also a corporate law specialist. "He's been very insightful in trying to relate corporate structure to the broader aspects of society."