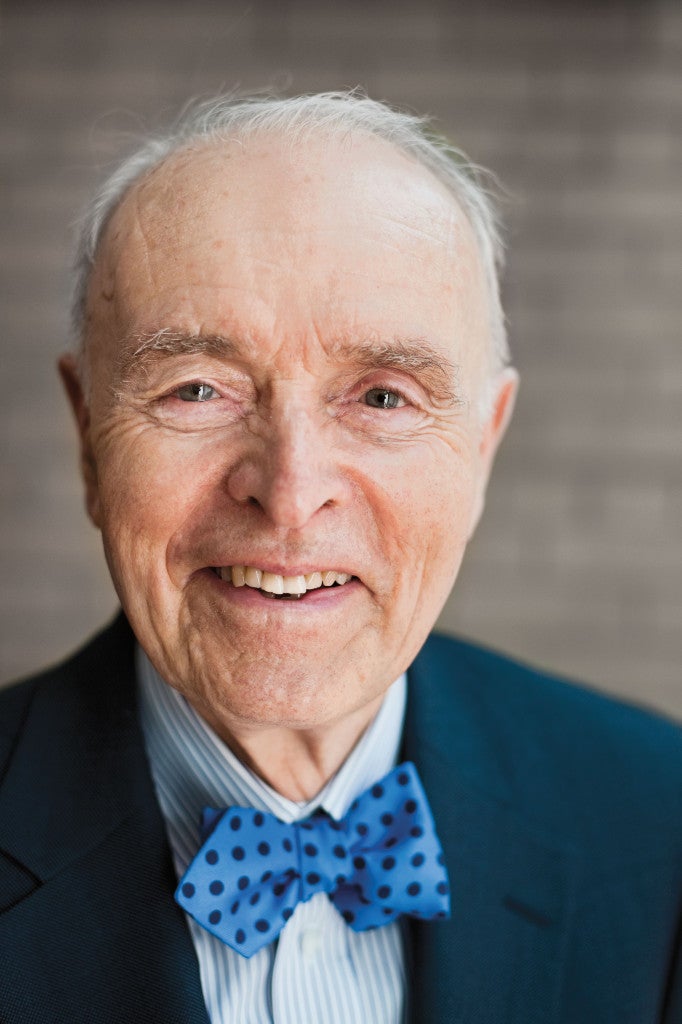 John F. Cogan Jr. '52, a legal leader, civic activist and dedicated supporter of Harvard Law School, has died. He was 93.
Cogan was a longtime attorney of the Boston law firm Hale and Dorr, now WilmerHale, joining the firm in 1952. During his nearly 50-year career, he served as chairman of the firm's corporate department and was a member of the executive committee. He was managing partner from 1976 to 1984 and chairman from 1984 to 1996. After retiring as of counsel in 1999, Cogan remained connected to the firm.
"Jack Cogan was a superb lawyer and a kind, humble, and decent human being," said John F. Manning '85, the Morgan and Helen Chu Dean of Harvard Law School. "He did so much to make the world better and to advance the work and impact of Harvard Law School. His wisdom, enthusiasm and humanity will be missed terribly."
In addition to his legal career, Cogan was also active in the financial services industry, serving as vice chairman of Pioneer Global Asset Management S.p.A. (Milan) and president of the Pioneer Group of Mutual Funds. In 1963, he led a group of investors in acquiring Pioneer Investment Management, which managed the Pioneer family of mutual funds. According to a tribute on the WilmerHale site, in his role as president of Pioneer, Cogan was the architect of its global diversification strategy. He also served as chairman of the Investment Company Institute, where he was a member of the board of governors and the executive committee for many years.
A longtime benefactor to Harvard, Cogan was a distinguished alumnus of Harvard College and Harvard Law School. He served on the HLS Dean's Advisory Board for decades, advising Harvard Law deans from Albert Sacks '48 to John Manning.
"No one I know has better shown how to bridge vision and practicality—and seriousness—with good humor," said Martha Minow, the 300th Anniversary University Professor and former HLS dean. "His superb wisdom and advice guided so many people in the university, bar, museums, and foreign policy worlds. I am so very lucky to have known him and to be one of at least six law school deans to benefit from his superb ideas, constant encouragement, and profound kindness."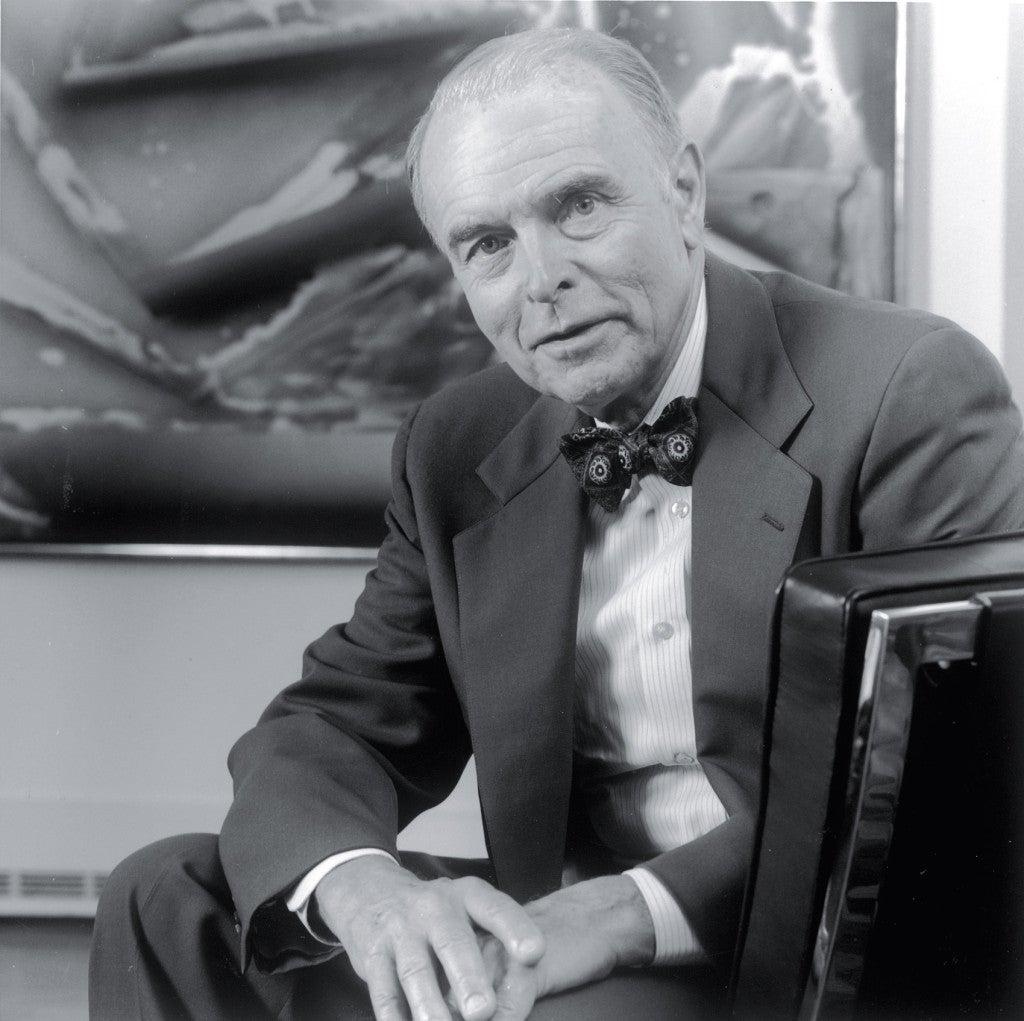 A leader in Harvard Law School campaigns, he served as chair of the "Campaign for Harvard Law School," co-chair of the "Setting the Standard campaign" and honorary co-chair of the "Campaign for the Third Century." Cogan also was a member of HLS's visiting committee as well as co-chair of its international advisory council.
Cogan's support helped enhance the law school's extensive and growing international programs, including bolstering financial aid for the many international students.
He also endowed the John F. Cogan, Jr. Professorship of Law and Economics at Harvard Law School, currently held by Professor John Coates, and he was a supporter, along with others from Hale and Dorr and its HLS alumni partners, of Harvard Law School's WilmerHale Legal Services Center, in Jamaica Plain.
Last year, at the 40th anniversary of LSC, Cogan was honored with the "Legacy Award" for his longstanding partnership and support. Earlier, he had been the recipient of the HLSA Award and the Harvard Medal.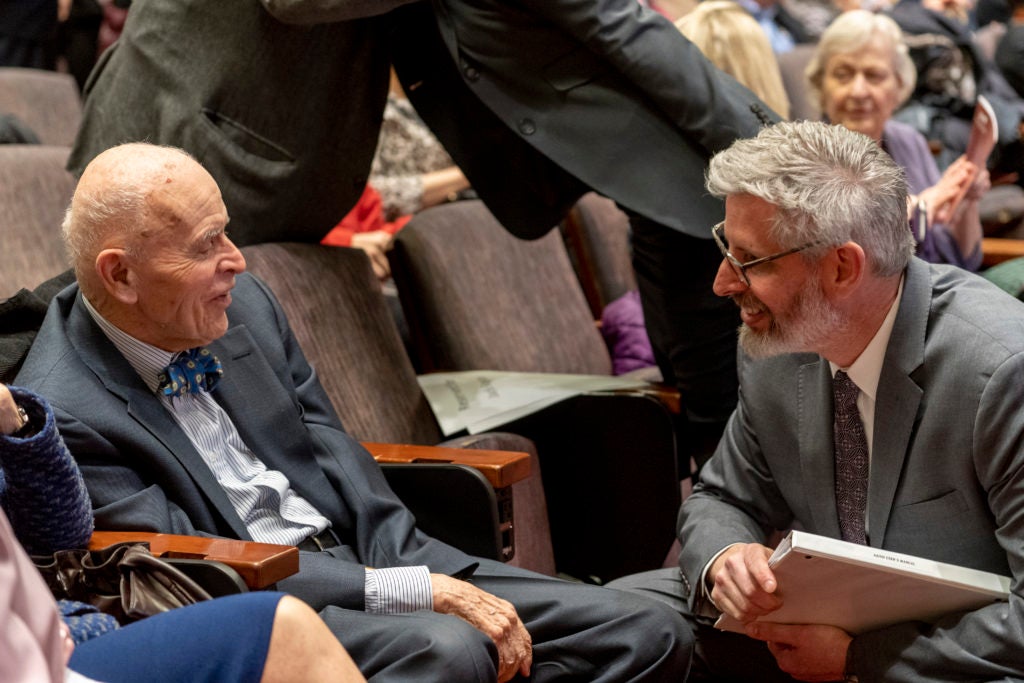 "Jack was one of the finest volunteer leaders and generous benefactors in HLS history," said Steven Oliveira, associate dean and dean for development and alumni relations. "He was a one-of-a-kind leader and a true gentleman—his wise counsel, inspiration, and warm friendship will be greatly missed. It was a privilege for all of us who had the opportunity to be touched by Jack's life. It is difficult to imagine a better role model than Jack Cogan."
In a 2010 interview in the Harvard Law Bulletin, Cogan said, "Anything I've done, in terms of giving to the school of time and resources, I've received back in so many different ways. And the school has had such a profound effect on my life, so I feel doubly rewarded. It's been glorious!"
Cogan also served on the director's advisory committee for the Harvard Art Museums and was a former chairman of the visiting committee to the Davis Center for Russian Studies. His other civic roles include serving as a longtime trustee of the Boston Symphony Orchestra. He was also trustee emeritus of the Boston Medical Center and chairman emeritus of the Museum of Fine Arts, Boston. In 2005, he was elected a fellow of the American Academy of Arts and Sciences.
In addition to his wife, Mary Cornille, Cogan leaves three sons, Peter of Seattle, Jonathan of Arlington, Virginia, and Gregory of Norwell, Massachusetts; a daughter, Pamela Cogan Riddle of Atherton, California; and nine grandchildren.