During a recent lunchtime conversation at Harvard Law School, Calvin Duncan recounted the first time he submitted a legal filing while imprisoned, as he was awaiting trial on a charge of first-degree murder.
"My first handwritten motion — I sent it to the Louisiana Supreme Court," Duncan told an audience of students, faculty, staff, and advocates. "I said, look, my lawyer is not coming to see me … and I need a law book." The court returned the motion, he recalled, chiding Duncan for sending it to the state's supreme court instead of a lower court. But Duncan, who had been assigned a public defender he'd met only once, persevered and was eventually granted a legal textbook.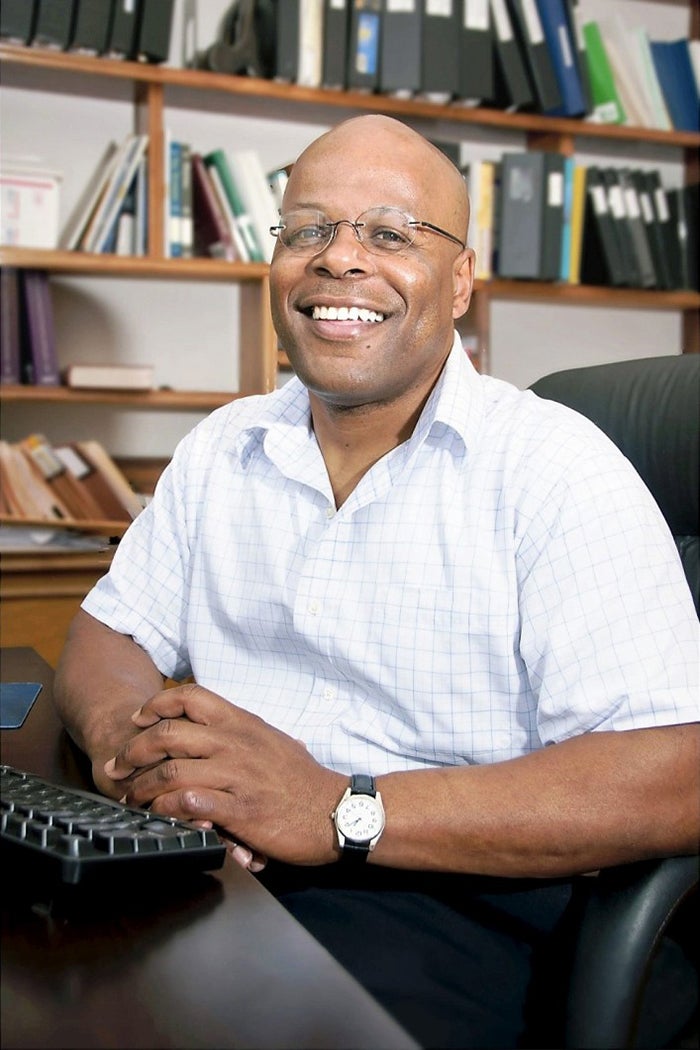 It was the beginning of a journey that would lead Duncan to being hailed by New York Magazine as one of the nation's "most renowned jailhouse lawyers." Over the years, he became expert in a body of legal knowledge he learned during decades of imprisonment. Eventually, he was freed thanks in part to the work of the Innocence Project New Orleans. Last year, Duncan graduated from Lewis & Clark Law School, the fulfillment of years of wishing for a more complete education in the law.
Duncan's story emerged during a daylong symposium cohosted by Inquest and the Institute to End Mass Incarceration on September 28 at which formerly incarcerated members of the Visiting Room Project sought to bridge the gulf between the experiences of incarcerated people and the law students and lawyers who may one day represent them, or prosecute them.
The Visiting Room Project, which Duncan helped create, is the largest collection of video interviews with men serving life-without-parole sentences in the world. The interviews were filmed in Louisiana State Penitentiary, a facility better known as Angola Prison, where Duncan had been incarcerated. Named after the antebellum slave plantation on which the prison now stands, over 70 percent of the people incarcerated at Angola are Black, and over 70 percent are serving life-without-parole sentences. If Louisiana were a country, it would sentence more people to this punishment per capita than any other nation on Earth.
The story of the Visiting Room Project also contained a ray of hope. After the filmmakers had completed recording the interviews, New Orleans' newly elected District Attorney created a Civil Rights Division that recommended resentencing for several of the men profiled in the project. And the recently elected governor commuted more than 150 life-without-parole sentences statewide. Between these two developments, more than a dozen of the men featured in the project have been able to go home.
And, in September, several of them visited Harvard.
"Ask him how he's doing"
One of the symposium's key events focused on post-conviction relief, a critical phase of criminal legal proceedings when people can continue to pursue their freedom after having been sentenced. Since the Constitution doesn't guarantee legal representation during this phase — and its intricacies are rarely taught in law schools — some of the true experts in this field are incarcerated people themselves, who teach one another the law.
The discussion took the form of a conversation between Harvard Law students, Duncan, and formerly incarcerated jailhouse lawyer Everett "Buff" Offray. Offray now works in the Orleans Parish Office of the Public Defender, or OPD, in the resentencing unit. He is also tasked with special projects aimed at giving incarcerated people more, and better, legal resources.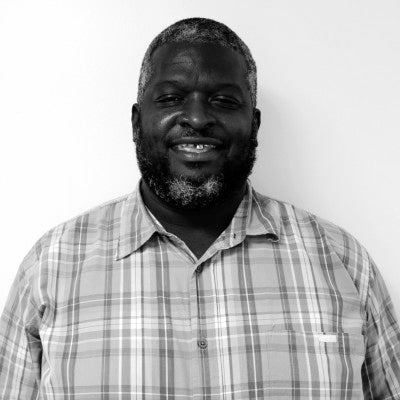 Student leaders of the Harvard Prison Legal Assistance Project, Manvitha Kapireddy and Faith Blank, asked Offrey how his experience practicing law in prison helped inform his current role. "I'm more of an asset to OPD because of my experiences," he said. To give just one example, he said, "We do a training at OPD … to let lawyers know that communication is key" when working with clients.
Imagine, Offray told the audience, that you've just been charged with a serious crime, with the potential that you could spend your entire life in prison if convicted. Then a lawyer you've never met before comes in and, without preamble, starts explaining technical information about your case that you could barely understand on your best day, let alone your worst. Offray said that this approach must change, urging lawyers meeting with clients to engage with humanity.
"Ask him how he's doing. Ask him how his family is doing," Offray said. Without a human connection, he argued, the relationship has no foundation to succeed.
"There are thousands of stories like mine"
The symposium concluded that evening with a public film screening. Watching the complete archive of the Visiting Room Project would take days, but the documentarians selected a handful of films that represented the project's range.
In his introductory remarks, the project's cocreator Marcus Kondkar, a professor who chairs the Department of Sociology at Loyola University New Orleans, said the project was partly driven by moral outrage at Louisiana's extreme reliance on life without parole. One of the effects is that Angola's population is quite old, requiring the prison to run its own hospice.
"The oldest contributor to the Visiting Room Project was incarcerated as a juvenile in 1953 when Dwight Eisenhower was president," Kondkar said. That contributor was named Sammie Robinson. His profile, which was screened that evening, ends with a note that Robinson died in Angola at the age of eighty-three, having spent sixty-six years in prison.
Following the screening, Morris Wasserstein Public Interest Professor of Law Andrew Manuel Crespo — who serves as Executive Faculty Director of the Institute to End Mass Incarceration and Coeditor-in-Chief of Inquest — led a panel discussion with Duncan, Kondkar, Offray, the Visiting Room Project Executive Director Annie Nisensen, and two additional Visiting Room Project ambassadors who had been only recently freed: Ron Hicks, who now serves as a reentry specialist for the Louisiana Parole Project; and Daryl Waters, who works as Program Associate for the Visiting Room Project.
Crespo began by praising the project's ability to create for the viewer a sense of being "close and proximate" to people whom they might otherwise never encounter. As a former public defender, Crespo said he'd spent a considerable amount of time in carceral institutions, but that there's always a stark moment when, at the end, "I could walk out." The Visiting Room Project, Crespo said, allows an unusually intimate glimpse into "what incarceration does" to people who can't walk out.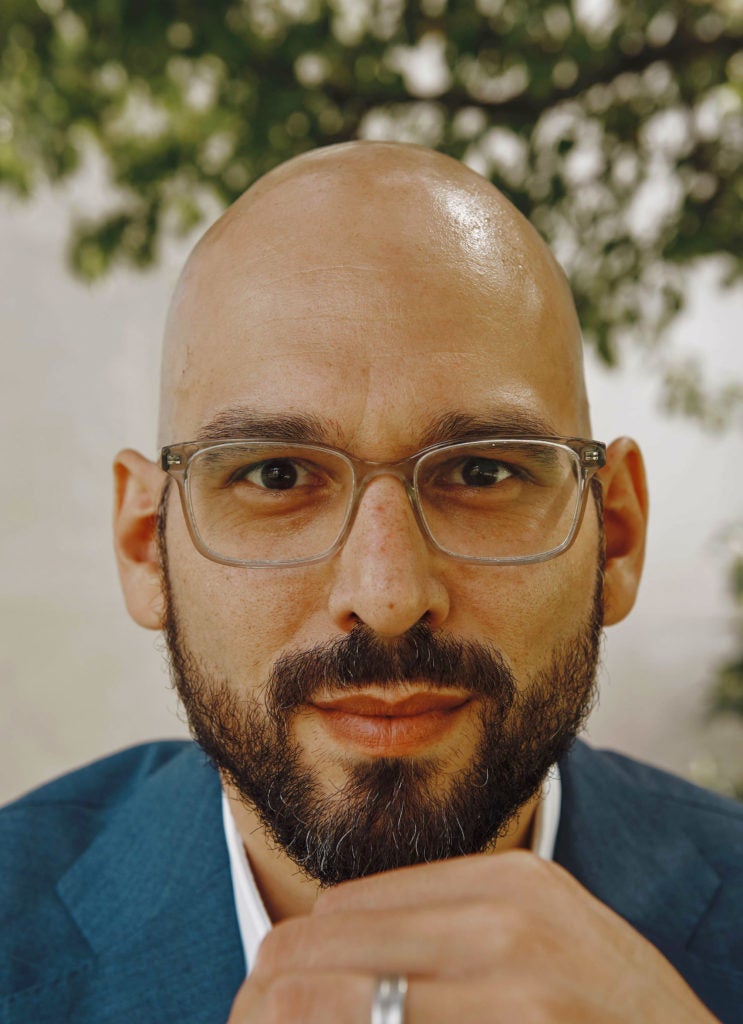 Crespo wondered aloud what the experience of watching the profiles must be like for the men who had been in Angola — not only to watch their own profiles, but the profiles of their friends who remain incarcerated. In response, Waters said he found that he still learned a lot from watching the films, and that they offered more benefit inside of the prison than outside viewers might expect.
"It really helped me to better understand the guys because we had to live around each other for decades, not understanding some of the unresolved anger, not understanding some of the behavior around us," Waters explained. "But the interviews helped us because guys were able to tell their backstories and I start having all these aha moments."
Hicks, who'd only been released in March 2023, spoke of how continuing to work on the project's ambassador program — helping with screenings and community outreach — feels like a moral obligation for him, to make sure that those stories have the widest audience possible.
"We really know these guys that are still left behind, who have no opportunity to get out. … In there, there are thousands of stories like mine … [of people who] sit behind prison walls and have nobody to advocate for them," Hicks said. "This is what Calvin keeps stressing: We have to get involved. You see something, you do something about what you see to relieve people of the suffering that they are experiencing."
Crespo asked Nisensen if she could describe how, as a producer and filmmaker, she felt that film had the power to create social change by raising the public's awareness about crises such as mass incarceration. In response, Nisensen described the process that staff at the Visiting Room Project undertook to, she said, ensure they were engaging cooperatively with the project's subjects, including giving participants final sign-off on their profiles and engaging in a lengthy review process with their lawyers to guarantee their recordings would only benefit future parole and clemency efforts. Ultimately, she said this procedure made the filmmakers confident in their ability to then screen the project at "institutions full of powerful people" who have the potential to press for systemic change.
The night concluded with calls for audience members to work collectively to change carceral institutions and to demand releases for people serving these extreme sentences. Meanwhile, the work of the Visiting Room Project continues. The team is currently repeating the entire process to produce an archive of profiles of women serving life-without-parole sentences in Louisiana, and they hope to return to Harvard to share their work once that phase of the project is complete.
The symposium, cohosted by Inquest and the Institute to End Mass Incarceration, brought together a huge cross-section of sponsors from across Harvard University, including three Harvard Law School student organizations: the Harvard Prison Legal Assistance Project, the HLS FiLM Society, and the National Lawyers Guild – HLS Chapter. Additional support came from the Harvard Kennedy School's Program in Criminal Justice Policy and Management, the Carr Center for Human Rights Policy, the Harvard Radcliffe Institute, the Edmond & Lily Safra Center for Ethics, the Hutchins Center's Institute on Policing, Incarceration & Public Safety, and the Phillips Brooks House Association.
---
Want to stay up to date with Harvard Law Today? Sign up for our weekly newsletter.