It took Dean of Students Stephen L. Ball '10 a few tries to quiet the buzzing in Wasserstein Hall on a Monday morning in late August. The room was filled with hundreds of excited members of the incoming Harvard Law School class, many of whom were more than a little nervous.
Fortunately, they were there taking part in an inaugural program called Day 0 aimed at alleviating those first day jitters.
In his welcome remarks, Ball, a first-generation college student, called his own arrival on campus to attend Harvard Law School in 2007 "a little daunting," and said the new initiative is about building community, empowering students with helpful knowledge, and easing their transition to law school.
"We know that everyone has their own journey that led them here and so we honor that, and we support you in that," said Ball, "and we want to help you continue to have a great journey through your time here at HLS and then, in the years after."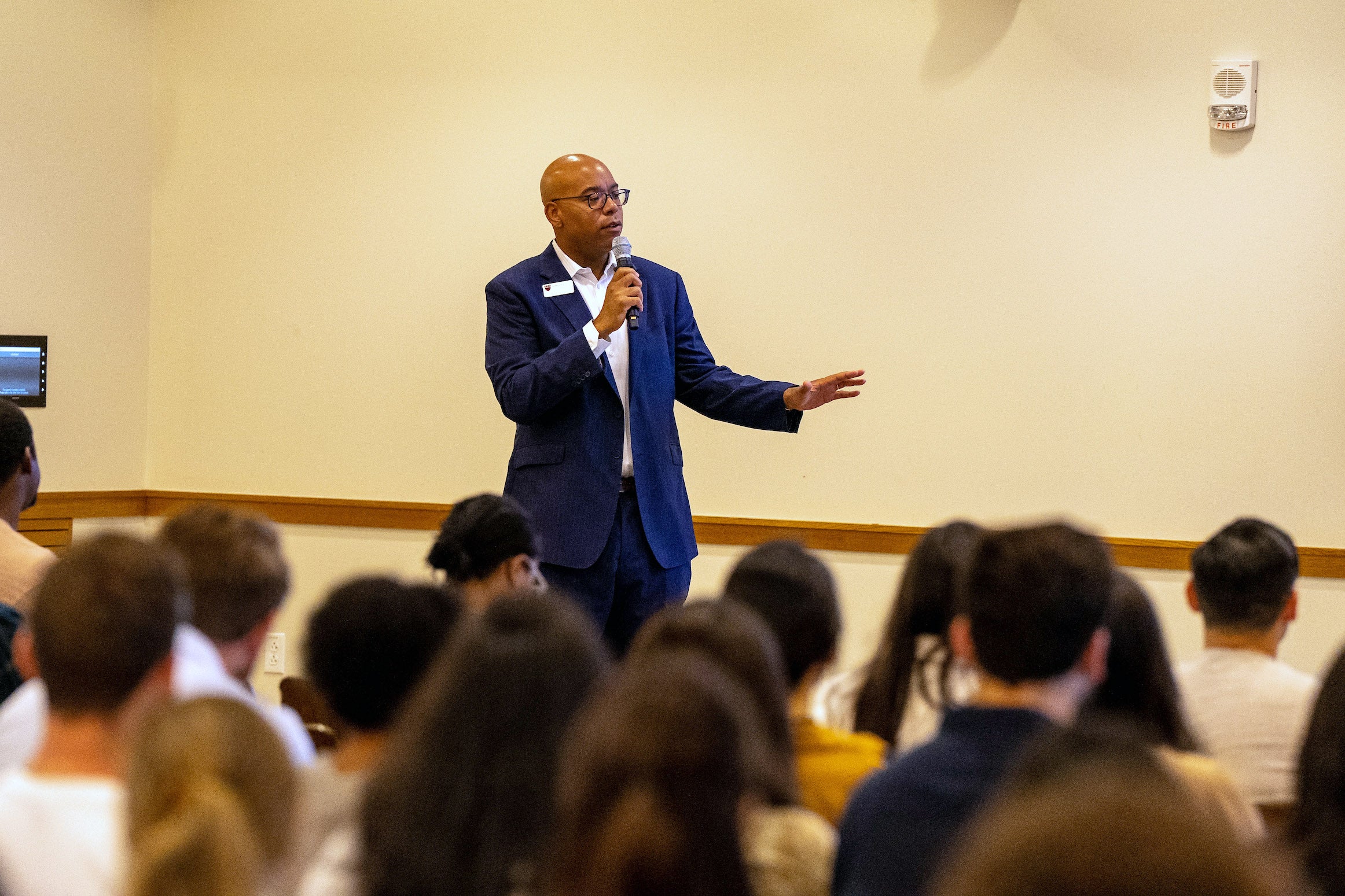 The new preorientation program, which is open to all incoming J.D. and LL.M. students, is one of several efforts in recent years at Harvard Law School aimed at helping ease the transition for those fresh from college or the working world — specifically those with no prior exposure to legal academia or the legal industry — to the study of the law. Its counterpoint, the online course Zero-L, provides all incoming students with foundational legal knowledge before they take their first class.
Monica Monroe, assistant dean for Community Engagement, Equity and Belonging, told the students part of her office's role is ensuring "people feel like they are a part of HLS, because the reality is, this is everyone's Harvard Law School."
The theme of belonging, one that several speakers touched on throughout the day, was a welcome topic of discussion for many incoming students.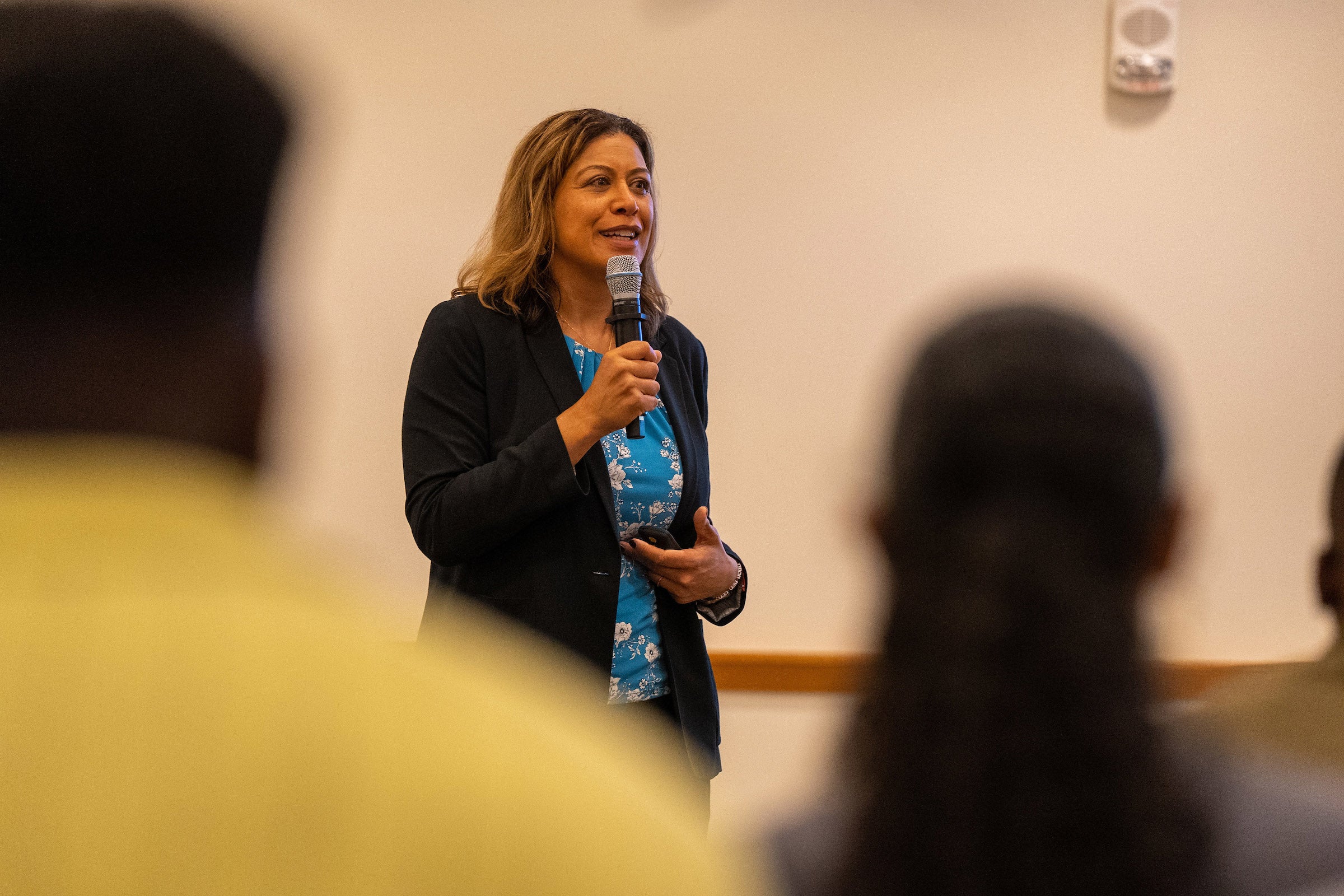 John Gobin '26, who studied sports management at Brock University in Canada, said he came to campus worried about fitting in. His parents both immigrated from Guyana, and their lack of experience in the legal field or with graduate school, and his family's socio-economic status, he said, made him anxious he didn't belong at Harvard. But after taking part in Day 0 and seeing "so many people here, and everyone's so welcoming, and friendly," Gobin said he felt "much more like I belong.
Before he arrived, said Gobin, "I felt that I'm not the mold of the typical Harvard Law student, but what I realized today," he added, "is there is no mold."
Practical tips about what to expect in the months and years ahead, career options, study strategies, office hours, the importance of sleep, and more were all part of Day 0's jammed schedule as faculty, students and staff took turns helping demystify the Harvard Law School experience.
During a morning panel, Harvard Law professors discussed how to carefully read a legal case; emphasized the value of office hours; demonstrated the Socratic method — a close examination of a case though the use of in-depth questioning; and stressed the importance of understanding the opposing side's argument.
Studying the law requires intellectual bravery, said Jeannie Suk Gersen '02, John H. Watson, Jr. Professor of Law. "It is about being open to conflict and to talking about what makes something conflictual. But it is also about listening really hard to the arguments with which you disagree and really trying to get inside those arguments, embody them, give them their best possible cast," she said. "Because only by doing that will you understand what you actually think, and what you agree with, and what you disagree with."
"Listening with that kind of openness," added Gersen, "takes a lot of courage."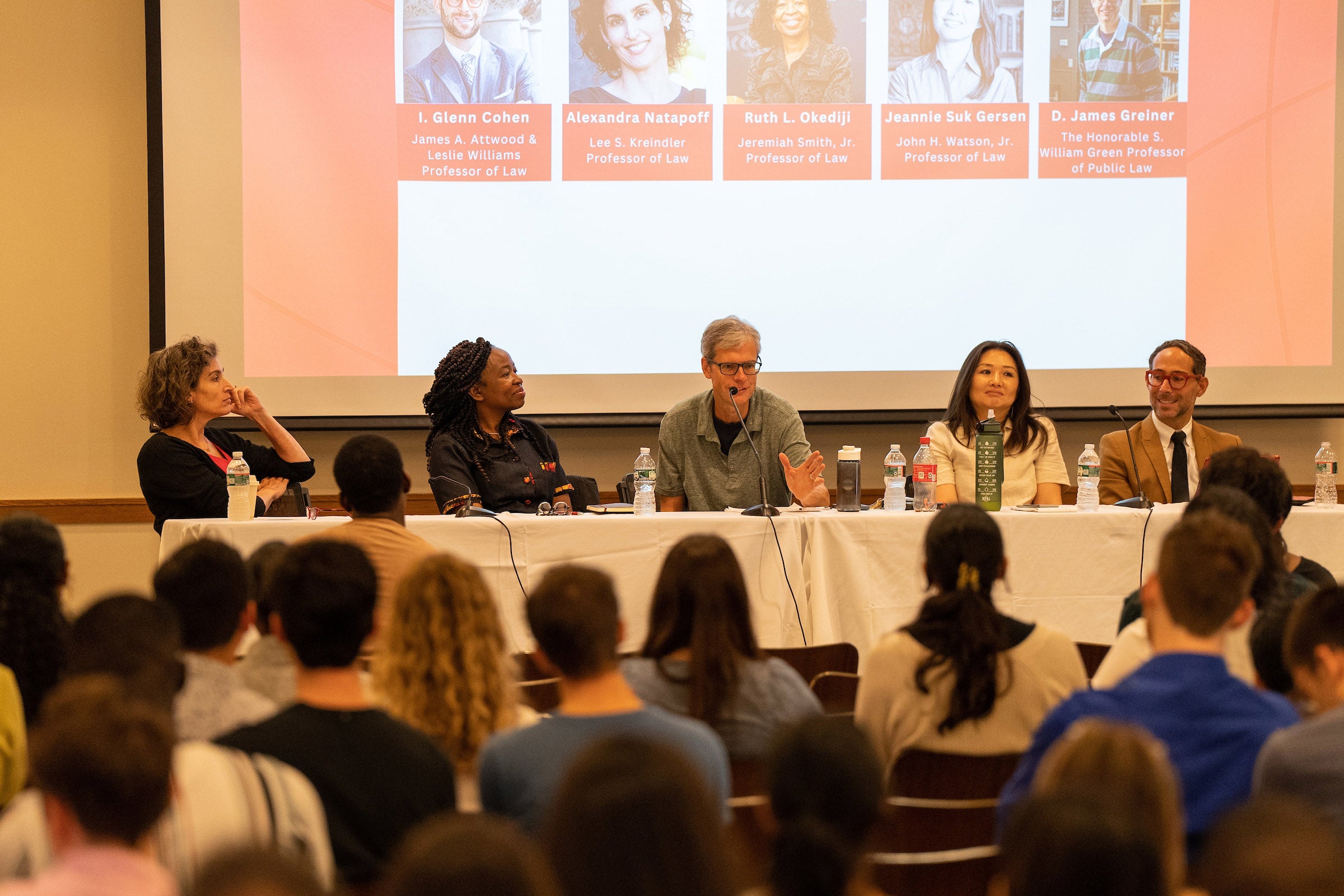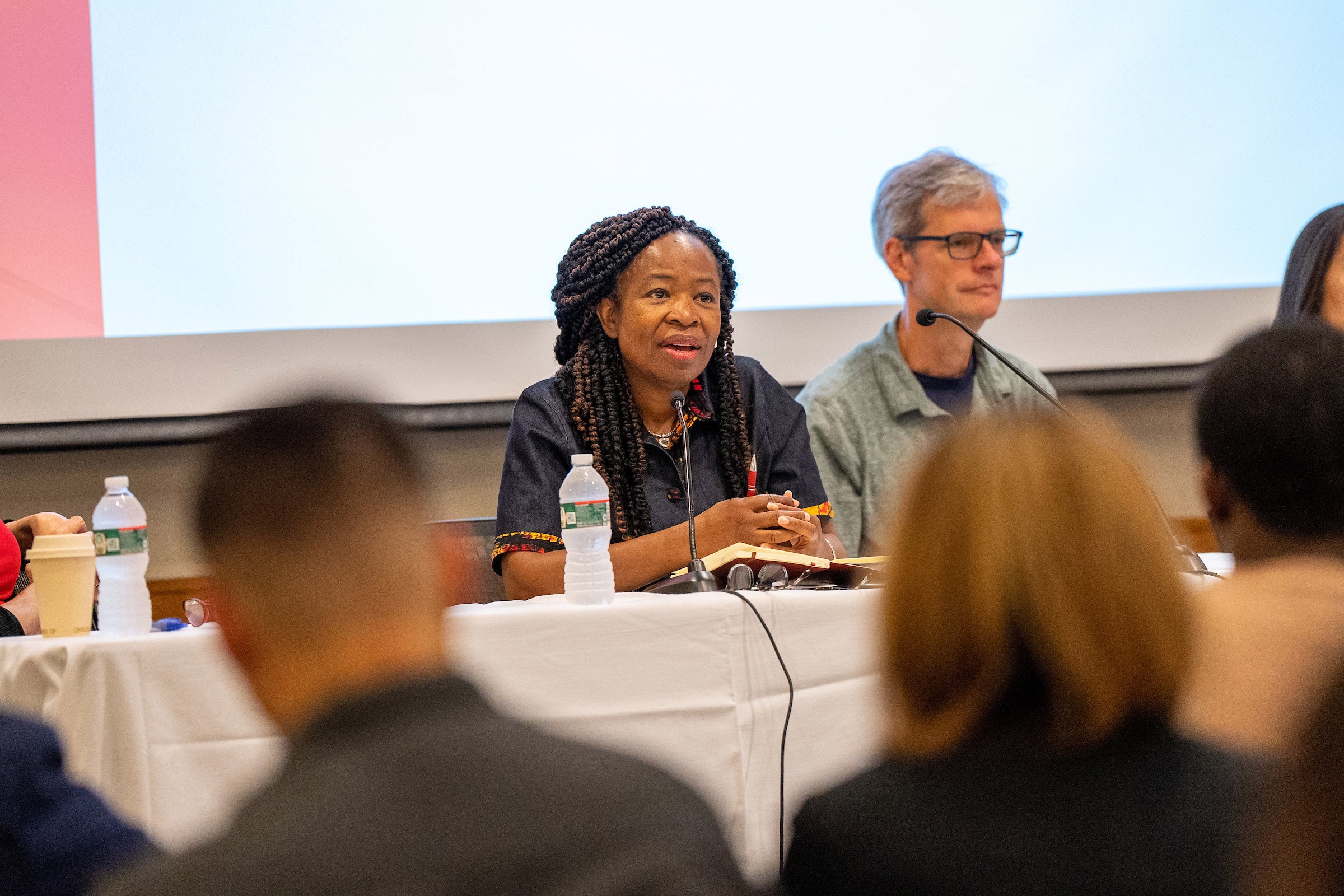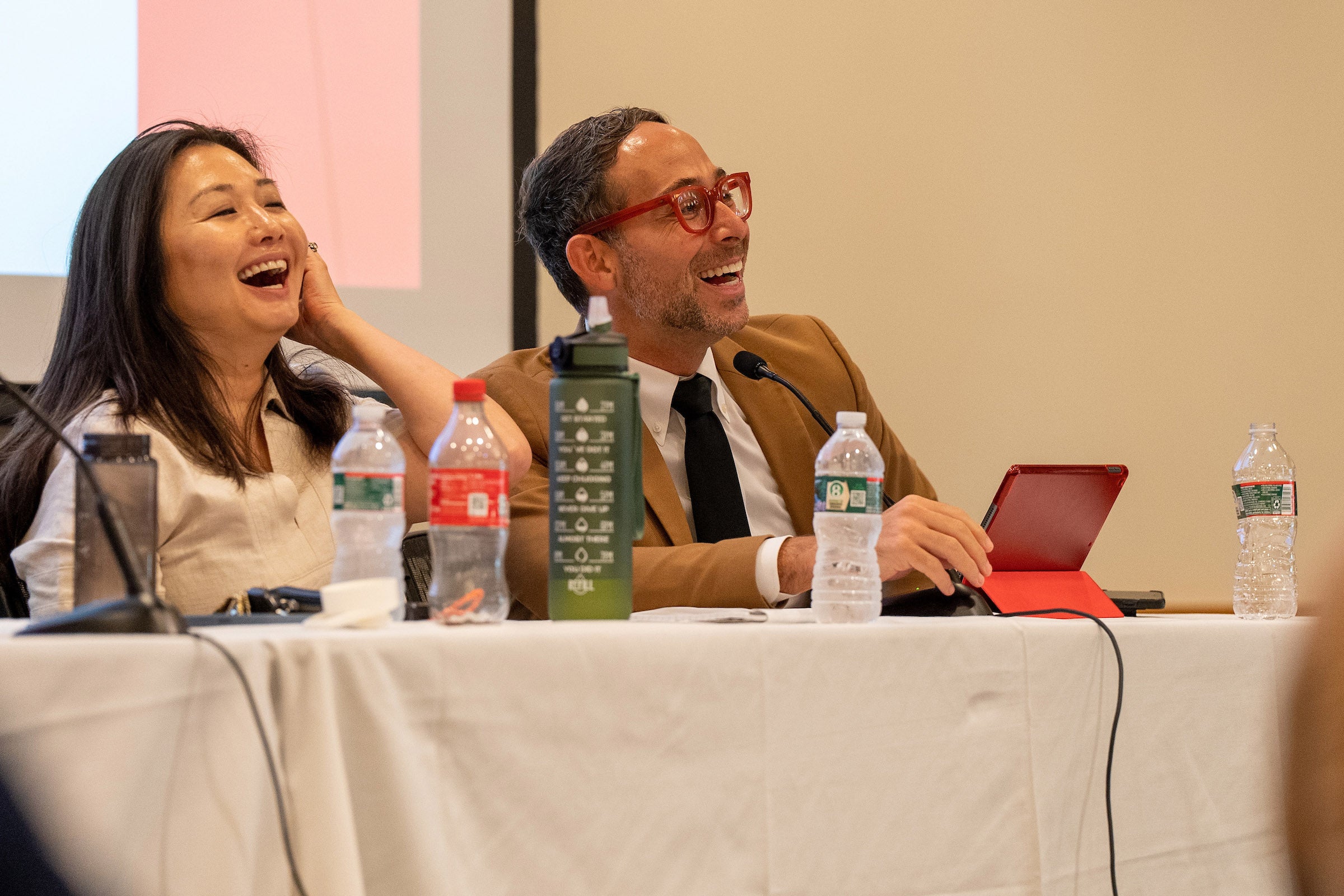 The professors also urged the students to be open to exploring new areas of expertise. Jim Greiner, the Honorable S. William Green Professor of Public Law and faculty director of the Access to Justice Lab, said he started law school focused on U.S. Constitutional Law. But by the middle of his second year, he was finding it "stiflingly boring." It took him several more years to realize he really wanted to focus on access to justice, but the process, he told the students "was just part of a journey."
Everyone will feel overwhelmed at some point, many of the speakers assured the new students. Take one day at a time, be consistent, and concentrate on your own path, said Ruth L. Okediji LL.M. '91 S.J.D. '96, Jeremiah Smith, Jr. Professor of Law. "The great stealer of joy," she said, "is comparing yourself to a colleague."
During other morning and afternoon breakout sessions students heard from professors and administrators about the difference between public interest and private sector law, how and when to apply for summer jobs and internships, the value of networking, how to write a good resume and cover letter, financial planning and scholarship resources, as well as study tips and the best ways to organize their time to prep for classroom discussions and exams.
For many of the incoming students some of the most important words of wisdom came from those who were most recently in their shoes. In one of the day's final sessions, current law school students encouraged their incoming classmates to explore student-led organizations, reach out to professors and to other students with questions, and try hard not to worry about having it all figured out on their first day.
The advice resonated with Nicole Overton '26, a recent Cornell graduate interested in labor and sports law who admitted she was "really nervous." She said hearing upper-level Harvard Law students describe how they found their footing early on helped calm her fears.
"Having the students here telling us it's okay if you don't know what an outline is, it's okay if you don't know how to study, it's okay if you don't have this figured out yet … just getting that reassurance from people who have been where we are is very, very helpful."
"I would definitely say that they should do Day 0 again," she added.
The vibe was fun and familial under the trees in front of Langdell Hall where students met up after the formal presentations had ended for a little down time and to connect with each other. They noshed on hot dogs, hamburgers, pulled pork, salads, and kosher meals, played Jenga, connect four, or cornhole and swayed to dance beats blasting from two large speakers. Later that day they would convene for a final time at an evening celebration and reception.
As he left the barbeque for a quick nap, Raj Ukondwa '26, a recent graduate from the University of Maryland where he studied political science and government, said two of his main takeaways from Day 0 were the sense that "you are going to be able to do anything," and that you are "going to meet amazing people."
---
First Class Celebration
Harvard Law Dean John F. Manning '85, Professor Glenn Cohen '03, and other faculty and staff gathered with new students at an evening event sponsored by First Class, a student organization launched in 2017 as a space for first-generation, low income, and working class students.
---
Want to stay up to date with Harvard Law Today? Sign up for our weekly newsletter.