Gustave Hauser '53, a cable television pioneer and a dedicated supporter with his wife Rita Hauser '58 of Harvard Law School, died on February 14. He was 91.
Gus and Rita first met at Harvard Law School in the fall of 1955. It was "love at first sight," he said in a 2003 interview in the Harvard Law Bulletin. They married in June 1956, "the greatest of all treasures," as he called it. As she forged a path as an international lawyer and he in the field of international communications, they shared the next 64 years of their lives, including their role as major Harvard philanthropists.
"Gustave Hauser was an extraordinary and visionary leader," said John F. Manning '85, dean of Harvard Law School. "He exemplified a life of meaning and purpose, one that left the world a far better place for his having passed through it. Gus will always hold a special place in our hearts at HLS."
Gus and Rita Hauser's generosity has helped to transform the Harvard Law campus and support teaching in key areas. In 1994, Hauser Hall was built to provide much needed faculty offices and classrooms. In 2006, they endowed the Rita E. Hauser Professorship of Human Rights and Humanitarian Law at HLS, now held by Gabriella Blum. The Hausers served together for many years on the Dean's Advisory Board, and Rita Hauser continues to do so. Their philanthropy at Harvard has had an impact well beyond the law school, from the Hauser Institute for Civil Society at the Kennedy School to the wide-ranging Harvard Teaching and Learning Initiative that supports innovation across the university, including around online teaching.
"Gustave Hauser was a pioneer in the cable television industry and an innovative leader in the field," said Steven Oliveira, associate dean and dean for development and alumni relations. "He brought the same forward-looking thinking to everything he did for the law school and the university. Notwithstanding his many accomplishments and successes, what was most striking about Gus was his remarkable modesty. He was a warm and endearing person."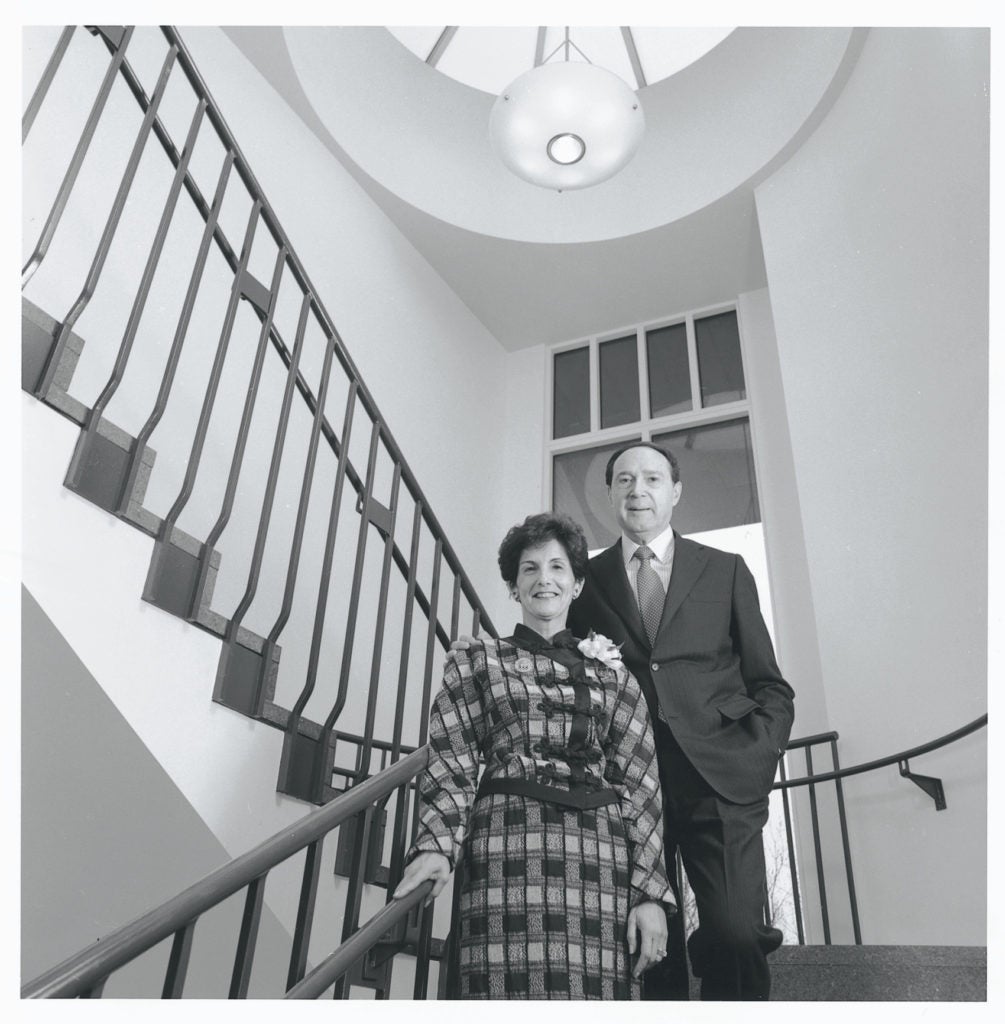 As chairman and CEO of Warner Cable Communications, Hauser developed programming innovations such as the Movie Channel and Nickelodeon, as well as pay-per-view and other interactive services. He was someone his colleagues turned to for advice and career guidance as cable TV became part of the media landscape. In 1983, he established Hauser Communications, Inc., a private company involved in cable television, international satellite, and other electronic communications, and he served as a director and vice chair until his retirement in 2018. In 2003, he was inducted into the Cable Hall of Fame in recognition of his contributions to the field.
Hauser began his career in the U.S. Defense Department's Office of the General Counsel as counsel to the International Security Agency. In the wake of the launch of Sputnik by the Russians a few years earlier, he was assigned to write the agency's first paper assessing international legal rights and obligations concerning objects orbiting in space. "My chance Pentagon involvement with the earliest orbiting satellite somehow became a considerable lifetime involvement in what was to become a worldwide satellite communications industry," he said in a 1999 interview for the Cable Television Center and Museum. Hauser subsequently became vice president of General Telephone & Electronics International, where he began his career in the communications industry, before joining Warner Cable Communications.
In addition to his degree from HLS, a bachelor's degree in liberal arts from Case Western Reserve University, and an LL.M. from NYU Law School, Hauser earned a diplôme en droit (equivalent to a master's degree) from the University of Paris while Rita Hauser earned a full license en droit. "We discussed whether we would like to start our married life studying law in France," he said in the Cable Television Center and Museum interview. The answer was, "Why not?"
Gustave Hauser is survived by Rita, their daughter Ana Burtnett and her husband Daryl, as well as their grandson, also named Gustave.