Blair Kuplic LL.M. '23 was born and raised in the same small town in eastern North Carolina where her parents grew up; in fact, she lived in the same house her entire childhood. "That's maybe why I ended up thinking, 'Let's get out of here and see other places," says Kuplic, whose first adventure was a summer in a small village in Panama, followed by her junior year in high school in Germany.
After majoring in German and International Studies at the University of North Carolina, she headed to UNC Law School in 2011, thinking of joining the U.S. State Department. She was two or three steps into the foreign service application process when an impulsive decision changed the course of her life.
"I'll remember this forever," says Kuplic, who this year is in the LL.M. program at Harvard Law School. After her law school classes ended one morning, a notice popped up on her phone about a lunchtime information session with a Navy JAG recruiter. "I thought, uggggh, I just want to go home and do my reading. But I decided to go."
The JAG officer, Kuplic says, "looked normal. It was the first time I ever considered military service as an option, because she seemed like me. The way she described the career path was really appealing: the potential duty stations I would go to were great locations, and I loved the idea of moving every two to three years and doing a variety of jobs." To her surprise, her husband — they'd met as undergraduates and married during her 2L year — encouraged her.
Today, Kuplic is a lieutenant commander in the U.S. Navy Judge Advocate General, or JAG, Corps. An expert on the law of war, she served for three years with the U.S. Pacific Fleet, advising the four-star admiral on international law, the laws of armed conflict, and law of the sea before matriculating at Harvard Law School.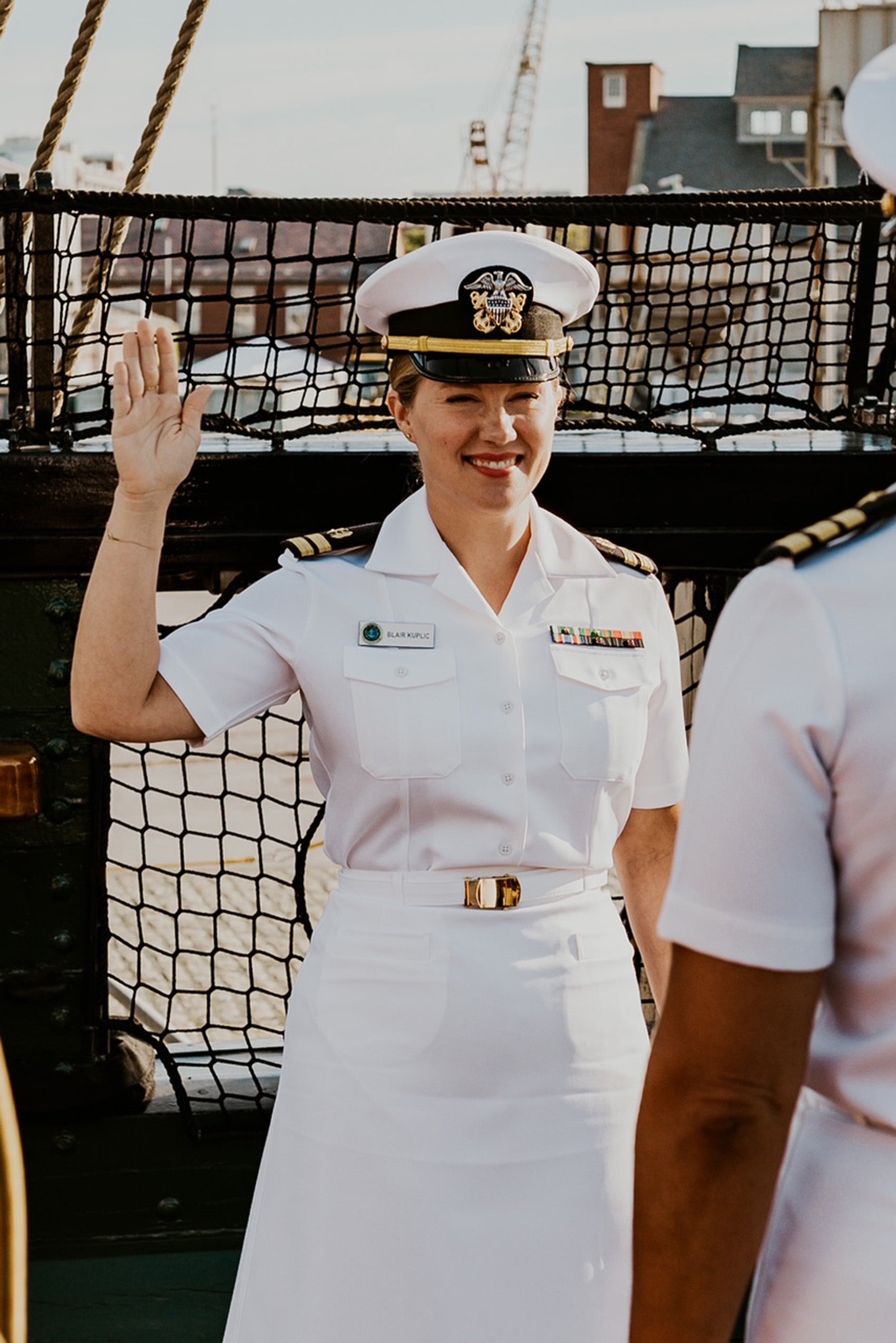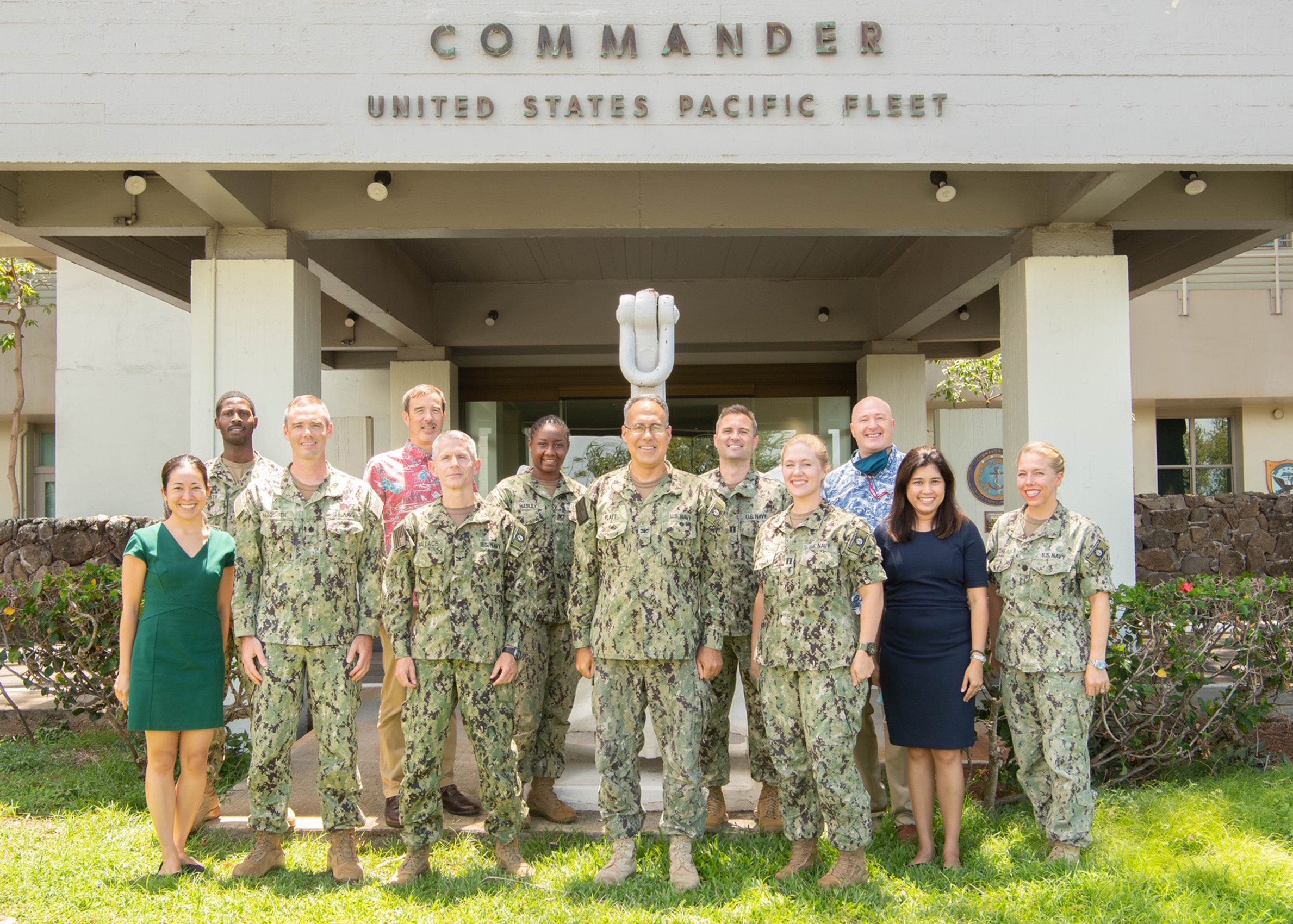 "Generally, my job was making sure Pacific Fleet operations were in compliance with international law as well as U.S. domestic law and policy," she explains. Among the Navy's missions is freedom of navigation operations, also known as "FONOPS," designed to challenge excessive maritime claims that unlawfully restrict navigation and overflight rights, and other internationally illegal uses of the sea. China has become increasingly aggressive in asserting unlawful maritime claims in the South China Sea, she notes, and to preserve international law, the U.S. Navy pushes back.
"I get a huge sense of fulfillment out of this job," says Kuplic. Frequently contacted by UNC law students interested in Navy JAG, she says she tells them, "My job is so much cooler than what anyone else I went to law school with does."
After completing Officer Development School and then the U.S. Naval Justice School in Newport, Rhode Island in 2014, her first duty station was at Naval Station Mayport in Mayport, Florida. There, she was assistant prosecutor on a high-profile case in which some sailors on a ballistic submarine, the USS Wyoming, were kicked out of the Navy for secretly filming women sailors as they showered. "It was a really interesting case and it really mattered to me personally," recalls Kuplic. "It was a really great introduction into why military justice matters."
She next served as the base JAG officer for the Joint Expeditionary Base Little Creek-Fort Story in Virginia Beach, Virginia, where, as sole legal advisor, she was "almost like inhouse counsel to a commander," she explains. "I liked the relationships piece of it — and this came out even more when I was at Pacific Fleet — working with operators in the Navy to figure out what they do and how it fits into the mission." It was during her duty station with the Pacific Fleet at Pearl Harbor, Hawaii, that she realized she "was hooked" both on the Navy and on operational law, "the warfighting piece of the Navy mission."
When she contemplates her work, she says, "You realize you are part of something so much bigger" than yourself. "I think that's the fuel that keeps me really interested in this job, that I'm not just making somebody money" but "supporting the U.S. military accomplishing the global mission."
She and her husband Kyle Kuplic, a civilian with a fully remote job, have two boys, Turner, 4, and Miles, 18 months. This year they're living at Hanscom Air Force Base, about a half hour from Harvard's campus.
At the law school, she is focusing on national security, and this semester she is taking Space Law and Policy, with Gabriel Swiney, senior policy advisor in NASA's Office of Technology, Policy, and Strategy. Coincidentally, she just learned that after her LL.M., she'll be stationed at the Peterson Space Force Base, in Colorado. "It's nice to hear Professor Swiney discuss that space law has so much room for development, and it's exciting to be here with someone who is helping to shape space law," says Kuplic, who will be one of two operational law attorneys at the U.S. Space Command, a joint command at Peterson, working for a four-star commander in charge of operations in outer space.
"So much of what we do on earth every day is enabled by space, and that's not just the military, which is enhanced by space, but so much that we do in day-to-day life. We know we need to protect that," she says.
Some "competitors — and I take that to mean China and Russia — seek to challenge US and allied interests in space. Because of that we need to be prepared to deter, and if necessary defend, in outer space as well."
As the Navy is paying for her Harvard Law School education, Kuplic is committed to three more years in the JAG Corps. But unless military life becomes hard on her family, she plans to remain for at least 20 years. "It's a job I love. I get filled with existential dread thinking about settling down in one place and doing one job. It strikes me that in my last job [with the Pacific Fleet] and being here at HLS is such a privilege, and my next set of orders is something I'm really excited about. I keep feeling I'm lucky."