In January 2019, 12 Harvard Law School students traveled to 12 countries as Cravath International Fellows. During Winter Term, they pursued clinical placements or independent research with an international, transnational, or comparative law focus. Four of these students describe their experiences.
---
Elizabeth Coffin-Karlin, JD/MPP '20
Elizabeth Coffin-Karlin traveled to Spain and Morocco in January, conducting independent research on Spain's protection systems for unaccompanied minor asylum seekers. Coffin-Karlin has a deep and longstanding interest in migration and refugee issues, and her Winter Term project was closely tied to work she has done before. In her first summer at Harvard, she conducted research for the Spanish Commission on Refugees; later, for a seminar on representing child asylum seekers, she asked the NGO's legal team to identify a question that she could help address. Based on their input, her coursework last spring and her fieldwork this winter have focused on how the European protection system was structured to accommodate minors; on Spain's institutional, political and legal framework for unaccompanied minor asylum seekers and refugees; and on the specific gaps and fault lines in its implementation of policies and legal protections for minors.
Coffin-Karlin explains that, ideally, all unaccompanied minors migrating through Europe would be enrolled in systems that meet or exceed the standards set by international protocols and the UN Convention on the Rights of the Child. "As it exists now, however, there are clear gaps in this framework and thousands of migrant children entering or travelling through Europe are slipping through the cracks," she notes.
She discovered, for example, that in Spain, as the result of impact litigation and a Constitutional Court ruling a decade ago, an unaccompanied minor from another country has the same rights as an unaccompanied Spanish child; both come under the protection of the local city government. "If you enter in Málaga, you're supposed to be in Málaga's custody system," she explains. These autonomous communities differ greatly in the quality of life and educational or work opportunities they can offer, so children often leave for other parts of Europe or larger cities like Madrid. At the same time, government agencies seem incentivized to find ways to disqualify children from entering the system in the first place. For example, "if there's a question about a child's age, they sometimes do a bone exam. These exams are scientifically inexact; we have guidance in our own country that ICE cannot use them as the sole determiner of age."
During Winter Term, Coffin-Karlin, who is fluent in Spanish, met with representatives of organizations involved with young migrants in Madrid. She also traveled to Ceuta, an autonomous Spanish city, surrounded by a wall and barbed wire, on the north coast of Africa. Through an arrangement between Spain and the Moroccan military, most migrants are stopped 50 or 60 miles away from the city, but some unaccompanied minors are able to enter. She spent several days with a local activist; they arranged to meet with a group of young men who sleep on Ceuta's rocky coast, hoping to escape by boat or on trucks that cross by ferry into mainland Europe. "They're all hoping to make a better life, but they're also just kids, laughing and teasing each other," she observes.
From these observations and others, Coffin-Karlin plans to outline "a clear tree of areas where children are pushed, or self-select, out of the domestic Spanish protection system and, by extension, the European system." Still, "the question of minors' access to the European protection system is complicated politically and logistically," she adds. "I was surprised by how alike the Spanish conundrum at its border felt to the one we are currently experiencing in the United States."
---
Oladeji Tiamiyu '20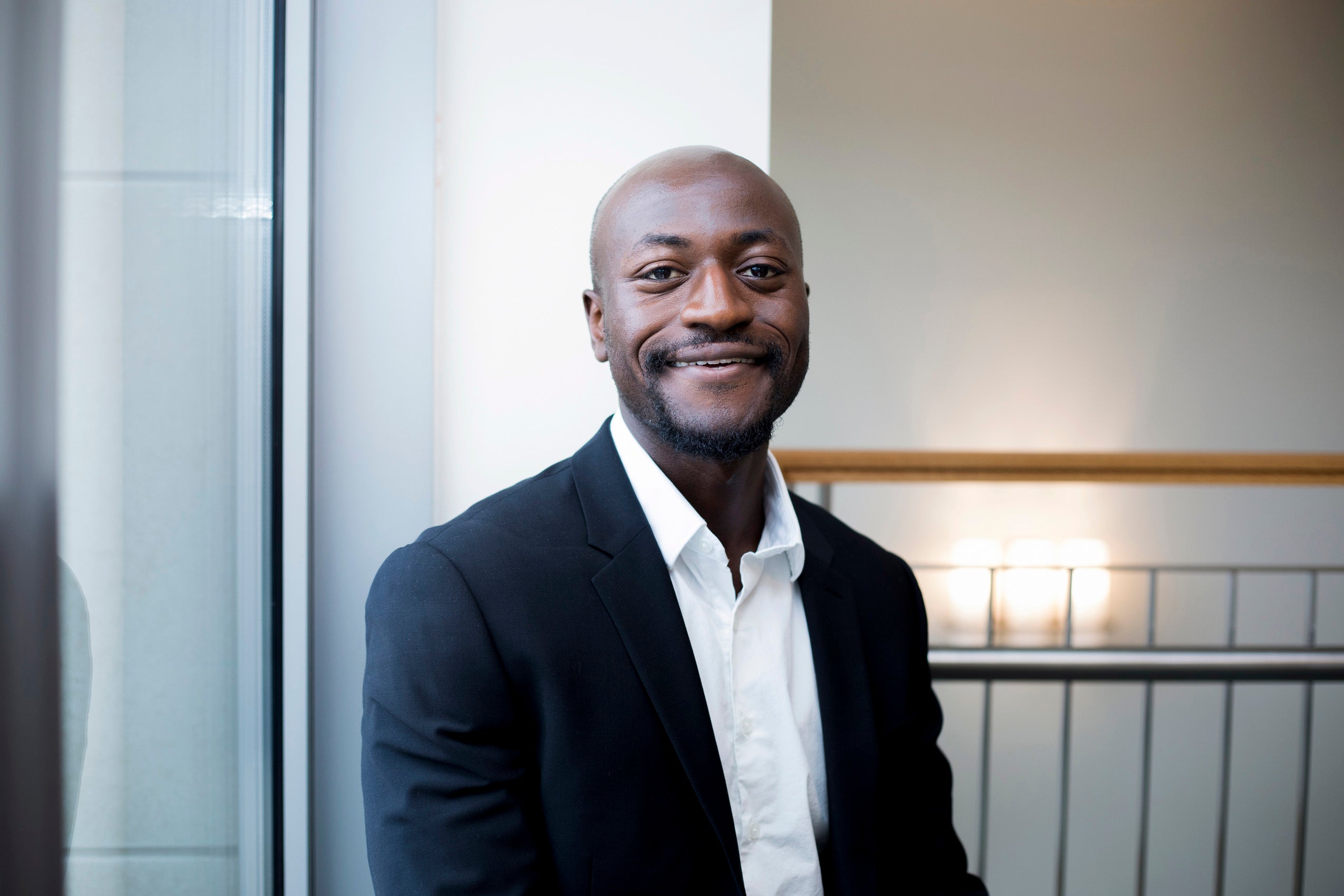 Oladeji Tiamiyu traveled to the Republic of the Gambia for an independent clinical with the country's Ministry of Justice. In 2016, former President Yahya Jammeh, who came to power after a military coup and remained in office for 22 years, refused to recognize the results of a presidential election. Once this was resolved, the country's new president, Adama Barrow, instituted a Constitutional Review Commission (CRC) to consider changes that might create a more inclusive democracy. As the legal arm of the government, the Ministry will provide substantial input into any proposed constitutional changes.
Tiamiyu traces his path to this placement from a professor at the University of Toledo who piqued his interest in constitutional law, to his Legislation and Regulation class with Professor Mark Tushnet and his Comparative Constitutional Law course with Professor Vicki Jackson, to his 1L summer working for the ACLU in Detroit. "My first year of law school reaffirmed my belief in the power constitutions can have in both entrenching democratic norms and transforming societies," he recalls. Then, last spring, a law school friend from The Gambia mentioned that the Ministry of Justice was looking for an HLS student to assist in their work with the CRC.
To prepare for his Winter Term work, Tiamiyu read several books on Gambian constitutional and political history. "Our library is incredible, because there are books written by Gambians that are even hard to find in Gambia," he notes. "That was really helpful, because if I hadn't done that preparation I would have spent half of my time there just trying to figure out what the legal issues were."
"I arrived at the perfect moment," he notes, as CRC members had just spent several months receiving input from citizens and NGOs and assembling a document listing every legal issue that was under consideration. "In 1996, the nation's first CRC drafted a new constitution within five months, with minimal or perhaps no consultation with civil society," he explains. The process, this time, was "a conscious decision to increase the likelihood that citizens would view the new constitution as a legitimate legal document and would understand which governmental actions threatened the constitution."
One of his assignments at the Ministry of Justice was to draft a legal memo assessing how the constitutional changes the CRC is considering would change the structure of the Gambian government. A second project focused on how to increase oversight for the president. "I think this is an issue that the CRC has to focus on, because the previous president consolidated so much power," Tiamiyu notes. "One of the recommendations that has come in from just about every source has been to have clear, explicit presidential term limits in the constitution." His analyses involved a careful review of Gambia's first and second constitutions, as well as comparative research on how other countries have vested powers in their presidents.
During his placement, Tiamiyu was also asked to observe the country's new Truth, Reconciliation and Reparations Commission, which is charged with investigating allegations of human rights abuses during the Jammeh administration, and write a memo on the issues that arose during the hearings. "Attending these hearings was among my most memorable experiences," he recalls. "The former government officials who testify are often subject to intense and critical questioning that society has sought answers to for over two decades."
Looking back, "my time with the Ministry of Justice was an incredible learning experience about the valuable role process can play in forging national unity following prolonged crisis," Tiamiyu notes.
---
Leilani Doktor '19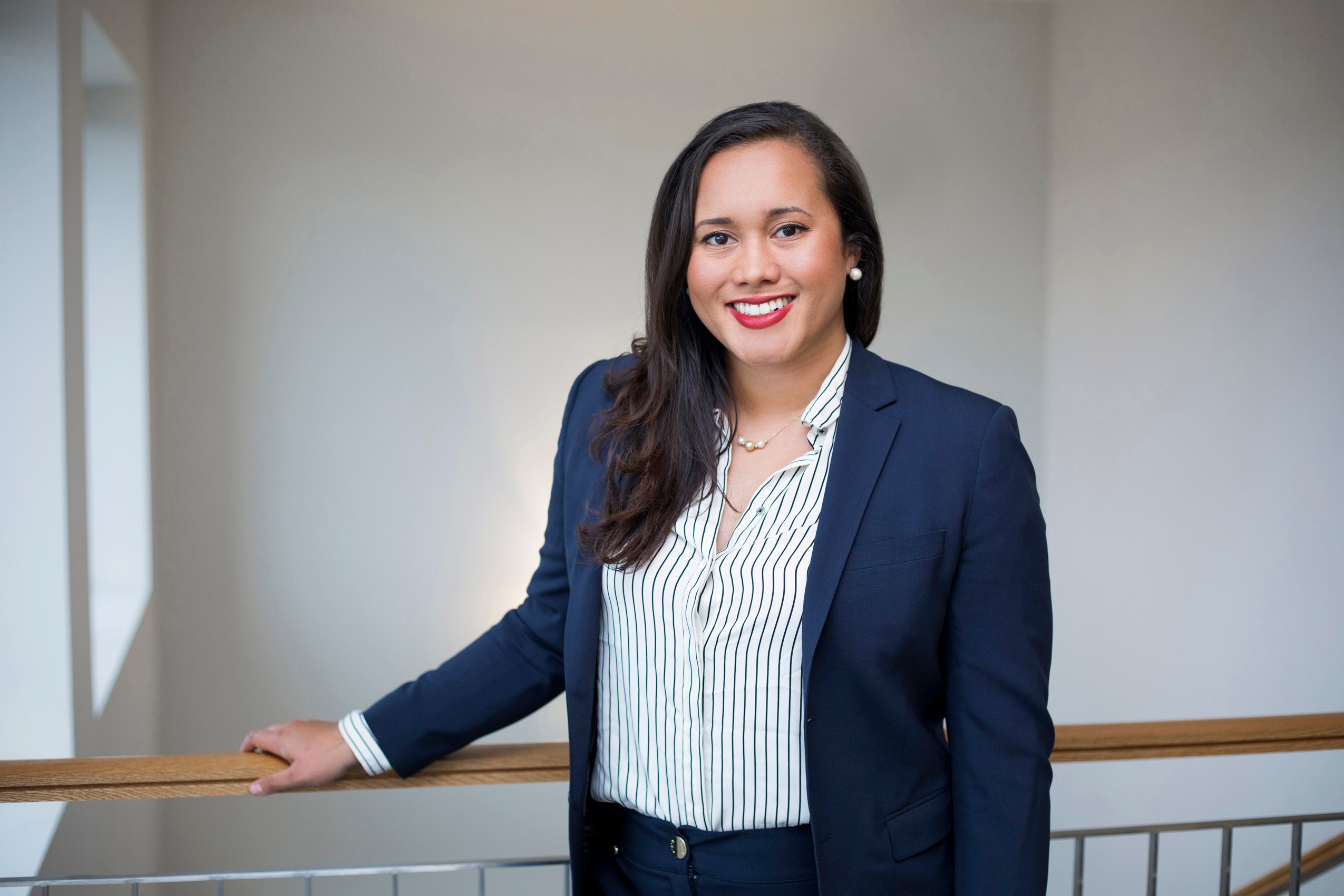 Leilani Doktor spent Winter Term in Fiji, where she conducted a case study on climate migration. Doktor turned her attention to Kiribati, a neighboring island republic harmed by decades of extractive phosphate mining and threatened now by rising sea levels, stronger waves and cyclones, the intrusion of salt water into freshwater supplies, and other environmental concerns. As a result, many people from Kiribati are being displaced to Fiji, New Zealand and Australia.
"As a citizen of Samoa, I am acutely aware of the effect climate change and sea level rise have had on small island nations," Doktor observes. Her project "speaks to the exact reason I came to HLS—to represent Pacific Islanders on environmental law issues and eventually change the current dynamic where developed countries continue practices that are making the islands of the South Pacific uninhabitable."
"International law has not yet explicitly recognized climate change and environmental degradation as a justification for refugee status," she notes. "The question that I'm exploring is whether you can expand the concept of 'refugee' into 'climate refugee.' Yes, there is a threat to their right to life, but in this case it's definitely not because of persecution by their home government, because Kiribati has been very active in trying to preserve people's rights to their lands and so on. Still, many of our international treaties, covenants and agreements say that people have a right to life, and within that is the right to security of place, to food, and to water. All those things are being threatened in Kiribati."
Doktor interviewed government officials in Kiribati and Fiji, learning about bilateral agreements, adaptation plans and relocation guidelines; she also spoke with representatives from international organizations who were working in Fiji to implement international law standards on the rights of migrants, and observed immigration proceedings. "When a person gives the reason why they are migrating, environmental degradation or the salination of their crop area is accepted as an explanation," she observes. "Ultimately, refugee policy, in the way that it is enacted, is defined by domestic interpretations of law, and Fiji is taking a step forward."
In contrast, Doktor was surprised to find a strong resistance to the term "refugee" on the part of the migrants themselves. "People have taken note of the treatment of refugees in other neighboring countries, and they are also concerned about the status of people who are kept as a separate population. What they are looking for is the freedom of movement and freedom of choice that comes with full integration," a challenge that Fiji and Kiribati are working to address.
She also visited a 5,460-acre parcel of land in Fiji that the Kiribati government has purchased for resettlement. "It's unprecedented in that the government purchased the land; there are interesting legal questions about sovereignty," she notes.
At HLS, Doktor has been active in the Environmental Law Society and on the Harvard Environmental Law Review; she also spent her 1L summer with the U.S. Department of Justice's Environmental and Natural Resources Division, where she will work after graduation. Her Winter Term project gave her many meaningful opportunities to apply what she has learned. During interviews with officials and NGO leaders, "they would ask me what I thought, and I would talk about the legal principles that I understood, and how people could be held accountable under international law," she recalls. "In some ways, it was a kind of intergovernmental direct client service. This was a really powerful experience."
---
Kevin Keller '19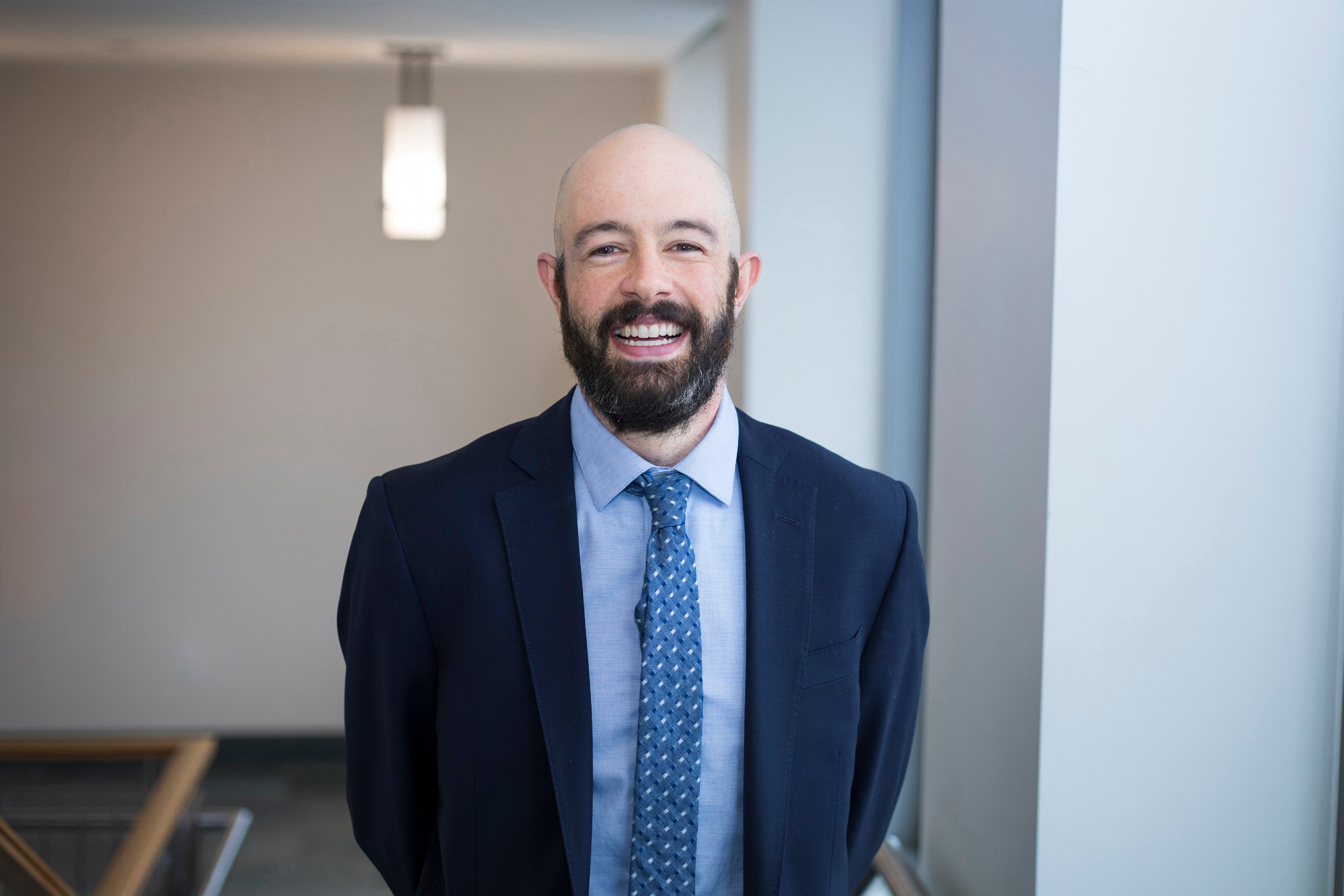 Kevin Keller traveled to New Delhi, India to assess the Indian government's initiative to issue identification numbers linked to citizens' biometric information. India's program, known as Aadhaar, seeks to provide every citizen with a unique 12-digit number, which they must use in interactions with the government (such as paying taxes) or when receiving services and benefits (such as food distribution); a fingerprint, iris scan and photograph linked to the ID number are used to confirm identity. Although about 1.2 billion people have been entered into the system, it remains highly controversial. "The government argues that Aadhaar is necessary to streamline the provision of government benefits; opponents have claimed that it allows the state to erect an elaborate surveillance apparatus, and might not be very effective at improving governance," Keller notes.
For instance, "one of the motivations behind Aadhaar was to reduce 'leakages' in welfare programs, when services don't reach the intended beneficiaries," he explains. "I learned that identity fraud, which Aadhaar can root out, is one source of leakage, but there are other sources which Aadhaar isn't well placed to address. For example, a person distributing food might hand out lower-quality goods and sell the original goods at a higher price, or just hand out less than they are supposed to under the terms of the program."
Last fall, in the second-longest trial in its history, the Supreme Court of India, exercising its original jurisdiction, heard more than 20 days of testimony before handing down a 500-page decision holding that the Aadhaar program, on the whole, is constitutional. A 500-page dissent disagreed with almost every element of the majority's reasoning. Keller's research involved a close reading of the Supreme Court opinion and the cited precedents, a review of scholarly commentary, and conversations with Indian legal scholars.
"The high-level goal of my research was to identify what legal issues remain unaddressed after the Supreme Court's decision," Keller explains. As one example, "several scholars have pointed out that state governments seem to be using Aadhaar to build centralized data repositories to track their residents' actions across several domains. This runs counter to the federal government's claims that data would not be merged across 'silos' and that the federal government would not use Aadhaar as a tool for surveillance. The state-level behavior is likely to come under greater scrutiny."
During Winter Term, Keller also conducted interviews with individuals assessing the program's impact and effectiveness, and several lawyers who worked on the Supreme Court challenge. Even in casual conversations, "every single person I talked to had an opinion about Aadhaar," Keller recalls. This intensity was even reflected in the Supreme Court opinion; the authors of both the majority and the dissent all seemed to consider this case as transformative.
For his Winter Term work, Keller drew on his pre-law-school professional experience, which includes conducting interview-based data collection in foreign countries and collaborating with Indian officials on an education program. At HLS, he has sought out opportunities to study international and comparative law. Still, "I learned a ton from this experience. The idea that there's a human right to legal recognition as a person—something that's recognized in the Universal Declaration of Human Rights—is something that I had never discussed in class; much less that countries all over the world face an enormous challenge in guaranteeing that right," he adds. "When I was interviewing non-lawyers, they were all very interested in what the opinion said, and how the enacting legislation worked. Those were questions I could answer, because of the training I've had so far."
The Cravath International Fellowships were created in 2007 by a group of partners and HLS alumni at Cravath, Swaine & Moore, led by Sam Butler '54 and the late Robert Joffe '67.
***
Gallery: Snapshots from Abroad
Students share photos from their travels.
During the 2019 Winter Term, 60 HLS students traveled to 34 countries, conducting research for writing projects or undertaking independent clinicals with support from the Winter Term International Travel Grant Program, which included the Cravath International Fellowships, the Reginald F. Lewis Internships, the Mead Cross Cultural Stipends, the Andrew B. Steinberg Scholarships, and the Human Rights Program Grants.