When she was pursuing her J.D., Lieutenant Commander Elizabeth Hutton LL.M. '21 knew that she wanted to enter public service, but wasn't sure exactly how she would do so. Observing Air Force lawyers as they conducted an appellate hearing at her law school, she was impressed by these public servants in uniform. Later, a Coast Guard officer spoke to her admiralty law class. "My brother's in the Coast Guard, so I knew a little bit about the organization. But what I didn't know was how much the Coast Guard does, and the value it provides to America," she says. "It just sounded like an incredibly fascinating way to serve."
Eleven years and eight assignments later, Hutton still believes that she made the right choice. She served last year as a deputy legal adviser to the chairman of the Joint Chiefs of Staff, focusing on litigation, ethics, Freedom of Information Act issues, legislation, congressional engagements and public policy in an assignment that rotates among JAG officers in all of the armed forces. "The chairman is by statute the military adviser to the president and the secretary of defense, and it was an extraordinary opportunity to see and be a part of that process," Hutton says.
During her service, she has also been a prosecutor and an instructor at officer candidate school. More recently, she has been counsel to victims of sexual assault and then focused on national security issues. "I've had very good luck with just holding my hand up for opportunities, and seeing where they take me. Aside from serving, and knowing that what I do has impact, that's my favorite part of the job."
"We have a problem with sexual assault in the military—we have a problem with sexual assault in America," Hutton says. In response, she explains, Congress created a program for all of the armed forces in which a victim, should they elect to, gets an attorney, just like a defendant does. Hutton spent two years as senior special victims' counsel (SVC), in the Coast Guard's Office of Member Advocacy, counseling clients, advising junior SVCs, and helping to build the program for the East Coast region. "From my perspective, victims don't choose to be victims—and they're not lawyers. Most know nothing about the criminal justice process, and they're not always willing to assert the rights they do have without an advocate," she says. In addition to counseling their clients, SVCs have standing to argue on their behalf, during the investigation and even in court, at both the criminal and appellate levels.
In that role, she says, she really enjoyed "having the opportunity to build something." Her next tour—working in the Coast Guard's Office of Maritime Security Response Policy (MSR)—was "again a job that had never existed before. I was also working with people who weren't lawyers—I was their lawyer, and that sounded interesting to me."
One of MSR's top priorities was to address the presence of Unmanned Aircraft Systems (UAS), such as drones. The Coast Guard escorts naval submarines, "and there was a concern—there still is—that drones present a national security threat. By design, drones are remotely piloted, fast-moving, and difficult to detect until they are within a close range, and some are capable of carrying explosive devices. Without knowing the intent of the operator and with little time to react, the ability to mitigate a potential threat is limited. The problem was that at that time shooting down aircraft, including using any kind of technology to shoot them down, was completely illegal."
Congress, she explains, had recently enacted legislation that allowed the Department of Defense to shoot down drones in certain circumstances, but the Coast Guard, which operates under the Department of Homeland Security, was not included in the policy implemented under the new law. But the U.S. Code says that the Coast Guard "shall be a military service and a branch of the armed forces of the United States at all times," so Hutton and her team recommended petitioning the Secretary of Defense to amend the policy. A year later, Congress enacted The Preventing Emerging Threats Act of 2018, a new law which gives the Coast Guard and the Department of Homeland Security almost the same authority as the Department of Defense. "The Coast Guard had been advocating for legislation on this issue prior to my involvement, but we were able to gain traction by teaming up with the Department of Defense and the Department of Homeland Security and working with the FAA."
"It was just an amazing moment," Hutton recalls. "This was the second time that I had the incredible sense that I was taking part in something that was really important for the future of the Coast Guard."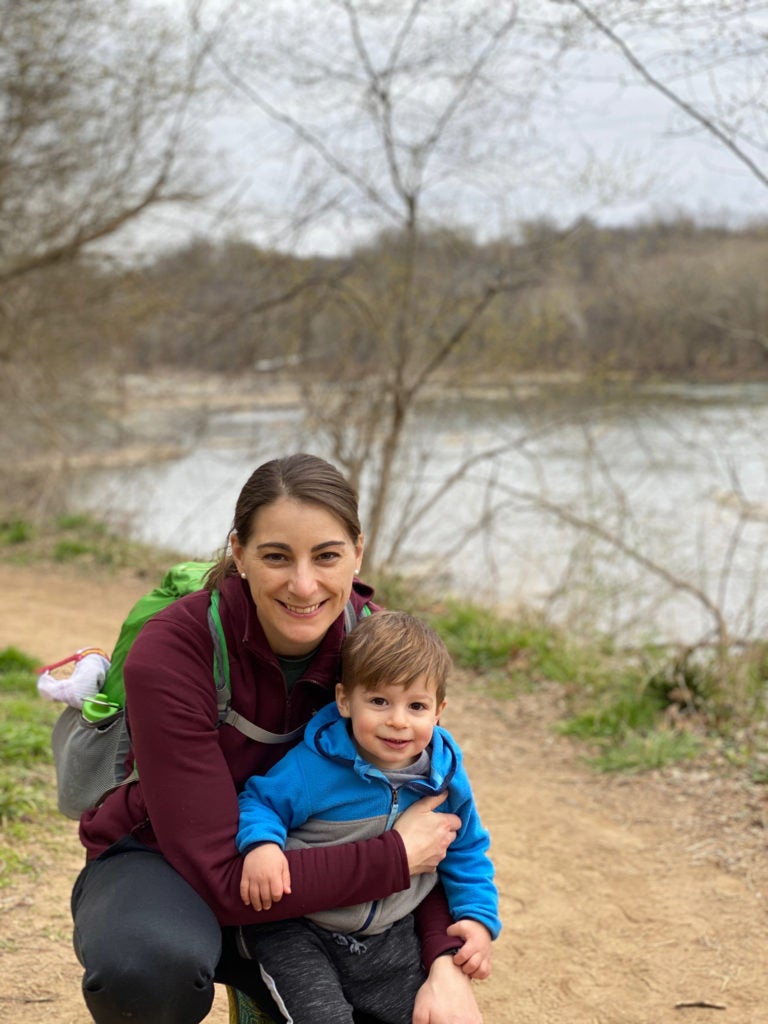 "I thought the LL.M. program would be a great way for me to take a step back and challenge myself in areas where I needed to be more informed," she says. For example, "what I learned from working on the counter-UAS legislation is that you have to understand the technology [as well as] the law, and there are a lot of opportunities at Harvard to learn about both—that's a great balance." Her LL.M. paper will focus on drones and her conviction that the regulatory scheme that the U.S. uses for recreational boating could serve as a model for regulating drones in the airspace.
Hutton is spending this year in her hometown, Fall River, with her young son, while her husband, a Navy JAG officer, completes a nine-month deployment in Djibouti. After the LL.M., she hopes to secure an assignment involving national security or international law, and to eventually focus on cyber law issues. "But every job I've had in my 11 years has been rewarding, and whatever they need me to do, I'm happy to do it. 'Bloom where you are planted, and good things will happen.' That's what one of my first senior leaders told me, and I've taken it to heart."
The views expressed herein are those of the interviewee and are not to be construed as official or reflecting the views of the Commandant or of the U. S. Coast Guard.