It takes a lot of preparation to rev up a new case. That's true in all law offices, including Harvard's legal clinics. As a clinical law student who was cross-enrolled in an undergraduate computer science course, Jeffrey Roderick '17 wondered whether he could streamline the process through technology. "Automating certain tasks can help students spend more time in clinics doing what they signed up for, which is to intelligently and creatively represent their clients," Roderick says. He had the perfect person to turn to for guidance: William "Bill" Palin, Harvard Law's inaugural Access to Justice/Technology Fellow.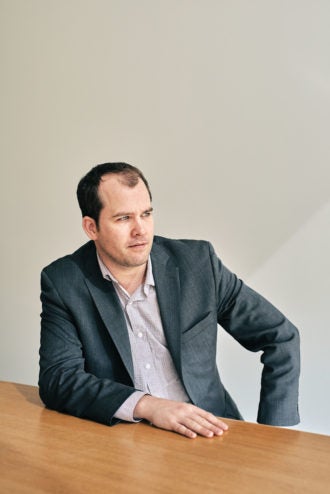 With Palin's help, Roderick developed a prototype that automates client intake and prepares the initial boilerplate documents that get a case rolling. Roderick estimates that the tool saves five to six hours per case, leaving more time for investigative fact-gathering and legal research.
That's just one example of how Palin's presence on campus is improving the ability of HLS's clinics to represent disadvantaged clients.
A 2012 graduate of Suffolk Law School, Palin opened a solo practice in Cambridge. He added "software developer" to his resume after teaching himself to code with books borrowed from the Cambridge Public Library. He was creating award-winning legal apps, guest-lecturing at Yale Law School, and teaching at Suffolk Law and MIT before he came to Harvard Law School in September 2016. His task: to launch a project called "Developing Justice," a response to the shortage of affordable legal services for poor and middle-class people who face eviction, child custody and support disputes, foreclosure, consumer fraud, and denials of benefits. Palin's role is to imagine and custom-build technology that brings efficiencies to legal aid practice, boosts client advocacy, and expands the actionable knowledge of legal clinicians.

"I am embedded within 18 clinics and 11 student practice organizations to do what I did in my practice, which was to develop tools to become a better attorney. To work faster. To think about things differently in a profession that doesn't normally do this," Palin says.
The fellowship is the brainchild of Dean Martha Minow, who serves as vice chair of the national Legal Services Corporation. "Rights are not self-enforcing, and yet so many people lack access to the help necessary to make justice real," she says. "In Massachusetts alone, nearly 1 million people qualify for legal aid. Yet, for lack of resources, legal services turns away 64 percent of them each year. Technology cannot close the justice gap, but it can narrow it considerably. Harvard's legal clinics will work smarter and more efficiently with the tools being developed by the Access to Justice/Technology Fellow."
Embedding a lawyer-coder within legal clinics "is a relatively novel approach," says Clinical Law Professor Christopher Bavitz, managing director of the HLS Cyberlaw Clinic. "Bill really has his fingers on the pulse of what is possible."
Palin's method is to begin by zooming out. "'Tell me your tech problems.' That is not the question that Bill asks," says Clinical Law Professor Daniel Nagin. "He asks, 'What are your goals? What are you trying to accomplish? What are the most important parts of your mission? What are the things that are slowing you down? What would help you expand access to justice in your practice area?'" says Nagin, vice dean for experiential and clinical education, and faculty director of the Wilmer­Hale Legal Services Center and its Veterans Legal Clinic.
Questions like that reveal potential. For example, those working at the Predatory Lending and Consumer Protection Clinic knew that the "vast majority of people sued on consumer debts are not represented by lawyers," according to Roger Bertling, senior clinical instructor at the clinic. But they wanted to find out "the depth of that problem and develop ways to meet those needs," says Bertling. Palin is gathering statistics and doing the number-crunching that will help craft evidence-based legal solutions.
Harvard Law's Project on Predatory Student Lending is working on behalf of students defrauded by ITT Tech, a now-bankrupt for-profit college chain. The project was gathering testimony of defrauded students into letters mailed to members of Congress. Palin upped the ante. He created a Twitter app that sends out individualized tweets with the relevant Congress member's Twitter handle, a powerful quote and a link to the constituent-student's letter. Since Jan. 22, about 12,000 tweets have gone out.
He developed a tool for a project in which names had to be redacted from thousands of pages of documents. Manually, the job would have taken upwards of three weeks. Palin's code got it done in five minutes.
He built a labor-saving website that improved the campuswide system for soliciting, scheduling, and contacting translators and interpreters. And, he's constructed a widget that alerts advocates when changes are made to a U.S. Department of Veterans Affairs online manual.
Law students who are interested in technology are gravitating to Palin. "Bill has really provided a home for that group of students," says Clinical Law Professor Esme Caramello '99, faculty director of the Harvard Legal Aid Bureau. "This part of the legal profession is exploding right now, and it has been so important for Harvard to have a place where these students can go for training and guidance."