It may not be immediately obvious that whipping a metal ball attached to a steel wire around your head has much in common with being a law professor, but for Louis D. Brandeis Professor of Law Molly Brady, the connection is clear. According to Brady, who captained her college track-and-field team, both blend individual responsibility over how the activity proceeds with a team environment that encourages "a mentality that we're all in this together."
Like most hammer-throwers, Brady says, she doesn't take herself too seriously. This is evident on her Twitter page, where Brady, who teaches property, land use, and local government law, shares everything from a nightmare in which a front-row student turned into a werewolf to musings about legal references on television shows. (Brady was "horrified to learn" that Harvard is archiving its faculty's Twitter pages as a means of preserving professors' notes, though the knowledge, she said, apparently "didn't change my conduct at all.")
In her more professional writings, Brady, who studied medieval history at Harvard College, delves into property and constitutional law with an eye toward legal history. In one article, "The Forgotten History of Metes and Bounds," she explores the seemingly incoherent descriptions of property boundaries from Colonial-era deeds, which marked parcels of land using natural landmarks such as rocks or trees, often clarified with references to local families and lineages. Though she initially viewed the system as quaint and mildly amusing, Brady came to appreciate that such boundaries made sense in light of what constituted common knowledge at the time, just as people today share directions not with GPS coordinates, but with instructions such as "turn left at the Bank of America." She draws a comparison to Robert Frost's poem "Mending Wall," about neighbors who meet to repair the wall that delineates their property lines. "Property has that character where it's both sort of a line in the sand [and] a place where we meet, and where you can build these kinds of social connections," she said.
In all her scholarship, Brady, who also serves as an associate reporter for the American Law Institute's Fourth Restatement of Property, writes with state courts and scholars interested in state forums in mind, an audience she believes is neglected by legal scholarship's strong bent toward federal law. "You can dig up incredibly interesting things in state court decisions," she said. "Every development that we think of as strange has some origin story that you can trace and figure out why it developed in that particular way."
In some ways, Brady was destined for the sometimes archaic and esoteric world of property law. She grew up in Utica, New York, with a mother who sold antiques and a father who as a hobby collected artifacts tracing the development and history of Utica. Through them, Brady learned about how her home city was shaped by the uses and misuses of property law, including eminent domain and attempts at redevelopment that went awry.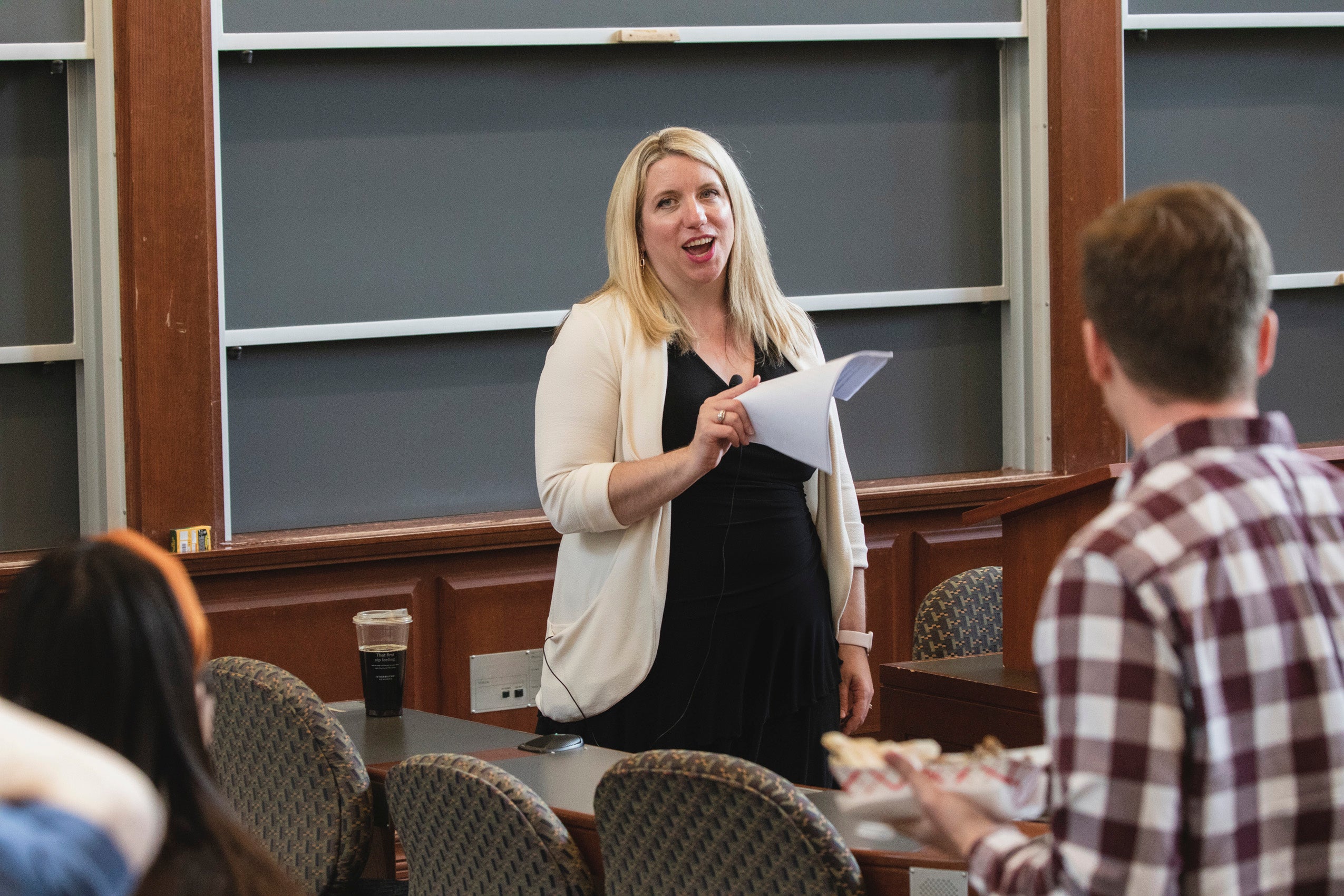 Brady settled on law after a childhood filled with people suggesting she "should be a lawyer because [she] was annoying." At Yale Law School, she took property courses from a professor, Robert Ellickson, who taught students the history of New Haven, helping to illuminate how contemporary quirks about the city or law school could be traced to plans made decades or centuries before, including decisions to run roads through immigrant neighborhoods, thereby breaking them up.
She describes a seminar on urban legal history, which she took in part to fulfill a writing requirement, as the class that changed her life. As Brady dived deeper into the subject, she grew fascinated by the variety of approaches that different states and localities had taken in property law, and how they ultimately provided different models for shaping people's lives. "I started to see the link between choices about physical space and ultimately a city's social development," she said.
When Ellickson spotted her penchant for urban legal history, he asked if she had considered becoming a professor. Brady, who ran Yale's Law Revue, the equivalent of Harvard Law School's Parody, and viewed herself as too irreverent for academia, initially laughed. But a stint as a legal writing teaching assistant helped her change her mind, as she realized she "just loved working with 1Ls."
Once Brady decided to delve into academia, one piece of advice she received was not to spend too much time on teaching because her research was more important. But the hammer-thrower at heart loved both the individual focus on research and writing and the team sport of sharing her passion for property with students. She recalls how she felt when a former student told Brady that she had needed to find a 70-year-old lease for her law firm practice and was able to do so because of what she had learned from her class. "Those are the sorts of stories that warm an old property professor's heart," Brady said.
Teaching is also a means of keeping her beloved subject alive. Brady believes that interest in property law risks marching toward the dustbin of history as top law schools, including her alma mater, increasingly remove the subject from the mandatory first-year curriculum. "I thought it was important for the next generation of property scholars to make the case that this subject matters," she said. "I view it as critical to my scholarly mission to be an excellent property teacher and to try to introduce students to all the doors that property can open."