Harvard Law School Professors I. Glenn Cohen '03, Holger Spamann S.J.D. '09, and Lucie E. White '81 traveled to France in June to teach at the eighth annual Intensive Doctoral Week (IDW) at the law school of the Institut d'Études Politiques de Paris, more commonly known as "Sciences Po."
Cohen, Spamann and White participated in the IDW as part of the cooperative agreement in place between HLS and Sciences Po Law School, which allows students from both schools to spend a semester abroad at the other institution, and provides opportunities for professors to teach or conduct research in Paris or Cambridge. Harvard Law School currently has similar agreements with ten other schools around the world.
The IDW is designed as a training lab, enabling students pursuing doctorates in law to discuss their research with renowned law professors and other doctoral students, and to explore other legal cultures, new methodologies, and fresh perspectives from researchers working in a variety of legal fields. In addition to research presentations, the sessions included workshops, reading groups, panels, and informal discussions on a wide range of topics.
The 2018 program, organized by Sciences Po Law School and the Law and Political Science Doctoral School of Paris Ouest Nanterre La Défense University, drew 150 students from around the world, as well as 114 faculty members from 47 law schools. In addition to Cohen, Spamann and White, faculty members with HLS affiliations included Helena Garcia Alviar S.J.D. '01, a professor at the Universidad de los Andes and a visiting professor at HLS, and Jeremy Perelman S.J.D. '11 and Dina Waked S.J.D. '12, both law professors at Sciences Po.
Cohen, who is the faculty director of the Petrie-Flom Center for Health Law Policy, Biotechnology & Bioethics, gave the keynote address, "Law & Ethics at the Cutting Edge of Medical Disruption," at a special day-long program on "Law and Disruption." Citing the automobile and the Internet as examples, and then turning to big data and reproductive technologies, "I talked about how new technologies have led law to initially attempt to assimilate the technology into existing paradigms, but at some point 'the jig is up' and the technology leads to true disruption, and new paradigms in law are needed," he explained. Joining French colleagues to explore the differences among French, U.S. and EU perspectives on these topics, Cohen also participated in a panel on reproductive technologies and another on big data, AI, precision medicine and health law, and how the EU's new General Data Protection Regulation will alter the playing field.
In keeping with his own research focus on the law and economics of corporate governance and financial markets, judicial behavior, and comparative law, Spamann led a discussion on the concept of law and economics — which uses the tools of economics, both theory and empirics, to elucidate questions of interest to law, in particular the effect of legal rules — to help students determine if this approach to legal analysis, which is firmly established in the United States and increasingly adopted elsewhere, would be beneficial in their research. In another session — with Guy Canivet, the former president of France's highest court, as his commentator — he presented a simulation he has conducted involving judges from seven countries. In the experiment, the judges decided a fictitious yet realistic case under conditions resembling real-world judging. Both in their approach to the problem and in the results that they reached, judges from very different jurisdictions — the United States and China, for example — were remarkably similar, suggesting that long-held beliefs about profound differences between legal systems may need to be revised.
White collaborated with Perelman on an interactive workshop entitled "Method in action: an experiment in law, knowledge production and social change advocacy," in which participants observed two dialogues between a scholar and an activist working in the field of refugees rights in France, and explored how a new approach to reflective dialogue might generate alternative forms of knowledge about the participants' theories of social change, as well as concrete ideas for advocacy. This fall, White and Perelman will co-teach a seminar on human rights, global poverty and development that they have developed together, with students from Sciences Po and HLS connected by video and the two professors spending time, in person, in each other's classroom.
The opportunity to teach in Paris was a learning experience as well, a chance to observe, and possibly influence, how doctoral-level students from other countries approach their studies. For Spamann, a program like the IDW "encourages a young generation to go beyond doctrine."
Harvard's S.J.D. community shares work in progress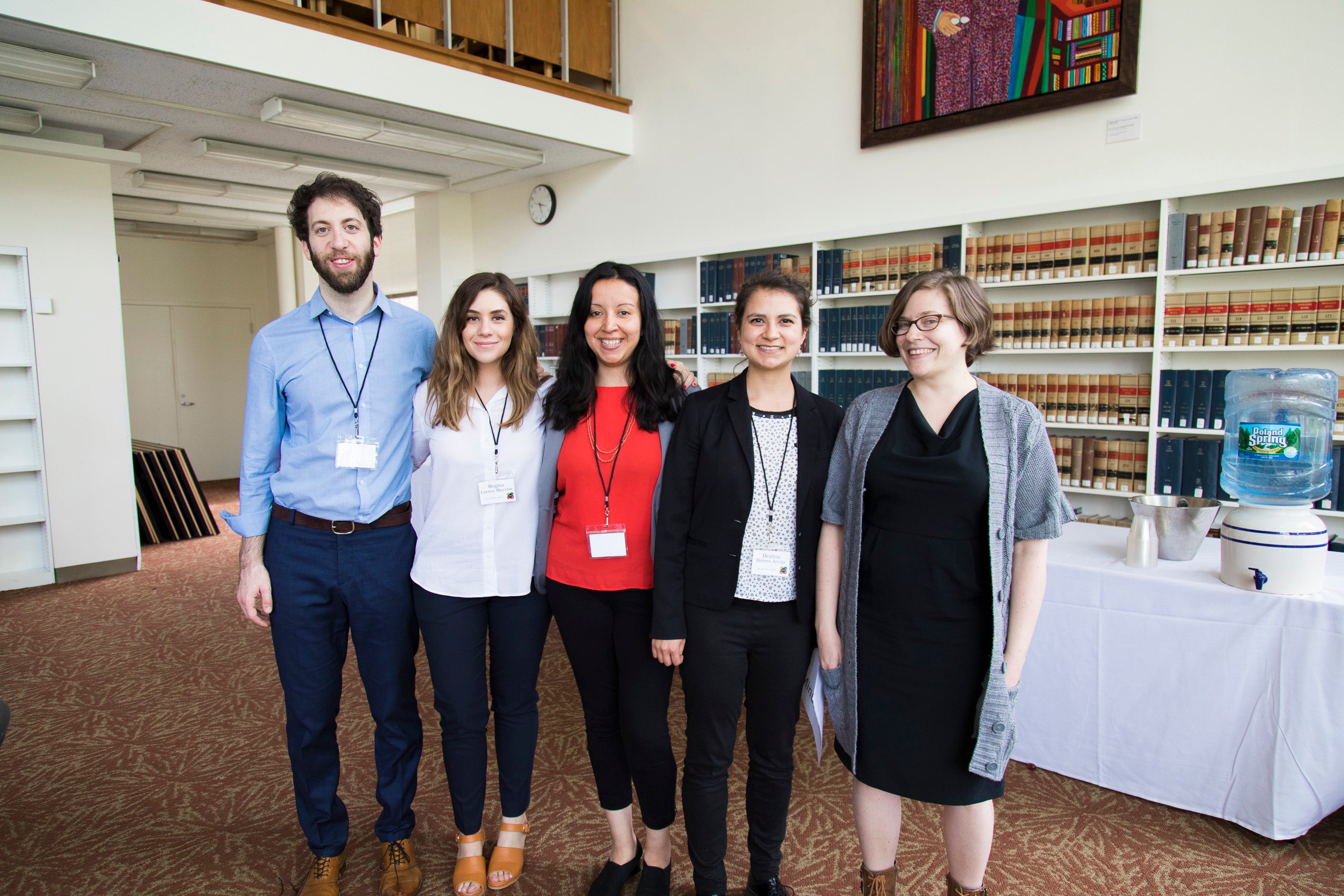 Members of Harvard Law School's S.J.D. community — both current candidates and alumni of the program — gathered on campus for the 2018 S.J.D. Association Workshop, "Between Law and Justice: Ethics, Politics, and the State," on May 17. The Doctor of Juridical Science (S.J.D.) is Harvard Law School's most advanced law degree, designed principally for aspiring legal academics who wish to pursue sustained independent study, research, and writing. HLS currently has over 60 S.J.D. candidates from 26 countries. Seven professors at HLS are graduates of the program, as are faculty at leading universities spanning the globe.